Initial Rick Perry Boomlet Fading, Opening An Opportunity For Romney
Rick Perry has faltered, and that has given Mitt Romney an opening.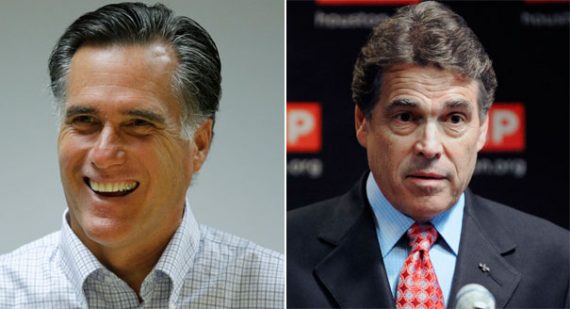 In the immediate aftermath of his entry into the Presidential race, Rick Perry seemed unstoppable. Almost immediately, his poll numbers skyrocketed him right into the lead, knocking Mitt Romney out of the comfortable place he'd been in all year and leaving other Tea Party backed candidates like Michele Bachmann and Herman Cain in the dust. Then the debates happened. In the first debate, Perry was called to the carpet for his past comments on Social Security and came away bruised. In the second debate, co-sponsored by Tea Party groups, the Social Security issue came up, but so did Perry's past positions on immigration and his controversial decision to mandate the HPV vaccine for 6th grade girls in Texas schools. The result, as Nate Silver notes today, is that public opinion of Rick Perry is turning more negative:
Three polling firms asked voters for their views of Mr. Perry between the announcement of his candidacy and that first debate. In those surveys, views on Mr. Perry were equally divided. An average of 29 percent of Americans said they had a positive view of him and 29 percent a negative view, with the remaining 42 percent not yet knowing him sufficiently well or not yet having formulated a firm opinion.Mr. Perry's numbers have been in net-negative territory in four polls released since the first debate, however. On average, 27 percent of respondents held a positive view of Mr. Perry in these polls, while 38 percent held a negative one.

Although few of these pollsters provided a partisan breakdown of their results, Mr. Perry's numbers do not appear to have declined appreciably among Republicans. So one can infer that the movement has probably been caused by independent voters and Democrats.

The trend of the past few weeks may or may not be indicative of their future trajectory. Nevertheless, of voters who have formed an opinion of Mr. Perry so far, almost 60 percent in post-debate polling hold a negative view.
Although Perry continues to lead in the polls, his lead is slowly narrowing as more post debate polls come out, as you can see quite dramatically here: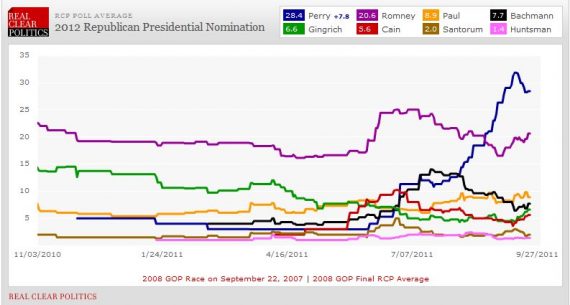 Not surprisingly, the only candidate who seems to be benefiting from Perry's weakening is Mitt Romney. You're not seeing any appreciable up-ticks in support for any of the second tier candidates, which suggests that voters are already starting to narrow the race down in their minds to one between Perry and Romney, with the rest of the field mostly a bunch of also-rans.
As Silver notes, we're also seeing a widening of President Obama's lead over Perry in head-to-head match-ups:
Surveys released between the announcement of his campaign and the first debate had Mr. Perry trailing Mr. Obama 43 percent to 46 percent on average, with a couple of the polls actually giving him a slight lead.

Mr. Perry has trailed Mr. Obama by an average of 42 percent to 49 percent in surveys released since the debate, however.

Polls of horse-race match-ups can often underestimate the standing of candidates with poor or middling name recognition — one of a number of reasons that the White House shouldn't feel terribly excited about these numbers.

Still, that Mr. Perry's numbers have gotten worse as he has become better known — and as Mr. Obama's approval ratings have been low and steady at best — is a poor sign for his campaign.

Moreover, these name-recognition effects usually manifest themselves in lower support for the challenger rather than higher support for the incumbent (voters may say they are undecided if they are not yet sufficiently familiar with a candidate, even if they are likely to support him eventually). But in four of the seven head-to-head polls released since the first debate, Mr. Obama has gotten 50 percent of the vote or more in the hypothetical match-up against Mr. Perry, meaning that the effects cannot be accounted for by undecided voters alone.
The Romney campaign is noticing numbers like this, and is focusing much of the attacks on Perry on the issue of electability. For example, in a Florida campaign stop yesterday, Romney spoke to a group of elderly voters and the topic was, of course, Social Security:
MIAMI, Fla. – Former Massachusetts Gov. Mitt Romney took his attacks on Rick Perry to America's retirement state on Wednesday, drawing comparisons between himself and Ronald Reagan and saying both he and the iconic late president believed in the Social Security program while Perry deems it a failure.

He also took his main rival for the Republican nomination to task for his tendency recently to "wear religion on (his) sleeve." In recent days, the Texas governor had described in highly personal terms his transformation into a Christian during his 20s.

In a state where more than one in five residents is on Social Security, Romney hit Perry hardest on the issue of preserving the federally run retirement savings program. "I think by the measure of the tens of millions of people that rely on Social Security, it's a success," Romney said at a Town Hall-style meeting that attracted about 70 people. "Ronald Reagan believed in Social Security. I believe in Social Security."
For his part, Perry is eschewing appeals to electability in favor of courting the conservative base by appearing on Fox News and calling Romney "Obama-Lite."  This appeal to the base may seem like the smart thing to do given the current state of the GOP, but it seems to be hurting Perry among independent voters. A new Gallup poll shows that Romney seems to be doing a better job attracting those voters than either Perry, or even the President.
In some sense, it was inevitable that Perry would fall back from the initial peaks that he hit when he immediately entered the race. To a large degree, that bounce was driven by hype and excitement rather than familiarity with the candidates. Once voters got to know him better, it's inevitable that his numbers would fall back somewhat. What's of more concern, I think, are the numbers that Silver points out. As voters are getting to know Perry better, they seem to be disliking him more. That might not hurt him much in Republican primaries, but it could become a big problem in a General Election race. Which is why the Romney campaign is emphasizing electability right now. We've got another debate tonight in Florida, and you can expect all of this, and especially issues like Social Security to come up again. Another lackluster debate performance by Perry could present problems for him down the line.