Iowa Limits Early Voting
Making it harder to vote in Iowa.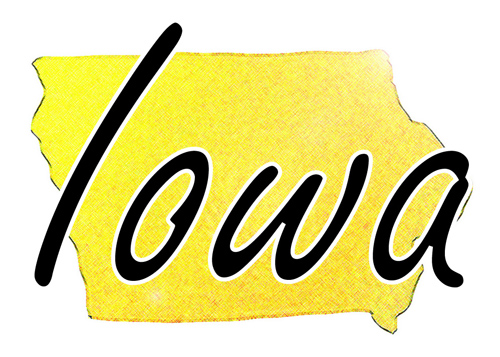 Via the Des Moines Register: Gov. Kim Reynolds signs law shortening Iowa's early and Election Day voting.
Four months after Iowans voted in record numbers, Gov. Kim Reynolds has signed legislation cutting the state's early voting period and closing the polls an hour earlier on Election Day.

[…]

While there is no evidence of widespread voter fraud in Iowa or nationally, Republicans have described the state's legislation as an election integrity measure and said it will bring uniformity across Iowa's 99 counties. Democrats say the law will suppress votes and does nothing to improve election security.

"It's our duty and responsibility to protect the integrity of every election," Reynolds said in a statement. "This legislation strengthens uniformity by providing Iowa's election officials with consistent parameters for Election Day, absentee voting, database maintenance, as well as a clear appeals process for local county auditors. All of these additional steps promote more transparency and accountability, giving Iowans even greater confidence to cast their ballot."
And here we have an in-the-wild application of the term "integrity" to election law changes when a major part of said "integrity" is really just making it more difficult.
The law cuts Iowa's early voting period from 29 days to 20. Polls will now close at 8 p.m. for state and federal elections instead of 9 p.m.

It significantly tightens the rules for when absentee ballots must be received by county auditors in order to be counted. Ballots must now arrive by the time polls close in order to be counted. Previously, ballots placed in the mail the day before Election Day could be counted as long as they arrived by noon the following Monday.

Republicans have sharply criticized county auditors who they say acted inappropriately during the 2020 election. The law strips auditors of much of their discretion in running elections in their counties. Auditors may no longer establish satellite in-person early voting sites unless petitioned to do so by residents, and they may not mail absentee ballot request forms to voters unless a voter asks for one.
Look, while one can argue the degree to which 20 or 29 days of early voting is the optimal number, or whether polls should be open to 8pm or 9pm, the bottom line is that the new law does cut back access to voting for Iowans. Likewise, the various other provisions make voting harder. One can even see that some increased level of security is created, but the real question is: do these marginal increases in security outweigh the loss of democratic access for voters?
My initial assessment would be no. After all, the level of fraudulent voting that these measure seek to address is known to be minimal. But there is little doubt that any set of actions that make it harder to vote will almost certainly lead to fewer people voting.
And, of course, that appears to be the real goal.
More provisions of the law include:
The law makes it a felony for auditors, or any other election officials, to fail to carry out state election laws or to violate guidance from the Iowa secretary of state. Auditors could also face fines of up to $10,000 for "technical infractions" of their duties.
This strikes me, by the way, as a threat to local officials to make them hesitant to help voters for fear of running afoul of the law. What local level official wants to face a $10k fine for "technical infractions"?
More:
The law also limits who can return a voter's absentee ballot. Only the voter, an immediate family member, household member or caregiver may return the ballot to the auditor's office or place it in the mail. Previously, anyone the voter designated could deliver the ballot on the voter's behalf, but the new law makes it a serious misdemeanor for any unauthorized person to do so. Republicans said the restriction is necessary to prevent "ballot harvesting" by political parties or outside groups.

The law allows counties to establish one ballot drop box at the auditor's office, under video surveillance.
Look, limiting who can deliver an absentee ballot is clearly going to have the effect of limiting voting by the elderly and the poor. And while video surveillance of drop box is fine, this sounds like a limitation of a number of such boxes.
Again, there is some level of increase in security in some of these measures. Some, such as collecting absentee ballots for delivery, can be legitimately debated. But the bottom line of all of this, again, is that it clearly makes voting harder for a minor increase in said security to solve a problem that doesn't exist.
And lest someone try to say, "voter fraud is real," one is correct in the sense that there are very minor and insignificant examples of persons breaking elections-related laws. But the numbers are minuscule to the point of being irrelevant in almost every election that occurs and none of these rules changes are going to affect that fact.
For example,
There were 12 convictions for election misconduct in Iowa in fiscal years 2019 and 2020, according to a fiscal note on the legislation compiled by the nonpartisan Legislative Services Agency.
The scourge of 6 infractions a year must be stopped!
Meanwhile, note
More than 1.7 million Iowans cast ballots in last year's election — nearly 76% of registered voters. That included more than 1 million people who voted early, either by mail or in person. Both those figures broke state records.

According to data from the Iowa secretary of state, 76% of Democrats and 52% of Republicans voted early in the 2020 election, either by mail or in person.
All of the provisions to increase "integrity" are aimed at early voting and the ease of early voting. And, coincidentally I'm sure, far more Democrats in the state availed themselves of these options in 2020 than did Republicans.
This is not about "integrity," it is about making it harder to vote in ways that one party uses more than does the other.
BTW: Republicans did really well in the 2020 in Iowa.