Iran Claims It Hacked Into U.S. Drone And Forced It To Land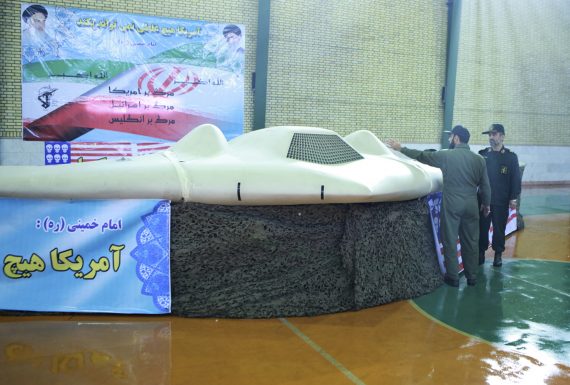 The Christian Science Monitor is out with a story that Iranian engineers are claiming that they were actually able to electronically take control of the RQ-170 drone captured last week:
Iran guided the CIA's "lost" stealth drone to an intact landing inside hostile territory by exploiting a navigational weakness long-known to the US military, according to an Iranian engineer now working on the captured drone's systems inside Iran.

Iranian electronic warfare specialists were able to cut off communications links of the American bat-wing RQ-170 Sentinel, says the engineer, who works for one of many Iranian military and civilian teams currently trying to unravel the drone's stealth and intelligence secrets, and who could not be named for his safety.

Using knowledge gleaned from previous downed American drones and a technique proudly claimed by Iranian commanders in September, the Iranian specialists then reconfigured the drone's GPS coordinates to make it land in Iran at what the drone thought was its actual home base in Afghanistan.

"The GPS navigation is the weakest point," the Iranian engineer told the Monitor, giving the most detailed description yet published of Iran's "electronic ambush" of the highly classified US drone. "By putting noise [jamming] on the communications, you force the bird into autopilot. This is where the bird loses its brain."

The "spoofing" technique that the Iranians used – which took into account precise landing altitudes, as well as latitudinal and longitudinal data – made the drone "land on its own where we wanted it to, without having to crack the remote-control signals and communications" from the US control center, says the engineer.

The revelations about Iran's apparent electronic prowess come as the US, Israel, and some European nations appear to be engaged in an ever-widening covert war with Iran, which has seen assassinations of Iranian nuclear scientists, explosions at Iran's missile and industrial facilities, and the Stuxnet computer virus that set back Iran's nuclear program.

Now this engineer's account of how Iran took over one of America's most sophisticated drones suggests Tehran has found a way to hit back. The techniques were developed from reverse-engineering several less sophisticated American drones captured or shot down in recent years, the engineer says, and by taking advantage of weak, easily manipulated GPS signals, which calculate location and speed from multiple satellites.

Western military experts and a number of published papers on GPS spoofing indicate that the scenario described by the Iranian engineer is plausible.

"Even modern combat-grade GPS [is] very susceptible" to manipulation, says former US Navy electronic warfare specialist Robert Densmore, adding that it is "certainly possible" to recalibrate the GPS on a drone so that it flies on a different course. "I wouldn't say it's easy, but the technology is there."
If true, this would explain why the drone displayed by the Iranians seems to be in such relatively good shape, which one would not expect if the vehicle had crashed somewhere or been downed by enemy fire. This is also the second time we've heard about possible electronic vulnerabilities in the U.S. drone fleet. Just a few months ago, it was reported that Predator Drone's had been infected by a virus in their control software. This would also answer the question of why an auto-destruct mechanism was not activated, assuming the drone actually has one. And, finally, it would indicate why a mission to retrieve or destroy the craft was not feasible. From the article, it seems clear that the Iranians were able to guide the RQ-170 to a landing in an area they controlled.
Needless to say, this isn't a good development.