Iran Nukes: Not So Fast?
Iran's path to a nuclear bomb isn't as easy as most think, Jacques Hymans argues in the current Foreign Policy.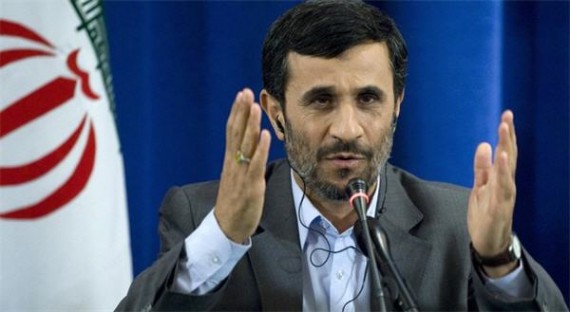 Iran's path to a nuclear bomb isn't as easy as most think, Jacques Hymans argues in the current Foreign Policy.
In an essay titled "Botching the Bomb: Why Nuclear Weapons Programs Often Fail on Their Own — and Why Iran's Might, Too," (subscription required to read more than the abstract) Hymans points out that, while nuclear bomb technology is scientific child's play, it's nonetheless incredibly challenging from a management perspective.
"Today, almost any industrialized country can produce a nuclear weapon in four to five years," a former chief of Israeli military intelligence recently wrote in The New York Times, echoing a widely held belief. Indeed, the more nuclear technology and know-how have diffused around the world, the more the timeline for building a bomb should have shrunk. But in fact, rather than speeding up over the past four decades, proliferation has gone into slow motion.

Seven countries launched dedicated nuclear weapons projects before 1970, and all seven succeeded in relatively short order. By contrast, of the ten countries that have launched dedicated nuclear weapons projects since 1970, only three have achieved a bomb. And only one of the six states that failed — Iraq — had made much progress toward its ultimate goal by the time it gave up trying. (The jury is still out on Iran's program.) What is more, even the successful projects of recent decades have needed a long time to achieve their ends. The average timeline to the bomb for successful projects launched before 1970 was about seven years; the average timeline to the bomb for successful projects launched after 1970 has been about 17 years.
The reason, Hymans contends, isn't the success of international institutions like the non-proliferation treaty or real or possible military threats against would-be nuclear possessors.
A more convincing explanation of the proliferation slowdown begins with the observation that during the early days of the nuclear age, most states with nuclear ambitions were in the developed world, whereas since the mid-1960s, most would-be nuclear states have been in the developing world. As proliferation has become a mainly developing-world phenomenon, timelines to the bomb have slowed down dramatically. But the relevant difference here is not primarily economic. Some nuclear programs in very poor states have fared rather well, such the one undertaken by famine-stricken China in the 1950s and 1960s. Conversely, wealthy oil states, such as Iraq and Libya, spent vast amounts on decades-long nuclear quests but still failed.

National income is only one dimension of development, however, and in this case it is not the most important one. As the political scientist Francis Fukuyama has stressed, despite strong rates of economic growth, most developing countries struggle to establish high-quality state bureaucracies. And a dysfunctional bureaucracy is likely to produce a dysfunctional nuclear weapons project.

Nuclear research and development organizations depend heavily on intense commitment, creative thinking, and a shared spirit of cooperation among large numbers of highly educated scientific and technical workers. To elicit this positive behavior, management needs to respect their professional autonomy and facilitate their efforts, and not simply order them around. Respect for professional autonomy was instrumental to the brilliant successes of the earliest nuclear weapons projects. Even in Stalin's Soviet Union, as the historian David Holloway has written, "it is striking how the apparatus of the police state fused with the physics community to build the bomb. . . . [The physics community's] autonomy was not destroyed by the creation of the nuclear project. It continued to exist within the administrative system that was set up to manage the project."

By contrast, most rulers of recent would-be nuclear states have tended to rely on a coercive, authoritarian management approach to advance their quest for the bomb, using appeals to scientists' greed and fear as the primary motivators. That coercive approach is a major mistake, because it produces a sense of alienation in the workers by removing their sense of professionalism. As a result, nuclear programs lose their way. Moreover, underneath these bad management choices lie bad management cultures. In developing states with inadequate civil service protections, every decision tends to become politicized, and state bureaucrats quickly learn to keep their heads down. Not even the highly technical matters faced by nuclear scientific and technical workers are safe from meddling politicians. The result is precisely the reverse of what the politicians intend: not heightened efficiency but rather a mixture of bureaucratic sloth, corruption, and endless blame shifting.
He contends that neither Iraq nor Libya got nearly as far in their nuclear efforts as widely believed and ascribes their failures to the repressive regimes.
Iraq's experience notwithstanding, many proliferation analysts insist that although technologically backward states might not have been capable of nuclear weapons development in the past, they can now simply purchase all they need in the freewheeling globalized marketplace. Admittedly, illicit nuclear entrepreneurs — such as A. Q. Khan, the rogue Pakistani scientist who sold nuclear technology to Iran, Libya, and North Korea — do pose a threat. But international nuclear technology transfers often fail because the dysfunctional states that are trying to get the bomb are hardly any better at exploiting foreign nuclear know-how than they are at developing their own.

Libya's misbegotten nuclear weapons project reflects this general pattern. Despite buying all the items in Khan's catalog, Libya was unable to "put them together and make them work," according to a 2005 U.S. government report. Indeed, when IAEA inspectors gained access to Libyan nuclear facilities after Libya's president, Muammar al-Qaddafi, abandoned the project in 2003, they found much of the imported merchandise still in its original packing crates.
The analysis is interesting and plausible insofar as it goes. Of course, it doesn't explain how Pakistan and North Korea managed to become nuclear possessors. To be sure, as Hymans notes in another piece, Pyongyang has thus far been unsuccessful at launching a rocket, severely limiting the plausibility of its nuclear threat.
The problem with all this is that, if you believe the risk of a nuclear Iran is "unacceptable"–or, in the case of Israel, an existential threat–relying on Iran's bureaucratic incompetence is hardly satisfactory. It's just not a bet you can afford to lose.