Iranian Proxy War Escalating
Tehran-backed forces are routinely shooting at American forces.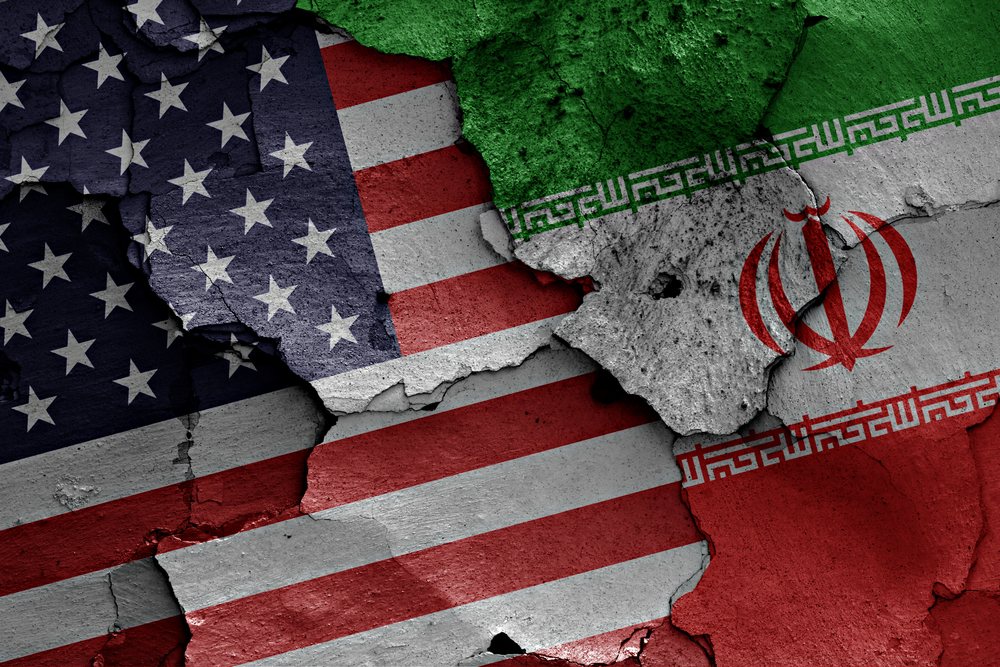 WaPo ("A split emerges as Biden struggles to deter attacks on U.S. troops"):
A surge in attacks on deployed U.S. forces has roiled some within the Defense Department, where officials, frustrated by what they consider an incoherent strategy for countering the Iranian proxies believed responsible, acknowledge the limited retaliatory airstrikes approved by President Biden have failed to stop the violence.

"There's no clear definition of what we are trying to deter," said one defense official, who like others spoke on the condition of anonymity to be candid. "Are we trying to deter future Iranian attacks like this? Well, that's clearly not working."
While I understand the granting of anonymity for purposes of candor, the lack of consistency in the use of terms like "defense official" is frustrating. Is this a senior Biden appointee? A senior military officer in Washington? A commander in the field? Some random captain? I have no idea.
And, frankly, "some" folks in an agency that employs over 2 million people full time (and another ~800,000 reservists) can be found to complain about anything.
Those caveats in place, the situation is indeed fraught. We have US forces on the ground in a war zone with very little transparency to the American public.
Seething anger in the Middle East over U.S. support for the Israeli military campaign in Gaza, where thousands of Palestinian civilians have been killed in the past six weeks, has heightened concern among Biden and his deputies that any overreaction to the attacks on U.S. personnel could incite a wider conflict. In conjunction with the airstrikes, administration officials have urged Tehran repeatedly over the past month to rein in the militia groups it supports, cautioning that the United States has "the right" to respond "at a time and place of our choosing." But those warnings have gone unheeded.
That's not surprising. We're been actively supporting the Saudis in their proxy war with Iran for years, although perhaps not as actively under Biden. And Iran has paid very little price for supporting proxies across the region, including against US forces in Iraq, over the last two decades across multiple administrations.
Alas, because Ukraine and now Israel have gotten so much attention, the situation has gone very much under the radar. Indeed, even though I follow this sort of thing way more than even most heavy news consumers, I wasn't fully aware of the scale here: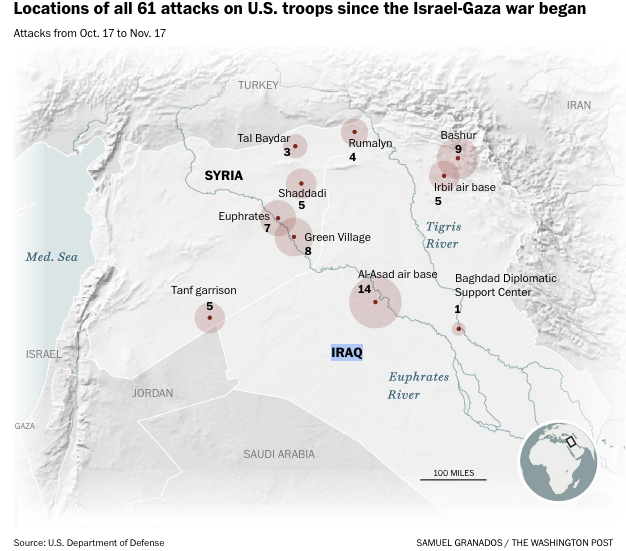 Since Oct. 17, U.S. troops in Iraq and Syria have faced near-daily assaults from rocket fire and one-way drones, recording at least 61 incidents and about as many injuries in that span. Pentagon data obtained by The Washington Post shows that the attacks have targeted 10 bases used by American personnel who are spread across both countries.

In response, Biden has authorized three rounds of airstrikes, all in eastern Syria. The most recent, on Nov. 12, targeted sites the Pentagon identified as used by Iran's Islamic Revolutionary Guard Corps and "Iran-affiliated groups." A U.S. official said that as many as seven militants were killed, a "rough estimate" as the United States continues to assess the results.

The strikes have destroyed purported warehouses holding weapons and ammunition, a command post and a training facility, officials have said. Yet each operation has failed to slow the drumbeat of hostile activity, which in all cases resumed almost immediately. The 61 attacks on U.S. troops have come at a startling frequency as well: There were about 80 similar incidents between January 2021 and March of this year, the Pentagon has said.
It would seem that the Biden administration has simply treated these as a cost of having so many forces stationed around the region.
A senior defense official said the Pentagon has provided additional options to the president beyond the actions that have been taken to date. This person affirmed, too, that within the Defense Department there is growing doubt about the present approach.

In a statement, National Security Council spokesperson Adrienne Watson said that Biden has demonstrated that "he will never hesitate to take action to protect U.S. forces" and that the president is "fully prepared to take further measures as needed at any given moment to protect our people."

Iran has long provided support to militias seeking to dislodge the American presence in Iraq and Syria, where approximately 3,500 troops are deployed to prevent a resurgence of the Islamic State terrorist group. Tehran also backs Hezbollah in Lebanon, whose leaders have threatened to open a new front against Israel, and the Houthi rebels in Yemen. The Pentagon said that Houthis destroyed a $30 million U.S. Reaper drone over the Red Sea in recent days, and U.S. warships have in the past few weeks intercepted weapons fired from Yemen in the direction of Israel.

Christine Abizaid, director of the National Counterterrorism Center, told House lawmakers on Wednesday that, despite the unabated attacks on American personnel, Iran and its proxies are "trying to walk a very fine line in the region." There appears to be a concerted effort, she said, to avoid "overt actions that risk opening them up to a more direct conflict with Israel or the United States while still exacting costs by enabling anti-U.S. and anti-Israel attacks."
And a concomitant strategy by the US administration to avoid escalation. Some token strikes on the facilities of Iranian proxies are hardly going to dissuade Iran. But, rather obviously, the Biden team has judged the risks of escalation that would follow direct strikes on Iranian targets too high.
Probably for good reason.
In their public statements, Defense Department officials have sought to downplay the attacks in Iraq and Syria, describing them as often inaccurate and causing little damage to U.S. infrastructure. The troops who have been hurt all have returned to duty, they've said, classifying the reported brain injuries and other collateral as "minor." The United States has also added more air defense systems into the region, which have shot down several of the drones, according to the Pentagon data.
There's a harshness to this judgment. Traumatic brain injuries can be life-altering. To some degree, though, these are risks that American volunteer military personnel sign up for.
At the same time, it's hardly unreasonable to ask whether the missions being accomplished by having 3500 of them stationed in a hazardous duty zone is worth that risk. Given that nobody actually seems to be asking that question, let alone anyone from the administration explaining it to the American public—who are mostly completely oblivious that this is even happening—it's nearly impossible to know.
But as the attack count has continued to climb, so too has the concern that it is only a matter of time before one claims a U.S. service member's life.

"I don't sense any deterrence," Sen. Kevin Cramer (R-N.D.), a member of the Senate Armed Services Committee, said in an interview. "They keep shooting, waiting for us to respond. We don't, so they keep shooting. And eventually one of those drones, or one of those missiles or rockets, is going to kill an American. And then we'll be off to the races."

"I'm not suggesting we start a full-fledged war with Tehran," he added. "But I do think our posture has to be a little more aggressive than just strictly defensive, because one of these days, we're going to miss one of those drones."
There's a reason Presidents and their senior appointees make these judgments and not Senators from North Dakota. One presumes that Central Command and the Defense Department have contingency plans ready for what happens if the severity or success of these attacks increases. But, again, it would be nice to have a more open dialogue about the situation rather than it being almost completely off the radar.
The senior U.S. defense official acknowledged that the Pentagon sees few good alternatives to the measures taken thus far, which, in addition to the limited retaliatory airstrikes and buildup of air defense weapons, include the deployment of two aircraft carriers near Israel and Iran. Carrying out strikes in Iraq, for instance, has the potential to exacerbate anti-American sentiment there, where U.S. troops are deployed at the invitation of the government in Baghdad. Direct strikes on Iran would amount to a massive escalation.

The Pentagon continues to refine response options, a U.S. official said.

At a news conference Tuesday, Defense Department spokeswoman Sabrina Singh rejected the suggestion that these sustained attacks on American forces revealed shortcomings in the administration's deterrence strategy. That the war in Gaza has not spread, she said, is evidence the approach is working.

The three retaliatory operations taken to date, Singh said, are intended "to signal and to message very strongly to Iran, and their affiliated groups, to stop." When a reporter challenged the assertion, noting that the militia fighters "keep striking" U.S. troops, Singh said the military response has been "very deliberate" and that Iran "is certainly seeing that message."

Joseph Votel, a retired Army general who as the head of U.S. Central Command oversaw all military operations in the Middle East from 2016 to 2019, said it may be too early to tell if the administration's strategy can or will stifle the attacks on U.S. troops.

"When you do things to try to change people's behavior, it takes time for that to set in," said Votel, now a senior fellow at the Middle East Institute, a think tank. "Now we have to think about the volume and the responsiveness, and how that has an effect over time."

Whether it's happening fast enough, he said, is "subject to interpretation."
Again, I presume responsible parties in the administration and professionals in DOD are in fact thinking about all of this. It's clear that there are no great options for responding without risking major escalation.
At a minimum, there ought to be hearings on the matter. In the current political atmosphere, I fear even more grandstanding than usual by Members. But HASC and SASC should certainly be conducting oversight of this.