IRS "Lookout Lists" Also Included Liberal Groups. So, Was It Bipartisan "Targeting?"
A new round of documents from the IRS, that aren't really new, doesn't really change the basic narrative on the IRS "targeting" story.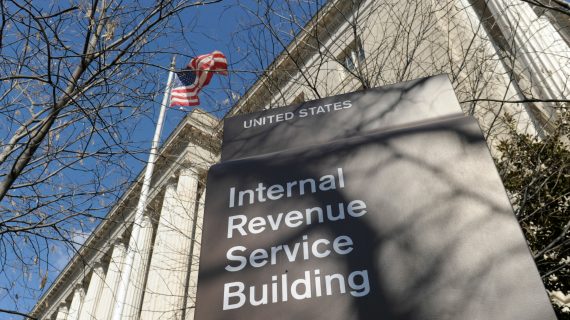 Late yesterday, Acting IRS Commissioner Danny Werful released a report that seemed to indicate that the "Be On The Lookout" lists utilized by IRS employees in charge of examining 501(c)(4) applications included not only words that tended to ensnare conservative organizations, but also those that would likely ensnare liberal/"progressive" organizations:
WASHINGTON — The instructions that Internal Revenue Service officials used to look for applicants seeking tax-exempt status with "Tea Party" and "Patriots" in their titles also included groups whose names included the words "Progressive" and "Occupy," according to I.R.S. documents released Monday.

The documents appeared to back up contentions by I.R.S. officials and some Democrats that the agency did not intend to single out conservative groups for special scrutiny. Instead, the documents say, officials were trying to use "key word" shortcuts to find overtly political organizations — both liberal and conservative — that were after tax favors by saying they were social welfare organizations.

But the practice appeared to go much farther than that. One such "be on the lookout" list included medical marijuana groups, organizations that were promoting President Obama's health care law, and applications that dealt "with disputed territories in the Middle East."

Taken together, the documents seem to change the terms of a scandal that exploded over accusations that the I.R.S. had tried to stifle a nascent conservative political movement. Instead, the dispute now revolves around questionable sorting tactics used by I.R.S. application screeners.

The acting I.R.S. commissioner, Daniel I. Werfel, formally ordered an end to all such "lookout" lists on Monday when he issued an assessment of the controversy that has led to harsh criticism of the nation's tax collector.

Such lists were in use as recently as this month, when Mr. Werfel took over the agency, far longer than initially thought. I.R.S. officials said Monday that the more recent lists did not include the terms aimed at conservative groups.

Mr. Werfel on Monday also created an expedited process for groups to attain the tax-exempt status known as 501(c)(4). To qualify, groups must agree that no more than 40 percent of their expenditures and time can be spent on campaigns for candidates seeking public office. At least 60 percent of the groups' time and expenses must be dedicated to social welfare activities.

The new I.R.S. documents raise questions about how the controversy has been portrayed. They confirm that the applications of "various local organizations in the Tea Party movement" were given special scrutiny. But so were "progressives."

"Common thread is the word 'progressive,' " a lookout list instructs. "Activities appear to lean toward a new political party. Activities are partisan and appear as anti-Republican."

But groups with no political inclinations were also examined. "Open source software" organizations seeking nonprofit status "are usually for-profit business or for-profit support technicians of the software," a lookout list warns. "If you see a case, elevate it to your manager."

"Regional health information organizations" seeking nonprofit tax exemptions for their electronic health care data-collection efforts were sent to the same I.R.S. group sorting through the Tea Party applications.

Groups involved more generally in carrying out the Affordable Care Act were also sent to the I.R.S. for "secondary screening."

And "occupied territory advocacy" seemed subject to the most scrutiny of all.
On it's surface then, this would seem to blow a good part of the narrative about the IRS story that has gripped Washington and the political media for the better of the past two months completely out of the water. After all, the entire basis for that narrative was the idea that IRS employees were specially targeting groups with conservative sounding names for extra scrutiny in the 501(c)(4) application process, something that many on the right have latched onto as proof that there was some kind of organized effort to target the right. It's worth noting, of course, that there still isn't any definitive evidence that this "targeting" was directed from outside the IRS or that anyone associated with the Obama White House or the Obama campaign was involved, something that many on the right have at the very least hinted at many times during their discussions about this story. Now, though, we've got documents that seem to show that groups tied to the left, as well as other more general political causes, were also included in the list of organization names that should be scrutinized by those evaluating 501(c)(4) applications.
The Atlantic Wire's Elizabeth Reeve argues that this completely debunks the version of the story we've been hearing from the beginning. Kevin Drum reaches the same conclusion. However, over at National Review Eliana Johnson argues that this new information doesn't really change the basic narrative of the IRS story:
A November 2010 version of the list obtained by National Review Online, however, suggests that while the list did contain the word "progressive," screeners were in fact instructed to treat "progressive" groups differently from "tea party" groups. Whereas screeners were merely alerted that a designation of 501(c)(3) status "may not be appropriate" for applications containing the word "progressive" - 501(c)(3) organizations are prohibited from conducting any political activities - they were told to send those of tea-party groups off IRS higher-ups for further scrutiny.

That means the applications of progressive groups could be approved on the spot by line agents, while those of tea-party groups could not. Furthermore, the November 2010 list noted that tea-party cases were "currently being coordinated with EOT," which stands for Exempt Organizations Technical, a group of tax lawyers in Washington, D.C. Those of progressive groups were not.

The AP reported earlier on Monday that "Terms including 'Israel,' 'Progressive' and 'Occupy' were used by agency workers to help pick groups for closer examination." That appears to be misleading, as there is no indication from the list examined by NRO that progressive groups were singled out for heightened scrutiny in a manner similar to tea-party groups. Cases involving healthcare legislation, however, were. "New applications are subject to secondary screening in Group 7821," the list notes.

(…)

Based on the lookout list examined by NRO, however, it is inaccurate to say that progressive and liberal groups were subjected to the same or similar scrutiny as tea-party groups, or even that a surprisingly broad array of criteria was applied to screen applications for tax exemption.
It's worth noting that much of the information that came out yesterday wasn't exactly new. Much of it, including the information that Drum cites at his linked story, was  included in the Inspector General's report that got the ball rolling on this story back in late April. This is the same report that concluded that conservative aligned groups were treated differently from other groups, especially to the extent that their applications for 501(c)(4) status were delayed for, in many cases, what amounted extraordinary periods of time. The Inspector General has consistently stood by this conclusion each of the tie he has been before a Congressional Committee to testify about this matter. Nothing that Wurfel released today,or the either Drum or Reeve point to, suggests that this was not the case. Therefore, I'm not sure that this "new" information is the all that earth-shattering or that it really undercuts the central premise of the narrative that conservative groups were subjected to stricter scrutiny than other groups during their 501(c)(4) screening process.
What we don't know, quite obviously, is what the reason for this extra scrutiny actually was. As I've noted, many on the right have asserted that it was part of an overall effor to harass Tea Party linked groups but there's simply no objective evidence to support this. Matt Bernius has presented a perfectly plausible alternative theory for what happened in a serious of posts —- see here, here, and here — that places importance on the nature of bureaucracies that seems to me like it may end up being closer to the truth. However, that doesn't undercut the seemingly undeniable fact that groups on the right were given greater scrutiny than other groups, and nothing that was released yesterday really changes that fact.
Update: Jonathan Adler at The Volokh Conspiracy sees the "new" revelations pretty much the same way I do and also points out an important distinction:
Some of these revelations are significant, but none of them contradict the account of the Inspector General's report. Recently disclosed documents show that some BOLO ("Be on the Lookout") documents called on IRS officials to flag groups based on the use of words like "progressive" or "Israel." Yet these BOLO flags were largely limited"http://www.nationalreview.com/node/351718/print">limited to groups seeking 501(c)(3) status (whereas the "Tea Party" flagging occurred with (c)(4) applications), and these BOLO documents don't call for the same degree of scrutiny. The distinction matters because (c)(3) organizations are subject to more stringent limitations on political activity than (c)(4) groups. This would justify greater scrutiny of the former than the latter, and if the IRS was more even-handed with its review of (c)(3)s that would be a good thing. Why wasn't this other information in the IG report? Perhaps because the IG was asked to look at the treatment of groups applying for (c)(4) status, and because the IG only conducted an audit, and not a full investigation. The scope of IG reports (like GAO reports) is often limited by the nature of the initial request.
This is worth keeping in mind.