Is Centrism A Viable Political Strategy? It Sure Doesn't Look Like It
The 'No Labels' movement is back, and it's as irrelevant to contemporary politics as ever.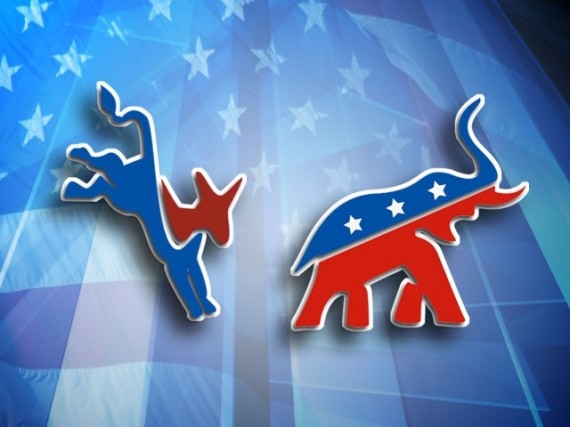 At the end of a column about former British Prime Minister Tony Blair's appearance at a New York City event sponsored by the No Labels movement, The Washington Post's Kathleen Parker writes this:
But, I asked, can centrism really become a movement? Does it need a party?

Said Lieberman: "There's nothing in the Constitution that says we have to have a two-party system. We can do whatever we want."

Indeed, we can.
In some sense, Senator Lieberman is correct when he says that there are no Constitutional limitations on the existence of a multi-party system in the United States. Indeed, there have been times where a third party of some kind has risen up and been at least somewhat competitive with the two dominant parties.  The elections of 1856 and 1860, for example, had candidates representing several political parties on the ballot, although they were largely regional phenomenon and relied upon the political divisions over slavery and its expansion for their existence, and they failed to survive the upheaval of the Civil War. Additionally, it's worth noting that both these elections marked a political turning point in that the Whig Party was being replaced as a major party by the Republican Party. The election of 1892 saw the Populist Party field a candidate that had some success in an election that saw former President Grover Cleveland beat incumbent Benjamin Harrison in a rematch of the race from four years earlier, but this part didn't last very long and eventually merged into the Democratic Party. We saw similar phenomenon is the elections of 1912, 1924, 1948, 1968. 1980, 1992, and 1996. In each case, though, the parties that arose were a one-off phenomenon that largely failed to have much of an impact on the outcome. More recently, the 2016 election saw Libertarian Party nominee Gary Johnson, Green Party nominee Jill Stein, and independent EvanMcMullin get a combined total of roughly 6,000,000 votes, an amount larger than the difference in the popular vote between the two major party candidates, which was better than we've seen from alternative party candidates in quite some time.
While this relative handful of election results does support the contention that there's no reason we can't have a viable third-party, the fact that none of these movements lasted much beyond a single election, and that most of them were built around a single issue or individual, does demonstrate the institutional barriers that exist in our political system that make the rise of any third-party, much less a "centrist" one, highly unlikely. There' very little history, for example, of a viable third-party movement at the state level, and only a handful of times that we've seen members of Congress who represent a true third party rather than being nominal independents who end up voting predominantly with one party or the other. In no small part, of course, this is because Congress itself is structured in such a way that encourages the existence of just two major parties. The rules of both the House and the Senate basically presume the existence of a majority party and a single minority party, for example, meaning that anyone who is elected to Congress as an independent or a member of a third-party has to choose between caucusing with either Republicans or Democrats if they're going to get access to things such as committee assignments that would actually allow them to get anything done. Finally, as OTB's own Steven Taylor has noted on several occasions over the years, the structure of our political system, which includes everything from the Electoral College to our first past the post voting system, encourages the existence of only two major parties. Unless that changes, we're unlikely to see the rise of a truly viable third party of any kind.
Beyond the structural issues, though, there's the question of whether or not the kind of "centrism" that the No Labels movement is championing could really form the basis of a viable national political movement in today's environment. The sad conclusion I must reach is that, notwithstanding polling that continues to show that Americans want more centrist results from their government, the answer to this question is a pretty firm "no." For better or worse, both major parties have moved further away from the center in recent years, and that trend shows no signs of abating in the near future. To be sure, the phenomenon has been far more prevalent in the Republican Party, which has moved considerably far to the right thanks to its embrace of the Tea Party movement, the influence of politically active social conservatives and evangelicals, both of which paved the road for Donald Trump's ability to essentially coast to the Republican nomination last year. We're seeing a similar phenomenon happen in the Democratic Party, which has lost much of its conservative and moderate element with the loss of an electoral base in the south outside of the African-American community and the death of the Blue Dog Democrats. This has led to the ongoing battle inside the party between a progressive wing allied with politicians such as Bernie Sanders (who is nominally an Independent but clearly a strong player inside the Democratic Party) and Elizabeth Warren that is attempting to pull and the more or less center-left establishment of the party, which doesn't seem at the moment to be presenting much of a viable alternative to the progressives. Additionally, as several of us here at OTB have noted over the years, the fracturing of the news media has meant that people are getting information mostly from sources that reinforce their pre-existing beliefs rather than taking in information from a wide variety of sources. All of this, it seems to me, makes it unlikely that "centrism" of any kind can succeed in taking back the political momentum in the United States anytime soon.