Is George H.W. Bush America's Greatest Living President?
In retrospect, and in comparison with other recent Presidents, George Herbert Walker Bush's four years in office were pretty darn good.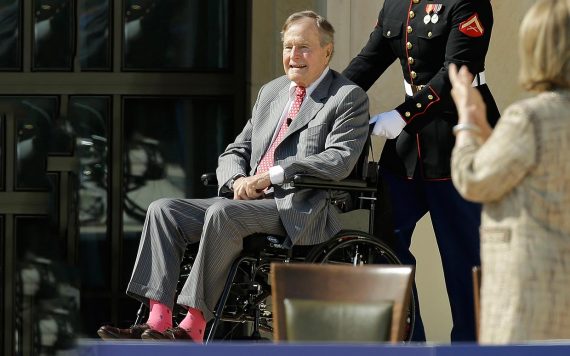 In the pantheon of recent former Presidents, George Herbert Walker Bush hasn't always ranked very highly. In no small part, of course, that came about because he stands in that small group of Presidents who not only served only a single term in office, but also stood for re-election and were defeated.1 Additionally, when he left office after losing the 1992 election Bush's time in office was seen as largely a failure by his opponents and by members of his own party. Indeed, by the time Bush's son ran for President eight years later, the Republican Party that the senior Bush had led had changed significantly and had largely repudiated the Bush Presidency as they rose to power in Washington. At the top of the list, of course, was Bush's supposed hypocrisy regarding taxes arising out of the 1989 budget deal with Congressional Democrats, but Republicans distanced themselves from the senior Bush in other ways as well, not the least of them being temperment. As the former President has aged, public sentiment about his time in office has softened significantly, due in no small part to his public friendship with the man he defeated in 1992. Additionally, the fact that he became known during his son's time in office as the guy who jumped out of airplanes to celebrate his 80th birthday has revealed a side of the man that wasn't really apparent during his time as Vice-President and President. Politically, though, the Bush 41 years are still viewed negatively by most people on the left and the right.
In The National Interest, though, James Antle puts forward the case that George H.W. Bush is in fact our greatest living President:
Bush was a temperamental conservative in the way that his more ideologically minded successors, ranging from Newt Gingrich to his own son, were not. The old Dana Carvey sketches about Bush featured the president saying, "Not gonna do it. Wouldn't be prudent."

"Prudence" was once a hallmark of conservatism. Indeed, one of Russell Kirk's seminal works was titled The Politics of Prudence: Ten Conservative Principles. "Being neither a religion nor an ideology, the body of opinion termed conservatism possesses no Holy Writ and no Das Kapital to provide dogmata," Kirk  wrote .

Kirk supported Pat Buchanan over Bush in 1992, serving as Buchanan's Michigan state chairman. Prudence could only carry a president so far.

The perilous situation unfolding in Ukraine under President Obama and the debacle in Iraq unleashed by the younger George Bush should nevertheless remind us that prudent statesmanship is easy to take for granted. Bush 41 skillfully presided over the collapse of Soviet communism and apartheid in South Africa. Does anything the U.S. has done in response to, say, the Arab spring really compare?

Hard as it is to believe, we once had a President Bush who was capable of winning a war in Iraq.

Perhaps because it wasn't a war of choice, Saddam was the aggressor, and there was a genuine international coalition.

The neoconservative Washington Free Beacon has a running  joke describing George W. Bush as America's greatest living president. (Well, they might not be kidding, but it is pretty funny.) But it is a title that might properly belong to his father.

The younger Bush was better on taxes and a host of small-ball conservative initiatives. Even with John Roberts' Obamacare vote, he was less of a mixed bag on Supreme Court appointees—David Souter turned out to be nearly as liberal as Clarence Thomas was conservative.

Bill Clinton's main achievement was not screwing up the Internet boom of the 1990s. That was not for lack of trying, however. He had hoped for a larger tax increase and he aimed to inflict his wife on the health care system Obamacare-style. Clinton quietly ushered in the interventionism run amuck that his successor would take to the next level. He is mainly remembered for scandal, embarrassment, and Monica Lewinsky oral sex jokes.

About Jimmy Carter, the less that is said, the better.

Does not George H.W. Bush's record compare favorably to all these living presidents? And is there anything you have seen in the last five years that suggests Obama would have been the man you want presiding over the disintegration of the Soviet Union or the reunification of Germany?
Antle is obviously letting some of his own political preferences show through here, but that's somewhat inevitable whenever one assesses the legacy of former political leaders, especially those that have served in office relatively recently. Leaving that aside, though, it strikes me that he makes a good case for the position that George H.W. Bush was a far better President than he's generally given credit for, and that history is likely to have a far more sympathetic view of his time in office than we've seen in the political arena in the 21 years since he left office.
Let's start with the area that Bush is most often associated with, and the one that he's admitted more than once that he's more comfortable with, foreign policy. When George H.W. Bush took office in 1989, Mikhail Gorbachev had been in office in the Soviet Union for five years and we'd already seen he and President Reagan open new grounds in relations between the U.S. and the Soviet Union. President Bush picked up where his predecessor left off, including successfully completing the negotiations that led to the Strategic Arms Reduction Treaty, the most far reaching nuclear arms reduction treaty that had been reached to date. It was also during Bush's time in office that we saw the Soviet empire in Eastern Europe, and then the Soviet Union itself, collapse over the course of a two year period that began mere months after he took office and ended in December 1991 when the Soviet flag was lowered over the Kremlin for the final time. In between there were protests throughout Eastern Europe, the Berlin Wall collapsed, and Communist Party hardliners in Moscow launched a coup d'etat that had the entire world on edge for nearly a week in August 1991. At various times during these events, many on the right criticized Bush for not being somehow more "aggressive" in response to unfolding events, but as Bush and others have pointed out since then there were very good reasons for not "spiking the football" on the Cold War, including the danger that it would provoke nationalist responses in Europe. Perhaps more than anything else then, Bush deserves much credit precisely for the prudence that Antle is referring to above because, under the circumstances at the time, it's exactly what was called for.
If Bush was seemingly reticent to act rashly in response to the unfolding events in Eastern Europe, he displayed no such reticence when it came to responding to the Iraqi invasion of Kuwait. Within days after the invasion, thanks in no small part to a weekend meeting with British Prime Minister Margaret Thatcher during which, according to some versions of history, she persuaded Bush and Secretary of State James Baker that the west couldn't allow the invasion to stand, President Bush committed the American military to its largest operation since the Vietnam War and engaged in a contest of wills with Saddam Hussein, who didn't seem to believe that the Americans would actually do anything about his invasion of this small nation on the Arabian Peninsula. In the end, of course, the war wasn't a contest at all and, for a time, Bush enjoyed some of the highest job approval ratings any President had ever seen before. There were those who criticized Bush's decision to launch Operations Desert Shield and Desert Storm, of course, and I'll admit that at the time I was skeptical of the whole adventure myself. In retrospect, though, it seems clear that Bush made the right decision to go to war, and that it would have set a bad precedent for the approached post Cold War era to allow a naked grab for territory like the one Saddam engaged in go unanswered. The fact that he managed to pull the whole thing off while the Soviet Union still existed just makes the whole thing seem even more extraordinary in retrospect.
Domestically, Bush's record is admittedly not nearly as noteworthy. He left office in no small part due to an economic recession that wasn't his fault so much as the natural consequence of nearly a decade of very strong economic growth combined with a collapse in world energy markets that happened just after the end of the Persian Gulf War. Bush's problem, though, was that he never seemed to connect with voters the way that either his predecessor or successor in office did so, when that economic downturn happened it seemed to a lot of people as if he didn't really care, which to be fair was likely fair from the truth. Legislatively, Bush's successes were somewhat limited, although he is credited with helping push the Americans With Disabilities Act through Congress and he also set in motion the negotiations that led to the ratification of the North Atlantic Free Trade Agreement in 1994.
In the end, whether one agrees with Antle that Bush is the greatest living President depends on one's political opinions. At the very least, though, one can make the case that he was at least as good a President as Bill Clinton and, of course, far better in retrospect than either Jimmy Carter or his son. Where might Barack Obama rank on this list when he leaves office in 2017? Well, we'll just have to leave that question for another day.
1 Twelve Presidents have served only a single full term or less in office. Of those just four—William Howard Taft, Herbert Hoover, Jimmy Carter, and George H.W. Bush–stood for reelection and lost.