Is Obama Bullying Israel on Peace Talks?
The United States is pressuring the Netanyahu government to move off its hard line.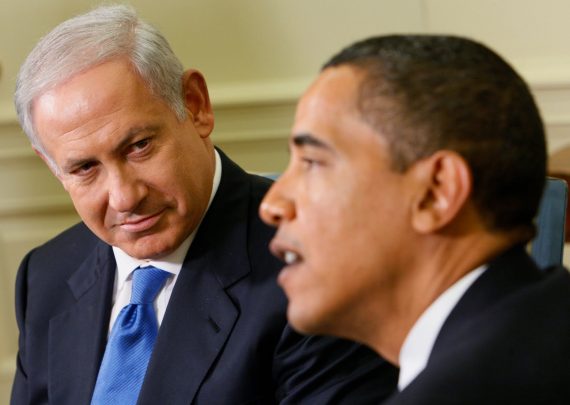 Under the headline "U.S. pressuring Netanyahu to accept Obama's peace plan," Haaretz reports the Obama administration is frustrated with Israel's recalcitrance.
Washington is pressuring Prime Minister Benjamin Netanyahu to accede to its proposal to resume Israeli-Palestinian peace talks on the basis of U.S. President Barack Obama's May 19 speech.

An Israeli source who spoke recently with senior officials in Washington said the Americans were very frustrated with Netanyahu's behavior, feeling that he was impeding America's efforts to keep the Palestinians from unilaterally seeking UN recognition of a state in September.

Netanyahu's personal envoy, Isaac Molho, spent last week in Washington, where the Americans presented their proposal for resuming talks on the basis of Obama's speech. Specifically, Obama's plan calls for negotiating over borders and security first, while deferring issues such as Jerusalem and the refugees until later. It also calls for the borders to be based on the 1967 lines, with mutually agreed land swaps.

The Americans told Molho that to block European initiatives such as France's proposal for an international peace conference in Paris, they must have something concrete to offer, like Netanyahu's agreement to negotiate on the basis of Obama's speech.
So, Obama is privately telling Israel that it wants them to do what he's publicly stated is his policy preference? And couching it in terms of American ability to help Israel fend off greater pressure from less sympathetic Europeans? That's hardly shocking.
An Israeli source who maintains close ties with both senior U.S. officials and people close to Netanyahu said that Washington's frustration began with Netanyahu's trip to Washington last month, when he publicly fought with Obama and then refused in an address to Congress to endorse the president's outline for talks. The Americans were now speaking very harshly of Netanyahu, said the source.

"He's asking us to protect him in September, but he isn't giving us any tools with which to help him," the source quoted one American official as saying. "Instead of helping us, he's making it harder for us."

As a result, American officials complained, Obama was unable to get Britain and France to commit to opposing a unilateral Palestinian move when he visited Europe last month.

"The Americans need Israel inside, but Netanyahu isn't there yet," the source said. "To date, from the American and European perspective, Israel hasn't given anything."

European diplomats said Netanyahu's speech to Congress was viewed in Europe as one long "no" and had thus increased European distrust of him. "We want to hear Netanyahu say he's willing to negotiate on the basis of Obama's speech and that he'll discuss borders based on the 1967 lines with land swaps," said one diplomat.
Israel's increasing hard line since the first Intifada dissipated most of the good will it had in Europe. The natural antipathy for Palestinians, whose chief spokesman was leader of a terrorist group, and support for a Jewish Israel in the aftermath of the Holocaust, were turned on their head by Israeli brutality shown live and in color in European living rooms. And Netanyahu is the Israeli leader who has been least interested in world opinion in his two stints as prime minister. Bill Clinton was frustrated with him the first go-round; now it's Obama's turn.
WaPo's Jennifer Rubin ("Obama bullies Israel; so much for promises at AIPAC") sees this as a betrayal of an ally.
This weekend it became apparent that there is much to worry about and that the Obama administration has been playing a game usually practiced by the Palestinians, namely telling its domestic audience one thing and the negotiating parties something different.

[…]

Is the U.S. president pressuring Israel to adopt a position that is not its own and diminishes its bargaining position? And what happened to the statements in President Obama's speech to AIPAC that Israel could not be expected to sit down with those who want to destroy it? After all Hamas has not yet agreed to the Quartet principles (recognize Israel, renounce terrorism and abide by past agreements), nor has Mahmoud Abbas separated himself from the unity government. To the contrary now he is renouncing past agreements including the Oslo Accords, which call for mutually negotiated final borders and prohibit the parties from taking unilateral steps that would impair negotiations.
The United States is not only the world's last remaining superpower but Israel's chief benefactor and only significant ally. We pour billions of dollars into Israel's coffers each year and get very little back for our investment. The continuing thumbing of their noses at the international community–including the United States–in continuing to extend settlements into the occupied territories has put us in an untenable position.
Is the Obama administration "pressuring" the Netanyahu government to "adopt a position that is not its own"? Sure. Their position is a non-starter. Ours is the only one with the slightest chance in hell of working. It also happens to be the one supported by international law. Does moving from an untenable position to a reasonable diminish their bargaining position? Well, only in the sense that it would allow bargaining to begin.
It's worth noting, too, that Israel's negotiating position–and American ability to influence the outcome–will get substantially worse if the United Nations recognizes Palestine as a state. And that may well happen in the next year or so.
Netanyahu and Rubin have a point vis-a-vis Hamas. Like the Egyptian Brotherhood, it's much more than a terrorist group. But it's still a terrorist group. On the other hand, it has strong political legitimacy to represent the Palestinian people in negotiations. It's unclear who else would do it. And, obviously, the Quartet principles would have to be an integral part of any negotiated settlement. It would simply be absurd for Israel to agree to a settlement that didn't include a recognition of its right to exist and strong measures to ensure peace, presumably including an international peacekeeping force.
All that said, however, I'm surprised Obama is risking so much political capital for so little. The prospects of solving a six-decade-old conflict that shows no sign of cooling over the next seventeen months are nil. Yet he risks alienating a key Democratic constituency in pursuing it so aggressively. This strikes me as a legacy move that should wait for a second term, should one be forthcoming.