Is Pennsylvania Really In Play?
Once again, the Keystone State is teasing the GOP.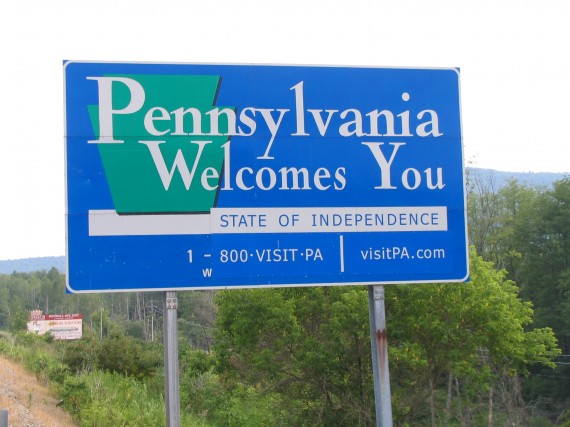 Republicans haven't won Pennsylvania in a Presidential election year since George H.W. Bush managed to do it in 1988. Ever since then, there have been years where the Keystone State has teased Republicans into thinking they have a shot there, only to find that hope dashed come Election Day. This year seems to be one of those year and, right on time, the polls are starting to tease Republicans again.
First up, there's a new Quinnipiac poll showing only a four point race between the President and Romney:
Gov. Mitt Romney has narrowed a 12-point gap with President Barack Obama and now trails the president 50 – 46 percent among Pennsylvania likely voters, according to a Quinnipiac University poll released today.

This compares to a 54 – 42 percent Obama lead in a September 26 survey by the independent Quinnipiac (KWIN-uh-pe-ack) University.

In today's survey, men back Romney 54 – 43 percent, compared to a 49 – 48 percent split September 26. Women back Obama 57 – 39 percent, little changed from last month. White voters back Romney 53 – 43 percent while black voters back Obama 97 – 1 percent. White Catholic voters go Republican 56 – 43 percent. Voters with college degrees back the president 54 – 43 percent while voters without degrees are divided with 49 percent for Obama and 47 percent for Romney.

Only 7 percent of Pennsylvania likely voters say they might change their mind in the next 21 days.

"Gov. Mitt Romney is coming on strong in the Keystone State, especially among white Catholics," said Tim Malloy, assistant director of the Quinnipiac University Polling Institute.
These results are mirrored in another poll by Muhlenberg College and the Allentown Morning Call:
The survey also squares with another recent Pennsylvania survey that reported Romney gains. A Muhlenberg College/Morning Call poll of likely voters, conducted from Oct. 10 through Oct. 14 with a margin of error of 5 percentage points, found Obama leading Romney by only 4 points, 49 percent to 45 percent. That was down from an 7-point advantage for the president from the same survey taken in late September.
Judging by these two polls alone, it would seem like the there's some real movement toward Romney in the state. However, there are other recent polls that show a far different view of the state of the race. A recent Public Policy Polling survey has the President up by seven points, a Rasmussen poll has Obama up by five points, and a Philadelphia Inquirer poll has the President up by eight points. In fact, the only recent poll that seems consistent with the view of a tight race in Pennsylvania is a Susquehanna poll that shows only a two point gap between the candidates, a number that seems far too small. This leaves us with a RealClearPolitics average of five points in favor of the President, a lead but a smaller one than he's had in the past.
I'm still skeptical of the idea that we're seeing anything real from Pennsylvania this time around. As I've said before, this state has teased the GOP before with the hope that it could be captured. In the end, though, the overwhelming Democratic turnout from Philadelphia and its suburbs, and to a smaller extent Pittsburgh, overwhelms Republican voters from other parts of the state, and turns the state blue once again. There's not really any reason to believe that this isn't going to happen again this year. Moreover, there's absolutely no sign that the Romney campaign believes that the state in play. They aren't spending large amounts of money there, and we haven't seen the same kind of attention paid to the state as we have to states like Ohio. That makes sense, of course, because even the large amounts of money that Romney has raised this year can only be spent in so many places, and it seems smarter to spend time in the Virginia, Ohio, Colorado, Nevada, and possibly Wisconsin than a state that hasn't gone Republican in twenty-two years.  Barring some extremely unlikely developments, I expect Pennsylvania to go blue again this year.