Is The Game Fixed?
A third of the Forbes 50 were born billionaires. Does that mean the game is fixed?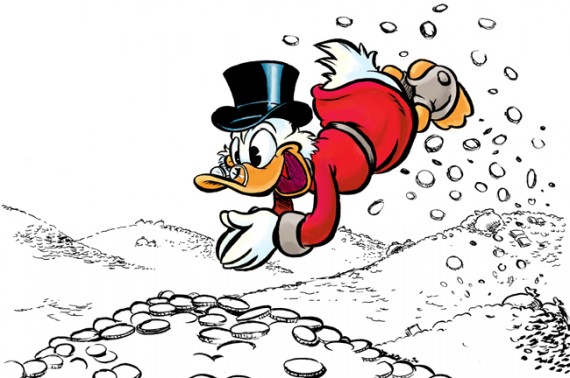 ObWi's Doctor Science takes a look at the Forbes 400 list of "The Richest People in America," constructs a table of their family backgrounds, and comes up with some not shocking findings about the top 50:
16 out of the 50 (32%) grew up in great wealth: they were basically born on home plate.
another 11 were what I'd call solidly upper class — not Great Big Trust Fund Rich, but *extremely* comfortable. Altogether, around half of the people on the list were in the top few percent of the population from birth.
12 or 13 (depending on how you count Michael Bloomberg's family) are from the upper-middle class. Notably, most of them made their fortunes in the Computer/Internet sector — not surprising for people who were basically brought up as technocrats.
4 are from middle-class families, 2 from the lower-middle class, and only one — Harold Hamm — is definitely from the lower class.
From this, DS concludes:
Speaking as someone from the "upper-middle tech" class, only those last 7 (or 8) people were really "self-made", everybody else started with enough cultural capital or just plain capital to not really be on a level playing field with the rest of the population. The Forbes list does *not* show the triumph of free-market competition, it shows that, as Forbes itself has admitted, Want to get rich quick? Have a fabulously wealthy family.
Now, DS' social classes are defined based on looking at parents' occupations and making an educated guess as to how easily they could afford to pay for an Ivy League education.   So, the rankings might be skewed upward a bit.  But even if we take half of the upper-middle class and define them as middle class, we'd still have only 13 of 50 coming from middle  class or below.
It's simply undeniable that family wealth and what DS terms "cultural capital" are huge advantages.  Conor Friedersdorf wrote several good pieces on this a while back, starting with one titled "Flaws in the Meritocracy."
I was tremendously blessed relative to 99.9 percent of people in the planet and the vast majority of my fellow Americans.

In hindsight, however, there is all sorts of knowledge that I lacked compared to many of the people I've met who grew up in a household with Ivy League educated parents, or attended a fancy East Coast prep school, or had a parent who worked in academia, or a network of close family friends spanning the elite of every profession. It never occurred to me that I should study for the PSAT because it affected who would get National Merit Scholarships, or that an aspiring writer would do well to consider Princeton in order to study under John McPhee, or Harvard or Yale because they're feeder schools for prestigious publications. I took the SAT once without any prep classes, applied only to schools in California, never knew about a lot of the fellowships some folks applied for upon graduating from college, and felt all the while that I was relatively well-informed.

Please don't mistake this for complaining. I'm tremendously lucky. I chose between Berkeley and Pomona College, got a good education, probably started a rung lower in professional journalism than I would've had I gone east earlier, but likely benefited from the experience. Still, if I had a kid entering high school right now, I could help them game the college admissions system and hasten advancement in the meritocratic elite far more adroitly than my parents could help me — and orders of magnitude more than most families can help their kids. What I take away from my own story is this: If an upper middle class kid from Orange County, CA is removed enough from the northeast rat race to perceive slight but meaningful information disadvantages in hindsight, what's a lower middle class kid from Reno or a first generation college applicant from Topeka to do?
DS notes that, in addition to being born to wealthy, educated professionals — or, better yet, to parents who inherited a few billion dollars — it helps to be Jewish and marry a well-educated woman.   Which reinforces the point:  Connections, status, and  "cultural capital" are enormously helpful.
All that said, I'd stop well short of this:
This game isn't completely fixed — that's how you get the suckers to keep playing and betting — but it's *mostly* fixed. A huge portion of the wealth — and thus the power — in America is concentrated in the hands of people who did nothing to earn it. If that's not aristocracy, what do you call it?
Just because its next to impossible to jump from poverty to the Forbes 50 in one generation doesn't mean the system is somehow broken.  It just shows that, if someone gives you a billion dollars in your 20s, you're likely to still be filthy, stinking rich later in life.  Four of the top 9 are Walmart heirs.   The Mars candy heirs are in a three way tie for 26th.   It'll take a generation or two to go through that kind of money unless the children and grandchildren of those who built those businesses can keep up the success of the founders.
My wife and I both started in the lower-middle class, are first-generation college, and had to choose where we went to school with cost as a heavy consideration.  And, even if money had been no object, we'd have lacked the social knowledge to make informed choices.   Through a combination of hard work and luck, we've managed to work ourselves into the upper-middle class and our daughter should be in the position Conor was in growing up.   Maybe a bit better, since we're in the Washington, DC corridor and have access to the knowledge of some marvelously bright high achievers.
Would we have been more successful if, instead of going to regional colleges and getting middle class jobs we'd inherited a candy fortune?   Hell yes, we would.   But we're talking three people our of us 307 million Americans.   It's a ludicrous comparison.    And, by DS's own calculations, only a third of the Forbes 50 got there solely through inheritance.    Surely, Bill Gates and Paul Allen get some credit for building Microsoft, even if they had parents who could afford to send them to great schools?