Is The (Tea) Party Over ?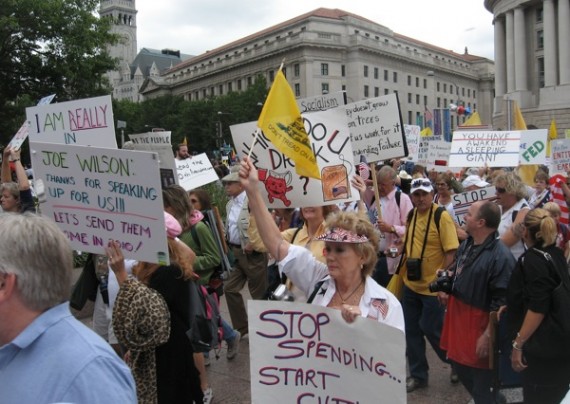 An article in yesterday's Washington Post ponders the question of whether the political influence of the tea party movement is on the wane:
The polls hadn't even closed Tuesday when "tea party" activists in Nevada started sniping at one another over whether Sharron Angle, the soon-to-be Republican nominee for U.S. Senate, was the best candidate to bring down Senate Majority Leader Harry M. Reid.

In Virginia, tea partiers vented on blogs and to reporters about the movement's inability to coalesce around a single, strong candidate in two House races, resulting in the nomination of establishment candidates instead.

The national tea party movement has never had a central organization or single leader; in fact, it has boasted the opposite. But Tuesday's primary results provided fresh evidence of the amorphous network's struggle to convert activist anger and energy into winning results. Frustrated and lacking agreement on what to do next, self-identified tea party leaders say the movement may be in danger of breaking apart before it ever really comes together.

"No one owns the tea party brand, and that's kind of the problem," said Brendan Steinhauser, grass-roots director for FreedomWorks, which organizes tea party groups. "In Virginia — it breaks my heart. You've got six self-appointed tea party candidates and one establishment guy. You're not going to beat the establishment guy in that situation."

Judson Phillips, founder of another national organization, Tea Party Nation, said some activists are starting to act like mainstream politicians. "It's supposed to be something other than politics as usual, but some of these folks are only looking out for themselves and not for the country."

The discord is not only striking races such as those in Virginia's 2nd and 5th congressional districts, where large fields of tea party candidates lost the Republican nomination to better organized establishment picks. It is also evident in races where tea party candidates have won — including Nevada, where Angle cruised to victory Tuesday with endorsements from the Tea Party Express, FreedomWorks and the fiscally conservative Club for Growth.
Perhaps an even more telling indicator of the Tea Party's declining influence is a new ABC/Washington Post poll showing that the movement has lost significant support since the height of the debate over health care reform:

The other problem that the Tea Party faces, especially on the local level is a lack of political sophistication, as the races in two of Virginia's Congressional Districts demonstrated quite aptly:
In Virginia's 5th district, Bill Hay, founder of the Charlottesville-based Jefferson Area Tea party, penned an op-ed piece in The Washington Post Sunday criticizing local tea party activists for failing to coalesce around a single candidate.

Similarly, in the 2nd District, Karen Miner Hurd, the head of the Hampton Roads Tea Party, accused the three last-placed candidates of being "selfish" for not dropping out and coalescing behind her group's preferred candidate, Ben Loyola.

In both districts, the establishment candidate won with less than 50 percent of the vote — meaning tea party activists might have prevailed if they had rallied behind a single candidate.
In all honesty, though, none of this in surprising.
Outside of Rand Paul's victory in Kentucky and Sharron Angle's victory in Nevada, one his hard pressed to find an electoral contest out there that can really be counted as a "tea party" victory. As the Post notes, the movement played almost no role in the Republican primaries in Virginia, and absolutely no role in the races in New Jersey or Arkansas. Combine that with the apparent decline of the movement's fortunes in public opinion, and it seems less and less likely that there will be much of a Tea Party on November 2nd.