Is This Time Different?
America survived a civil war and the turmoil of the 1960s. Can we rebound again?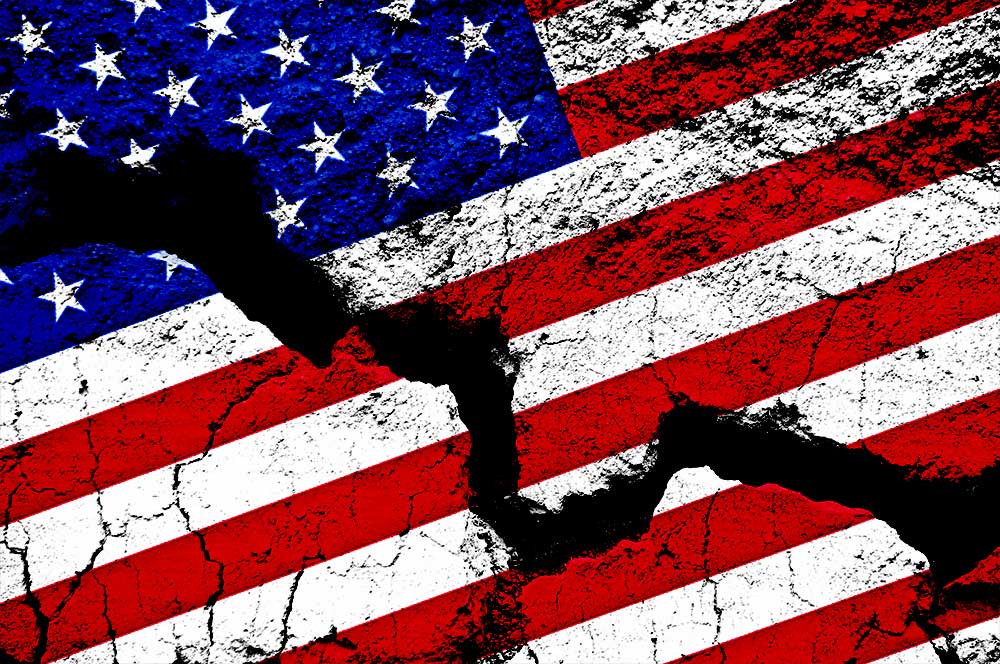 After generously excerpting July 4 columns from Megan McArdle and Charles Lipson on why our current political polarization will pass and the country will rebound as it always has, Dave Schuler retorts "this time really is different."
First, both of our political parties are completely under the control of their most extreme third. The Trump wing really is controlling the Republican Party; the Bernie Sanders wing of the Democratic Party really is calling the tune there.

Second, neither of those factions is self-limiting. Progressivism by definition is not; there is always more "progress" to be made. What is being called "conservatism" these days is actually nothing of the sort. What are they trying to conserve? Quite to the contrary I think they are merely unhappy with the status quo and there's no path to happiness that will satisfy them for the simple reason that it won't work.

And the two factions really are at daggers drawn. No compromise is possible for either of them their goals are so widely separated.

Third, all of our institutions are either corrupted, debased, or weakened. Chesterton once said, accurately I think, that America is a country founded on a creed. What creed would that be now? For at least 10% of the population whatever you hold up as our common secular creed would be anathema.

And that's all it takes. Communists were never more than 10% of the population of the Soviet Union; not more than 10% of Germans were Nazis.

Finally, even as recently as 50 years ago if you couldn't stand the conditions in one part of the country, you could move to another part and escape it. Modern communications has made that practically impossible. You can shut yourself off in isolation but you can't actually escape.
I largely agree with all of Dave's points and have, for quite some time now, lamented that I see no way out of the current mess largely because of his final point: our current media environment means we are indeed able to choose our own facts.
It's certainly true that the MAGA wing controls the Republican Party. A Mitt Romney, John McCain, or George W. Bush—much less a George H.W. Bush or Bob Dole—would be laughed off a Republican debate stage now. It's less true that the Democratic Party—which nominated Joe Biden, not Bernie Sanders or Elizabeth Warren—is controlled by their extremists. But Biden has taken the rare step of actually moving to the left rather than the center since securing his nomination.
Regardless, Dave's larger point here is hard to dispute. I don't see how we come together on anything from climate change to race relations to gun violence to police reform to LGBTQ+ issues given how extremely sorted we are. Compromise is no longer a requirement of American politics but a liability. There's no Walter Cronkite to tell us "That's the way it is" and have most people believe it.
It's possible that demographic shifts will change this pattern but it won't be as fast as some have predicted. My home state of the last 21 years, Virginia, was pretty solidly Republican when I moved here in 2002 and has voted Democratic in the last four Presidential elections and has two Democratic Senators. Neighboring North Carolina is showing a similar shift but hasn't quite flipped. There's reason to believe Georgia, which went for Biden in 2020 and has two Democratic Senators, could follow suit. Alas, Texas and Florida have remained stubbornly Red.
Dave's lament that "all of our institutions are either corrupted, debased, or weakened" is the most debatable. Donald Trump is the first President—indeed, the first major party Presidential nominee—in my lifetime to refuse to gracefully honor the election returns.* The impeachment process has become a sick joke. And respect for the Supreme Court has faltered considerably.
At the same time, while far too many Republicans continue to believe the 2020 election was stolen and almost no major Republican officeholder has the intestinal fortitude to tell them otherwise, the transfer of power to the rightful winner happened. Not even a violent mob storming the Capitol during the count delayed that. And, indeed, Republican election officials in the contested states uniformly upheld their oaths despite arm-twisting from the sitting Republican President, the likelihood of backlash from their voters, and threats of violence against themselves and their families.
Despite a legitimate outrage that the seat vacated by the death of Justice Scalia was held open for Trump appointee Neil Gorsuch rather than filled by qualified Obama nominee Merrick Garland and salt being rubbed into the wound when Amy Barrett Comey was rushed through to replace the late Ruth Bader Ginsburg, the rulings of the high court are still being treated as binding law. Yes, many Democrats are decrying their legitimacy but that's hardly a new thing. Yes, the Democratic President is vowing to find his way around SCOTUS decisions overturning his policies but, again, that's rather routine.
I've been following American politics closely for 44 years now, going back to the Iran Hostage Crisis. I'm old enough to vividly remember the Bicentennial of the Declaration of Independence, which will be a half-century in the past three years from now at the Semiquincentennial. Our current political situation is as bad as it's been during that period.
But surely we were in worse straits from roughly 1968 to 1973, when race riots, assassinations, political terrorism, and the like roiled the country as the worst days of the Civil Rights struggles, Vietnam protests, and the Watergate scandal overlapped. I was alive then but have no real memory of that period. Our parties weren't as sorted nor our news media as targeted as they are now. But the divides were more bitter and the stakes much higher.
Rather obviously, it was worse from 1820 to 1865, the long period between the Missouri Compromise and the end of the Civil War. Some 620,000 soldiers died in a shooting war with the survival of the Republic in the balance. Despite a cottage industry of op-eds predicting a repeat, we're just not there. While the wounds of that conflict have not fully healed—witness the continued battles over removing monuments to the Confederacy—the country emerged from that to become a global superpower by the end of the First World War.
Is this time different? Maybe. But, despite not seeing a clear path out of this mess, that's not the way I'd bet.
_____________
*Certainly, some Nixon supporters claimed the 1960 election was stolen and the 2000 Florida count was litigated to the Supreme Court. But, at the end of the day, Nixon and Gore were gracious in their concessions and paid due fealty to the democratic system.