It Sure Looks Like Beto O'Rourke Is Running For President
Beto O'Rourke hasn't officially said that he's running for President, but he's certainly sending all the signals you'd expect from a Presidential candidate.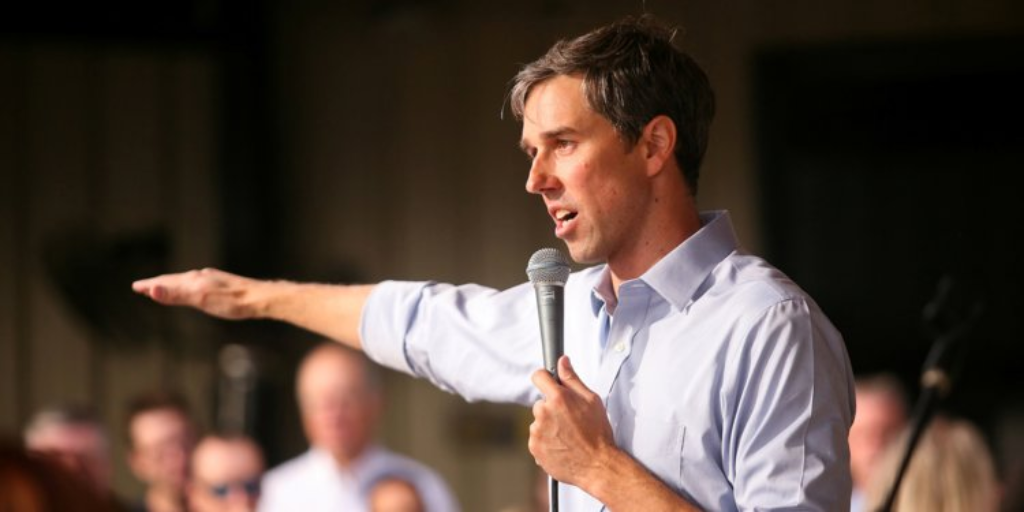 Former Texas Congressman Beto O'Rourke, last known for running an unsuccessful campaign to unseat Texas Senator Ted Cruz last year, has yet to officially announce whether he will run for President in 2020, but it's certainly looking like he will be entering the race:
Beto O'Rourke is beginning to staff up in Iowa and has been in talks about visiting the first-in-the-nation caucus state as early as this week.

Democrats organizing a rally for Eric Giddens, a Democratic state Senate candidate, in Iowa on Saturday have told prospective attendees that they expect O'Rourke to appear at the event, a source familiar with the plans told POLITICO

Norm Sterzenbach, a former executive director of the Iowa Democratic Party, is assisting O'Rourke in the state and was reviewing resumes from potential staffers as recently as last week, according to two sources familiar with O'Rourke's Iowa operation. Paul Tewes, who ran Obama's 2008 operation in the state, is also helping O'Rourke. So is Margaret Jarosz, who was working for Sen. Sherrod Brown in Iowa before he elected not to run for president, the sources said.

David Plouffe, Obama's 2008 campaign manager, has also made calls on O'Rourke's behalf, according to three Democrats. But Plouffe has also spoken with other 2020 contenders or their campaigns, the sources said.

O'Rourke, like several Democrats who already have announced their presidential campaigns, has been in discussions about assisting Giddens in his March 19 special election, potentially with a door-knocking effort, according to three Iowa Democrats.

O'Rourke's outreach comes as the former Texas congressman begins to more intensely court activists outside of his home state. He is preparing for a near-certain presidential run after months of deliberation.

(…)

O'Rourke said nearly two weeks ago that he has decided whether to run for president. In Austin, Texas, over the weekend for the South by Southwest festival, he told reporters, "I want to make sure I do it the right way and I tell everyone at the same time, so I'll be doing that."

He said, "I've got to be on the timeline that works for my family and for the country."

A Des Moines Register/CNN/Mediacom poll released Saturday saw O'Rourke's poll numbers slipping in Iowa. He had dropped to 5 percent in the poll, down from 11 percent in December. Former Vice President Joe Biden and Vermont Sen. Bernie Sanders are running far ahead of the rest of the field in the state.
CNBC has more:
Beto O'Rourke is headed to Iowa this weekend, fueling speculation that the former Texas congressman and fundraising wunderkind will soon officially enter the packed Democratic primary race.

The potential presidential candidate is expected to be in the state on Saturday to knock on doors for Eric Giddens, a Democratic candidate facing off against Republican Walt Rogers in a March 19 special election for state senate, according to Jonah Hermann, a spokesperson for the Iowa Democratic Party.

"At this point, all signs point to a run," Hermann said. "He won't come to Iowa in March for the weather."

O'Rourke will not be the only high profile Democrat in the state this weekend. Also campaigning for Giddens will be Sens. Cory Booker, D-N.J., and Amy Klobuchar, D-Minn., both of whom have formally declared as presidential candidates, Hermann said.

CNN was first to report on O'Rourke's plans to visit the state. Representatives for O'Rourke and Giddens did not immediately respond to requests for comment.

The Iowa caucuses are the first contest in the Democratic primary, which makes the state crucial to the fortunes of presidential hopefuls.

Though O'Rourke, 46, has not officially entered the race, he is a consistent favorite in the polls.

More Democrats and Democratic-leaning independents support O'Rourke than support either Booker or Klobuchar, according to a Monmouth University poll released on Monday, which found O'Rourke in fifth place.
I've been quite frankly skeptical about the idea of O'Rourke's chances in an already crowded Democratic field that includes a number of candidates who will be vying for the same progressive voters that he is no doubt looking to appeal to in a hypothetical run. While he drew national attention, and a substantial amount of out-of-state money, during his campaign against Cruz, and notwithstanding the fact that he is fairly charismatic, the reality is that his resume seems rather thin compared to other candidates already in the race, and several others who are likely to unveil their own campaigns in the coming weeks.
Prior to his run for Senate, O'Rourke had been a Member of Congress since first being elected in 2012, and he served three terms representing the states 16th Congressional District before declining to run for re-election so he could take on Cruz, who many believed was vulnerable to a challenge, A challenge he ultimately lost, albeit by a smaller margin than many had anticipated. While in Congress, he served on the Armed Services and Veterans' Affairs Committees. Before serving in Congress, O'Rourke has served on the El Paso City Council, where he served 2005 until resigning to run for Congress. At least on paper, this does not appear to me to be the kind of resume one would like to see from a candidate for President. Granted, this is an era where we have a President who had absolutely no political experience before running for President so I suppose anything is possible. Given how that's worked out so far, though, it seems as though we ought to be looking for a candidate with more experience, especially since we're going to need someone capable of repairing the damage that Donald Trump will have done by the time this whole ordeal is all over.
Despite all that, though, O'Rourke's stock is still running high from the 2018 election. There's an old saying about striking while the iron is hot, and it's clear that O'Rourke is still quite popular in the Democratic Party right now. If he doesn't run now, he may end up seeing this unique opportunity pass him by. What's the worst that can happen, really? If he doesn't win the nomination, then he's likely to be the top of the list of potential running mates and, barring that, he'd likely be a someone a future Democratic President might look to as a Cabinet member. So, whether he announces this weekend in Iowa or elsewhere, it looks like Beto is getting in the race.