Janet Reno, First Female Attorney General, Dies At 78
Janet Reno, who served as Attorney General for nearly all of the Bill Clinton Administration, has died at 78.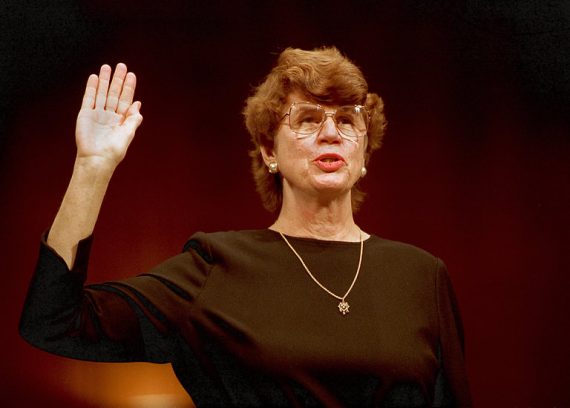 Janet Reno, who served as Attorney General throughout the Clinton Administration, often in the face of great controversy, has died at the age of 78:
Janet Reno, who rose from a rustic life on the edge of the Everglades to become attorney general of the United States — the first woman to hold the job — and whose eight years in that office placed her in the middle of some of the most divisive episodes of the Clinton presidency, died on Monday at age 78.

She died at her home in Miami-Dade County, Fla., from complications of Parkinson's disease, according to her sister, Margaret Hurchalla. The disease was diagnosed in November 1995, while she was still in office.

Ms. Reno's tenure as attorney general was bracketed by two explosive events: a deadly federal raid on the compound of a religious cult in Waco, Tex., in 1993, and the seizing in 2000 by federal agents of Elián González, a young Cuban refugee who was at the center of an international custody battle and a political tug of war.

In those moments, and others in between, Ms. Reno was applauded for a straightforward integrity and a willingness to accept responsibility, but she was also fiercely criticized. Republicans accused her of protecting President Bill Clinton and Vice President Al Gore when, in 1997, she refused to allow an independent counsel to investigate allegations of fund-raising improprieties in the White House.

After leaving office, she mounted a surprise though unsuccessful bid in Florida in 2002 to unseat Gov. Jeb Bush, the brother of President George W. Bush, amid the resentment of Cuban-Americans in South Florida over her negotiating for the return of Elián to Cuba.

Ms. Reno was never part of the Clinton inner circle, even though she served in the Clinton cabinet for two terms, longer than any attorney general in the previous 150 years. She was a latecomer to the team, and her political and personal style clashed with the president's, particularly as she sought to maintain some independence from the White House.

Her relations with the president were further strained by her decision to let an independent inquiry into a failed Clinton land deal in Arkansas, the so-called Whitewater investigation, expand to encompass Mr. Clinton's sexual relationship with the White House intern Monica Lewinsky, an episode that led to his impeachment.

Mr. Clinton and his allies thought that Ms. Reno was too quick to refer to special counsels in the Lewinsky matter and other cases of suspect administration behavior. The president let her dangle in the public eye for weeks before announcing in December 1996, after his resounding re-election, that she would remain for his second term.

Ms. Reno was never a natural fit in Washington's backslapping, highly competitive culture. At weekly news conferences in the barrel-vaulted conference room outside her office in the Justice Department building on Pennsylvania Avenue, she was fond of telling reporters that she would "do the right thing" on legal issues and judge them according to "the law and the facts."

Imposing at 6-foot-1, awkward in manner and blunt in her probity, she became a regular foil for late-night comics and a running gag on "Saturday Night Live." But she got the joke, proving it by gamely appearing on the show to lampoon her image

The comedy could not obscure her law-enforcement accomplishments. Ms. Reno presided over the Justice Department in a time of economic growth, falling crime rates and mounting security threats to the nation by forces both foreign and domestic.

Under Ms. Reno, the agency initiated prosecutions in the 1993 bombing of the World Trade Center and in the 1995 bombing of the Oklahoma City federal building, helping to lay the groundwork for the pursuit of terrorists in the 21st century.

The Reno Justice Department also prosecuted spies like the C.I.A. mole Aldrich H. Ames; it filed an antitrust suit against Microsoft, a milestone in the new-technology era; and it sued the tobacco industry to reclaim federal health care dollars spent on treating illnesses caused by smoking.

(…)

Janet Reno was born in Miami, on the edge of the Everglades, on July 21, 1938, to Henry Olaf Reno and the former Jane Wood. Her father, born Henry Rasmussen in Denmark, came to the United States in 1913 with his own mother and father, who chose the name Reno off a map, believing it sounded more American.

Henry Reno was a police reporter in Dade County for more than 40 years. Jane Wood, born in Georgia, was an eccentric naturalist who would have a profound effect on Ms. Reno.

"Outspoken, outrageous, absolutely indifferent to others' opinions, Janet Reno was truly one of a kind," Paul Anderson, a former Miami Herald reporter, wrote in his biography of her. It was her mother who had wrestled small alligators, though the stunt was sometimes erroneously ascribed to the attorney general.

Ms. Reno, the eldest of four siblings, was about eight when her parents bought 21 acres bordering the Everglades and moved there. Her mother, who had no construction experience, built the family home. "She dug the foundation with her own hands, with a pick and shovel," Ms. Reno told senators at her confirmation hearing in 1993.

It was a rustic life; peacocks and other creatures roamed the property, and Janet and her siblings — Robert, Mark and Margaret — cavorted barefoot. But she also glimpsed a more sophisticated world: After junior high school, she traveled to Europe to stay with an uncle, a military judge, as he presided over a spy trial.

Her sister, Ms. Hurchalla, who is known as Maggy, survives her, as do seven nieces and nephews. Her brother Robert, a former columnist for Newsday on Long Island, died in 2012 at 72. Her brother Mark had an adventurer's life: game warden, boat and oil supply ship captain, alligator wrestler, scuba diver, paratrooper as well as carpenter and bailiff at the Miami-Dade Justice Building. He died in 2014.

After finishing high school in Miami, Ms. Reno attended Cornell University, graduating in 1960 with a degree in chemistry. She won admission to Harvard Law School and graduated in 1963, one of a handful of women in her class of more than 500.

Seeking to practice law in South Florida, Ms. Reno was turned down by one of the state's best known law firms, Steel, Hector & Davis, and went to work for a smaller firm instead. She became active in local Democratic politics and met a fellow Harvard graduate, Gerald Lewis, a lawyer with electoral aspirations. Ms. Reno helped him win a state House seat in 1966, and the two opened a general practice law firm together.

Ms. Reno entered government service in 1971 as general counsel to the Judiciary Committee of the Florida House of Representatives, where she worked on a difficult overhaul of Florida's courts. Her work in Tallahassee, the capital, whetted her appetite for public office, and she campaigned for a state legislative seat of her own the next year. She lost in an upset to a Republican candidate helped by the landslide re-election victory of President Richard M. Nixon.

Ms. Reno did not wait long for her next opportunity. The day after her defeat, Richard Gerstein, the state attorney for Dade County, offered her a job on his staff. As she told The Miami Herald, she expressed reservations in her characteristically straightforward manner.

"My father was always convinced you were a crook," she said she told Mr. Gerstein. "And I've always been a critic of yours."

Mr. Gerstein replied that those were the reasons he wanted to hire her. Within a few years, she was Mr. Gerstein's chief assistant.

Ms. Reno left the prosecutor's office in May 1976 to join Steel, Hector & Davis, the firm that had rejected her out of law school. But her tenure there was short-lived.

After Mr. Gerstein announced that he would resign in early 1978, after 21 years in the office, Gov. Reubin Askew appointed her interim state attorney, choosing her from about 50 candidates. She was the first woman to hold the title of state attorney in Florida and one of the few in the nation's history to be responsible for such a large jurisdiction.

Ms. Reno retained the post through a thicket of drug, murder and corruption cases. In one, she was accused of being anti-police when she prosecuted five Miami officers in the beating death of a black insurance executive after a traffic stop; the officers, she said, had tried to make it look like an accident.

The officers were acquitted — one by the presiding judge in the trial, held in Tampa, and the others by an all-white jury — provoking criticism of her legal strategy and four days of deadly riots in Miami's predominantly black Liberty City neighborhood.

To quell the furor, Ms. Reno undertook an outreach effort that restored some support among Miami's black citizens. She remained state attorney through five election campaigns — until February 1993, when the White House called.

Ms. Reno was formally nominated to be attorney general that same month, just a few weeks after the death of her mother, Jane, the guiding influence in her life. She invoked her mother's memory in her remarks that day at the White House in a Rose Garden ceremony with Mr. Clinton.

"My mother always told me to do my best," she said, "to think my best and to do right."
As people who were around at the time will likely remember, Reno was not President Clinton's first choice for Attorney General. He initially appointed corporate lawyer Zoe Baird, but she had to withdraw from consideration when it was revealed that she had hired an illegal immigrant as a household worker. To replace Baird, Clinton turned to U.S. District Court Judge Kimba Wood, but she too was forced to withdraw when it was revealed that she too had hired undocumented workers to work in her home. It was at that point that Clinton turned to Reno as his this choice.  Before Reno had even been named, the Federal Government had begun a standoff with the Branch Davidian cult in Waco, Texas that would last 51 days and end in a controversial raid, authorized by Reno, who had been confirmed as the crisis was going on, that resulted in the deaths of 78 people, including many women and children. In an extraordinary news conference shortly thereafter, an obviously shaken Reno accepted full responsibility for the raid and there were many wondering if she would end up having one of the shortest tenures of any Attorney General. Instead, President Clinton stood by her and she went on to serve in his cabinet for his full eight years in office, making her one of the longest serving Attorneys General in American history. Only William Wirt, who served under Presidents James Monroe and John Quincy Adams in the early 19th Century, served in that position longer.