Jeb Bush The Latest Republican To Repudiate The Norquist Pledge
Jeb Bush is the latest Republican to eschew GOP tax orthodoxy.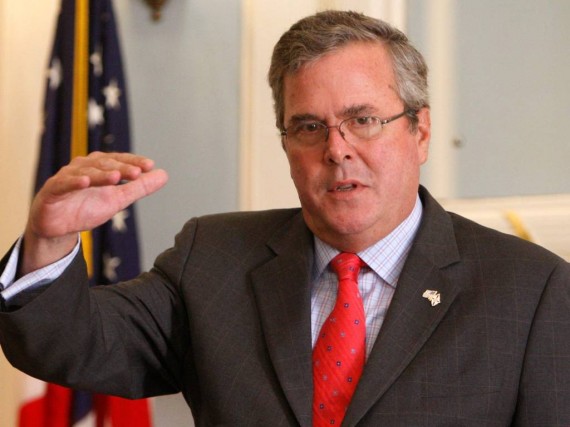 Jeb Bush has become the latest Republican to speak out against his party's orthodoxy on taxes, symbolized most perfectly by the pledge pushed by Grover Norquist of Americans For Tax Reform:
Former Florida Gov. Jeb Bush, often floated as a potential running mate for Mitt Romney, said he would favor slight tax increases in return for large cuts in spending – a compromise unpopular with many in his own party.

His comments came as Democratic lawmakers grilled Bush during his testimony before the House Budget Committee for a hearing titled, "Removing The Barriers To Free Enterprise And Economic Growth."

On Capitol Hill, Rep. Lloyd Doggett, D-Texas, presented a scenario to Bush, asking if he would accept a deficit reduction deal that included one dollar of new taxes for every ten dollars of spending cuts.

The same question was asked last summer at a GOP presidential debate. All eight candidates on stage, including Romney, said they would oppose such an agreement.

Bush, however, suggested he was open to the idea on Friday.

"Ten to one?" he asked.

"Yes, sir," Doggett replied.

"Yeah, this will prove I am not running for anything," he said. "If you could bring to me a majority of people to say that we are going to have ten dollars of spending cuts for one dollar of revenue enhancement – put me in coach."

(…)

Bush said he also disagreed with popular pledges authored by Washington anti-tax heavyweight Grover Norquist and his group, Americans for Tax Reform.

"I ran for office three times. The pledge was presented to me three times. I never signed the pledge. I cut taxes every year I was governor," Bush said.

Romney signed the latest version of the pledge last year, along with several Republican presidential candidates at the time, in what was seen as a litmus test of fiscal conservative values.

Bush, however, countered the premise of the pledge on Friday.

"I don't believe you outsource your principles and convictions to people. I respect Grover's political involvement. He has it every right to do it, but I never signed any pledge," Bush said.
Suzy Khimm contends that Bush didn't really go that far off the GOP reservation:
[D]espite his apparent heresies, Bush made it clear during his testimony that he was essentially united with Republicans in Congress on taxes. He said he was willing to close tax breaks and loopholes that unfairly advantaged some industries and not others–but only in return for lowering tax rates over all, which is exactly the position that House Speaker John Boehner affirmed two weeks ago.

He emphasized what he called the necessity of extending all the George W. Bush tax cuts to avoid "a massive tax increase" that would hurt the economy. That's precisely the demand that Sen. Pat Toomey (Pa.) and other Republicans made during the failed supercommittee negotiations, proposing the elimination of certain tax deductions and write-offs in exchange for permanently extending the Bush tax cuts. And while Jeb Bush broke from the GOP presidential field in accepting the "10-to1" proposal for deficit reduction—$10 in spending cuts for every $1 in revenue—Congressional Republicans such as Sen. Bob Corker of Tennessee have agreed to the same.

(…)

That's more than, say, Rep. Paul Ryan (Wis.) has been willing to offer so far in terms of the particulars of a potential tax overhaul. But, ultimately, there's not much, if any, daylight between Jeb Bush's position on taxes and that of his GOP colleagues in Washington.
That may be true, but at the very least, this should remove once and for all any doubt that Bush is prevaricating when he says he's not interested in being Romney's running mate. By separating himself from the GOP orthodoxy on taxes, Bush has essentially made himself an impossible choice for Romney to make.
As for the substance of his comments, there's really not much there that I can disagree with. I've said numerous times before that any comprehensive budget deal that truly attempts to deal with both the short and long term problems with the budget will have to bring everything to the table, including taxes. The idea situation, of course, would be some form of comprehensive tax reform that concentrates on reducing deductions, exclusions, tax credits, and other loopholes. Do that, and we'll be able to actually reduce rates and still bring more revenue into Federal coffers. The other advantage of this kind of tax reform is that it would eliminate the economy-distorting effects of all the special tax deals that have been thrown into the Tax Code over the years. Of course, it won't be easy to accomplish this politically, and we probably won't be able to get rid of all the bad things in the code, but we could at least get rid of some of them. It's been 26 years since we had major tax reform in this country, and we're long, long overdue. It's not going to happen, though, as long as the Republican Party continues to cling to its idiotic tax orthodoxy we're not going to get any of it done.