Jeff Sessions Confirmed As Attorney General
After a highly contentious nomination process, Jeff Sessions was confirmed last night as the new Attorney General of the United States.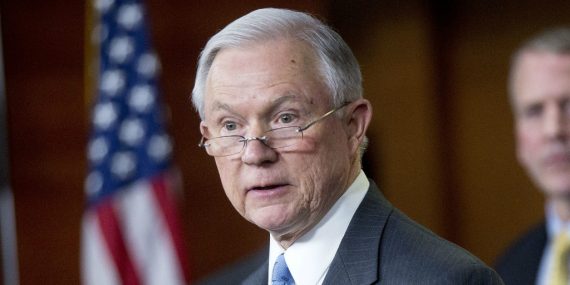 As expected, last night the U.S. Senate confirmed Senator Jeff Sessions as the next Attorney General:
WASHINGTON — Senator Jeff Sessions was confirmed on Wednesday as President Trump's attorney general, capping a bitter and racially charged nomination battle that crested with the procedural silencing of a leading Democrat, Senator Elizabeth Warren.

Mr. Sessions, an Alabama Republican, survived a near-party-line vote, 52 to 47, in the latest sign of the extreme partisanship at play as Mr. Trump strains to install his cabinet. No Republicans broke ranks in their support of a colleague who will become the nation's top law enforcement official after two decades in the Senate.

But the confirmation process — ferocious even by the standards of moldering decorum that have defined the body's recent years — laid bare the Senate's deep divisions at the outset of the Trump presidency. At the same time, the treatment of Ms. Warren, who was forced to stop speaking late Tuesday after criticizing Mr. Sessions from the Senate floor, rekindled the gender-infused politics that animated the presidential election and the women's march protesting Mr. Trump the day after his inauguration last month.

Mr. Sessions cast his final vote as a senator to note that he was present for Wednesday's tally. His confirmation was met by applause from his colleagues, including a few Democrats, on the Senate floor.

"I can't express how appreciative I am for those of you who stood by me during this difficult time," Mr. Sessions said shortly after the vote. "By your vote tonight, I have been given a real challenge. I'll do my best to be worthy of it."

Democrats spent the hours before the vote on Wednesday seething over the rebuke of Ms. Warren, of Massachusetts, who had been barred from speaking on the floor the previous night. Late Tuesday, Republicans voted to formally silence Ms. Warren after she read from a 1986 letter by Coretta Scott King that criticized Mr. Sessions for using "the awesome power of his office to chill the free exercise of the vote by black citizens" while serving as a United States attorney in Alabama.

(…)

As the 84th attorney general, Mr. Sessions brings a sharply conservative bent to the Justice Department and its 113,000 employees. A former prosecutor, he promises a focus aligned with Mr. Trump in pushing a "law and order" agenda that includes tougher enforcement of laws on immigration, drugs and gun trafficking.

Civil rights advocates worry, however, that he will reverse steps taken by the Obama administration in the last eight years to bring more accountability to police departments, state and local governments, and employers. Advocates point to his history of votes against various civil rights measures, as well as the accusations of racial insensitivity.

(…)

As the first senator to support Mr. Trump's long-shot bid for president last year, Mr. Sessions became an influential campaign adviser. While he pledged repeatedly not to be "a mere rubber stamp" for the White House, Democrats asserted that he would not be willing to challenge legally questionable policies like the travel ban or the president's threats to reinstitute the use of torture on terrorism suspects.

The arguments failed to sway any Republicans on the Senate Judiciary Committee, which voted, 11 to 9, along party lines last week to approve Mr. Sessions's nomination.
That party division continued into last night's vote on the Senate floor where every Democrat except one, Senator Joe Manchin from West Virginia, voted against Sessions in what was apparently the closest vote to confirm an Attorney General in history. Of course, it was always likely that Sessions would prove to be a controversial nominee for any Cabinet position, especially Attorney General. As has been previously noted, he failed to win confirmation to be a U.S. District Court Judge thirty years ago due to the fact that Democrats objected to Sessions due to his record on civil rights issues as a United States Attorney and statements that he had reportedly made in the past about race relations and other issues. Ultimately, Sessions nomination to that seat was withdrawn despite the fact that the Senate was controlled by Republicans at the time that he was nominated. When he was named as Trump's selection for Attorney General, it was guaranteed that these issues would come up again.
There are, of course, concerns about Sessions that go far beyond the civil rights issues that his nomination raises. In the past he has spoken negatively about important issues such as criminal justice reform, civil asset forfeiture, and a whole host of other issues. Additionally, it's entirely unclear where he stands on the serious issues surrounding the issue of police abuse that came to the fore during the Obama Administration, especially in places such as Baltimore, Cleveland, Chicago, Ferguson Missouri, and Maricopa County Arizona. All of these places have been the subject of Department of Justices investigations over the past eight years, and each one of them resulted in the imposition of certain sanctions against the relevant law enforcement agencies. Will Sessions be as vigilant as previous Attorneys General on this issue? Also unknown is his position on how to handle the growing number of states that have legalized or decriminalized marijuana for both medical and recreational purposes. Under the Obama Administration, the Justice Department took the position that it would not enforce Federal law in those states except to the extent that activity crossed state lines. We don't know how the Sessions Justice Department will act in this situation. Finally, of course, there are issues related to voting rights and civil rights that constitute much of the work that many Justice Department employees do. Democrats are concerned that Sessions won't place the same emphasis on these issues that the Holder and Lynch Justice Departments did, and they're probably right.
As with Betsy DeVos and other controversial Trump Cabinet appointments, Democrats can thank Harry Reid for the fact that Sessions is now the Attorney General of the United States. When Reid decided to push the button and use the partial 'nuclear option' to get rid of the 60 vote rule for Executive Branch appointments, Ambassadors, and Judicial nominations below the Supreme Court he was warned by Republicans and several Democrats that Democrats would come to regret going forward with that move when they were once again in the minority and there was a Republican in the White House. Now, here they are in exactly that situation and they are powerless to stop nominations that they obviously disagree with strongly. Indeed, if the 60 vote rule were still in place, it's possible that Sessions would not have even been nominated. Of course, all of that is water under the bridge and we're all left to deal with the consequences of Reid's foolish short-sightedness.