Joe Manchin Hints He Might Leave The Senate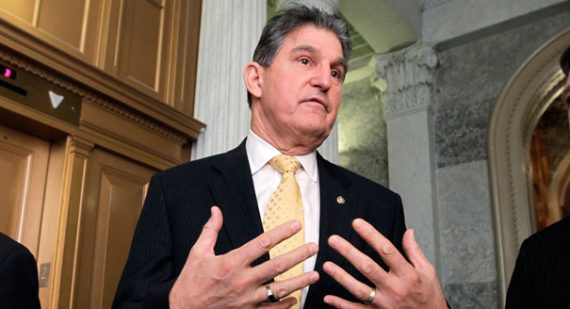 West Virginia Senator Joe Manchin has been dropping a lot of hints lately that he's thinking about leaving Washington, D.C. and returning to West Virginia:
WASHINGTON — West Virginia Sen. Joe Manchin said Sunday he's keeping "all options open" on whether to seek the governor's office in 2016 or remain in the Senate, where he has expressed frustration with partisanship and gridlock.

Manchin, a Democrat, said his time as governor was the most productive period in his life but he hasn't felt the same way since his election to the Senate in 2010 to finish the term of the late Democratic Sen. Robert Byrd. Manchin, who served as West Virginia governor for six years, was elected to a full term in 2012.

"Basically, do I want out or do I want to stay? I want to make a difference," Manchin said on CNN's "State of the Union."

"The Senate gives me a great vehicle to make a difference in the world, and in my country and in my state. With that being said, if I don't see changes being made, if I don't think that I'm being productive and contributing to something in a positive manner, I've got to evaluate where I'm at and where I might be most effective."

Manchin is considered the most conservative Democrat in the Senate and has sought to work with Republicans, most notably on unsuccessful legislation last year to expand background checks on firearm purchases as a way of curbing gun violence. He has co-chaired a group called No Labels, which promotes bipartisanship and problem-solving.

If Manchin decides to depart the Senate before his term ends, it could present an opportunity for Republicans in West Virginia, which has taken a conservative turn in recent elections.

Heading into the 2014 Senate election, President Barack Obama remains unpopular in the state and polls have shown Republican Rep. Shelley Moore Capito leading Democratic Secretary of State Natalie Tennant for the seat of retiring Democratic Sen. Jay Rockefeller.
Manchin had served one full term as Governor, and about one-half of a second term, when he was elected to the Senate in 2010 and, while the state's Constitution limits Governors to two consecutive terms, there is no bar on serving more than two non-consecutive terms. The current Governor, Earl Ray Tombin, will be term-limited when the next Gubernatorial election occurs in 2016 so, theoretically at least, Manchin could run unopposed for the Democratic nomination if he wanted to make a bid for a return to Charleston.
It's hard to tell if Manchin is serious about this or not. Virginia Senator Mark Warner, who was also a Governor that jumped to the Senate, expressed similar frustrations with the Senate early in his time in office, and there was even some speculation that he would decide to leave the Senate to run for Governor again in 2013. In the end, though, he decided to stay, and Manchin may end up doing the same thing. Interestingly, even if he stays a Democrat, he may find the Senate atmosphere more conducive if the Republicans take control in November.
Please follow and like us: