John F. Kennedy The Worst President Of The 20th Century?
Thomas Ricks makes the case that JFK was the worst President of his century but his argument misses the mark.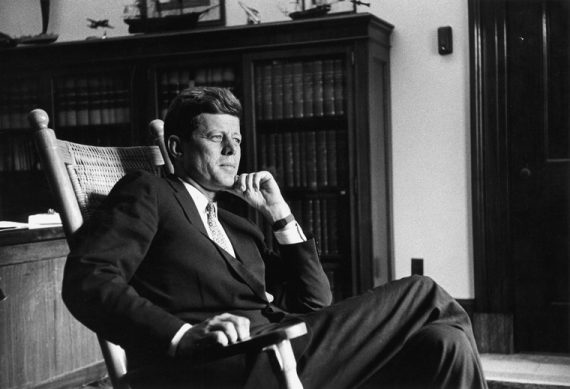 Thomas Ricks makes the case for a provocative hypothesis that is sure to get some people upset:
As I studied the Vietnam war over the last 14 months, I began to think that John F. Kennedy probably was the worst American president of the previous century.

In retrospect, he spent his 35 months in the White House stumbling from crisis to fiasco. He came into office and okayed the Bay of Pigs invasion. Then he went to a Vienna summit conference and got his clock cleaned by Khrushchev. That led to, among other things, the Cuban missile crisis and a whiff of nuclear apocalypse.

Looming over it all is the American descent into Vietnam. The assassination of Vietnam's President Diem on Kennedy's watch may have been one of the two biggest mistakes of the war there. (The other was the decision to wage a war of attrition on the unexamined assumption that Hanoi would buckle under the pain.) I don't buy the theory promulgated by Robert McNamara and others that Kennedy would have kept U.S. troops out. Sure, Kennedy wanted out of Vietnam — just like Lyndon Johnson wanted out a few years later: We'll scale down our presence after victory is secure. And much more than Johnson, Kennedy was influenced by General Maxwell Taylor, who I suspect had been looking for a "small war" mission for the Army for several years. Indochina looked like a peachy place for that — warmer than Korea, and farther from Russia.
Ricks also notes that Kennedy gave the green light to another coup in a country that would, thirty years later, be at the center of American foreign policy:
There's another coup that JFK supported earlier in 1963: the Baathist one in Iraq that chucked out a pro-Soviet general. Events in subsequent decades obviously are not Kennedy's fault, but it still is interesting to look at the documents. Here's a State Department sitrep from, of all dates, Nov. 21, 1963: "Initial appraisal cabinet named November 20 is that it contains some moderate Baathis. Of twenty-one ministers, seven are holdovers from previous cabinet, thirteen are civilians, four are from moderate Shabib-Jawad faction of Baath (Defense — Tikriti; Communications — Abd al-Latif; Education — Jawari; Health — Mustafa) and a number of technician-type civil servants." Did you notice the name of that defense minister? I think this might have been Saddam Hussein's uncle.)
There is, I suppose, some irony in the fact that both the Iraqi coup, which included the assassination of several Generals,  and the coup in Saigon, occurred in the same year that Kennedy himself was assassination. That assassination, of course, has tended to romanticized  the Kennedy Administration, a process that started with the creation of the myth of Camelot by Kennedy loyalists like Arthur Schlesinger, Jr. While Kennedy remained popular throughout his Presidency, thanks largely to relatively good economic times, the truth of the matter is that the real JFK bears little resemblance to the reality, especially in the foreign policy era. Ricks's hypothesis essentially is that Kennedy's decision to directly involve the United States in the success of South Vietnam as a state by authorizing the removal of Diem made further American involvement in Vietnam inevitable. This is a point that has been hotly disputed by Kennedy loyalists over the years, and is in fact the subject of a book I'm reading at the moment, but I think Ricks has a point. JFK was hardly a pacifist, and during his three years in office he proved himself to be quite willing to engage in military adventurism. He also intervened in the internal affairs of other nations up to the point of assassinating politicians when he believed it suited U.S. interests.
Does all of that, however, make him the worst President in American history?
Alex Massie thinks not:
Not a bad case but not, I fear, quite good enough. My own vote would go to Woodrow Wilson who not only pursued dreadful policies but was perhaps the only President of the 2oth century whose  ghastliness of character and prejudice could shame even Richard Nixon.

Kennedy of course was over-rated for years and we can see through a clearer glass these days. Meanwhile, Truman and Eisenhower's ratings have been climbing for some time so their reputations should stall soon though they are never again likely to slip into the "Under-rated" category.
I tend to agree with Massie. Kennedy's foreign policy choices look bad in retrospect, and set the U.S. on a path the led to one of our longest and most controversial wars, but they were fit in perfectly with the dominant views on both sides of the political aisle at the time. We were at the height of the Cold War, Berlin had just been divided by a wall, and the world had been brought to the brink of a nuclear war. Anyone who's followed the history of the 1960 Presidential campaign can tell you that there were very few disagreements between Kennedy and Nixon on foreign policy, they were both Cold War Hawks but then so was pretty much everyone at that point in time. If Nixon had won in 1960 instead of Kennedy, it's easy to see him making many of the same decisions that Kennedy did in that area.
So, no, I don't agree with Ricks that Kennedy was the worst President of the 20th Century, I'm not even sure that he comes close to belonging on that list. For me, the dishonor would belong to Woodrow Wilson, a President who essentially manipulated the nation into World War I with a false neutrality, authorized the civil libertieis abuses of the Palmer Raids, and used the power of the Presidency to implement policies that were in line with his own vile racist beliefs about African-Americans. I'd also put Richard Nixon on that list, for obvious reasons, and Jimmy Carter, and Herbert Hoover, and Lyndon Johnson. Those were Presidents who either broke the law, abused the power of their office, made bad decisions, or failed to be the leader they needed to be. John F. Kennedy was not the saint his hagiographers made him out to be, but he doesn't belong in the same class as those men.