Jon Huntsman Nominated To Be Ambassador To Russia
A good choice for an important position.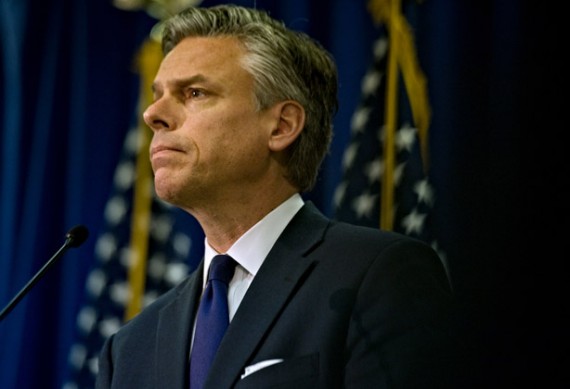 Late on Tuesday, the White House announced that Jon Huntsman, former Governor of Utah, Presidential candidate, and Ambassador to both China and Singapore, as the President's choice to be Ambassador to Russia:
Former Utah governor Jon Huntsman will be nominated as the U.S. ambassador to Russia, the White House announced Tuesday, ending months of delay in formalizing the appointment amid deteriorating relations between the two countries.

The White House confirmed in March that it would name the former Republican presidential contender and U.S. ambassador to China under President Barack Obama to the Russia post. But the White House had delayed formally naming Huntsman and sending the nomination to the Senate for confirmation as the United States waited for the Kremlin to approve his selection.

The nomination comes amid what could be a thaw in U.S. relations with Russia following the first face-to-face meeting between President Trump and Russian President Vladi­mir Putin at the Group of 20 summit in Hamburg, Germany this month. The Trump administration is also under fire amid a widening investigation into Russia's interference in the 2016 election and the possible collusion of Trump campaign associates.

(…)

Huntsman's nomination was announced one day after Russian Deputy Foreign Minister Sergei Ryabkov met at the State Department with Undersecretary of State Thomas Shannon. They discussed what the State Department characterized as "irritants" in the U.S.-Russia relationship, including Moscow's demand that the United States return two Russian-owned mansions in Maryland and New York that were seized in December in part as a response to Russian meddling in last year's election.

White House officials have said that the United States is open to returning the sites to Russia, although the Obama administration had said they were being used for espionage.

The Kremlin approved Huntsman's appointment Monday night about the same time that the United States approved Russian politician Anatoly Antonov to serve as Russia's ambassador in Washington, according to a person familiar with the situation who was not authorized to speak publicly about pending appointments. Ambassadors must be approved by the governments of the countries that will host them.
Huntsman's name was first floated for this position back in March, but for reasons that the Trump Administration has not disclosed and which have not been previously discussed, there was no formal announcement of the appointment for some four months. Since Huntsman has been vetted for Ambassadorial posts before, and was also briefly on the short list for to be Deputy Secretary of State according to some post-election reports, it's hard to believe that there was anything problematic in his vetting. Instead, the delay appears to be attributable to the generally lackadaisical approach that the Trump Administration has had toward filling top Executive Branch positions. As I noted earlier this year, this has been especially true with regard to important Ambassadorial posts, but it also applies to other positions. A recent Washington Post review, for example, found that Trump has formally nominated just 187 of 560 nominations to key Administration positions, a statistic which establishes as a lie Trump's frequent claim that Senate Democrats are holding up Senate confirmation of his appointees.
All that being said, Huntsman seems to be a fine choice for this position. As previously noted, he has served in a variety of diplomatic positions over the years, most notably as Ambassador to Singapore under President George H.W. Bush and Ambassador to China under President Obama. He also served as Deputy U.S. Trade Representative under President George W. Bush. By all accounts, he served quite well in those positions according to all accounts that I've seen. Additionally, as I noted previously, our relationship with Russia is as important today as it has been in the past and it makes sense to have a voice representing the United States that has real diplomatic experience, as well as the judgment needed for someone in this position. It's also helpful that Huntsman was not part of Trump's inner circle which means that he's unlikely to be untainted by the issues surrounding Trump and Russia right now. Finally, since the initial reaction to the suggestion of Huntsman for this position three months ago was generally well received, so I suspect he will have a relatively easy confirmation process. All in all, this was a good choice by the President, I'm glad he finally got around to formally announcing it.