Judge Tosses Chris McDaniel's Challenge To GOP Senate Runoff Result
Chris McDaniel's meritless, quixotic challenge to the Mississippi GOP Senate Primary is reaching it's expected conclusion.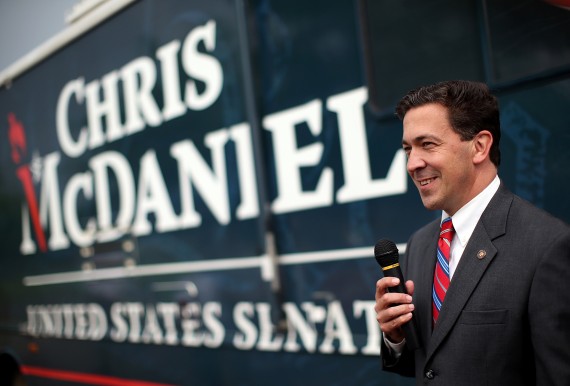 Some three months after he lost the Mississippi Republican Primary runoff election, Chris McDaniel has suffered yet another setback with the dismissal of the lawsuit he filed less than two weeks ago in an effort to overturn the result of that election: 
A Mississippi judge on Friday dismissed state Sen. Chris McDaniel's challenge of longtime Sen. Thad Cochran's June Republican primary runoff victory.

The McDaniel camp had asserted that Cochran's winning margin came from ineligible Democratic voters — evidence of which they intended to prove at a trial beginning on Sept. 16.

But attorneys for Cochran's campaign said McDaniel waited too long after the June 24 runoff to file the lawsuit, and a judge granted their motion to dismiss the case.

McDaniel waited 41 days after the election to file his challenge, but Judge Hollis McGehee noted that "the law requires 20 days," according to The Clarion-Ledger of Jackson, Miss.

McDaniel spokesman Noel Fritsch said the team would take the long weekend to assess whether to appeal to the state Supreme Court.

"While we were intent on seeing the challenge through, as provided for by law, we certainly disagreed on this point of law," Fritsch said, adding, "We're disappointed that the facts of this case right now [without being appealed] will not be heard in a public forum. That's certainly what it's all about."

The state senator is expected to hold a news conference next Tuesday.

But assuming the ruling stands, Cochran will be a heavy favorite to win a seventh term in the general election.

Cochran's lawyers released a statement arguing that McDaniel's challenge was faulty, both on timing and on substance.

"We also want to continue to re-emphasize that regardless of the timeliness of the challenge, a careful review of Chris McDaniel's filing shows this case to be baseless," the statement read. "The voters made their decision on June 24 that Thad Cochran is the Republican nominee for U.S. Senate."

Both the runoff and the primary contests were hotly contested. McDaniel enjoyed national tea party support while establishment forces fought hard for Cochran. After a very narrow primary, Cochran edged ahead of McDaniel, which some credited to votes from some demographics that typically support Democrats, including African-American voters.

"Not only did McDaniel file his complaint too late, but it was without merit," said Henry Barbour, a Cochran ally who was deeply involved in the senator's campaign. "And his complaint about African-Americans voting in a GOP primary is beyond unacceptable."
The outcome isn't entirely surprising given that Judge McGhee had hinted in pretrial hearings prior to issuing this ruling that it appeared to him as though the case had been filed too late. Under Mississppii law, a candidate challenging the outcome of an election must file their challenge with the central committee of their respective political party within 20 days after an election. This rule was affirmed in a 1959 case out of the state's Supreme Court involving a Democratic challenger in a race for District Attorney in which the Court ruled that, notwithstanding an alleged ambiguity in the statute, it was clear that the legislature had intended for the 20 day deadline to apply to all primary elections in the state. In the more than fifty years that followed, the state legislature made no effort at all to change the statute in a manner that would have negated the Supreme Court precedent. McDaniel did not file his challenge with the Mississppi GOP's Central Committee until 41 days after the Election, and he didn't file his lawsuit until some ten days after that challenge was rejected. Given that, it seems clear that Judge McGhee was correct in his application of the law in this case.
As I have noted before, of course, even if McDaniel's lawsuit had gotten to the merits, it was fairly clear that he was not going to win. The so-called "loyalty oath" that formed a large part of the complaint, which purported to require every primary voter to promise to support whomever ended up winning the primary in the November election, is both unconstitutional an unenforceable. Additionally, the campaign's claim that there were illegal crossover voters, meaning people who had voted in the Democratic primary and then voted in the Republican runoff three weeks later, was simply not sufficient because there weren't enough such "illegal" voters identified to come close to closing the gap between McDaniel and Cochran. Even if there were, there was no way of determining if those voters had voted for McDaniel or Cochran to begin with. In addition to those substantive arguments, any hearing on the merits would have run up against the deadlines that are fast approaching for printing absentee and military ballots. Pursuant to Federal law, ballots must be mailed to any member of the military serving outside the state 45 days prior to the election. This means that the General Election absentee ballots have to be mailed no later than September 20th. There simply wouldn't have been time to hear McDaniel's case in time, and a state judge cannot change the deadlines set by Federal law.
McDaniel has the choice to appeal this to the state Supreme Court, and will apparently make that decision after the Labor Day Weekend. Given prior precedent, though, it seems unlikely that the court will agree to hear the appeal. In either case, though, the outcome seems self-evident at this point. The only question is when Chris McDaniel is going to sign his Fox News Channel contract.