Judiciary Committee To Hold Hearing On Accusations Against Judge Kavanaugh
After a day of political pressure, Senate Republicans have agreed to hold a hearing regarding the sexual assault allegations against Judge Brett Kavanaugh next week.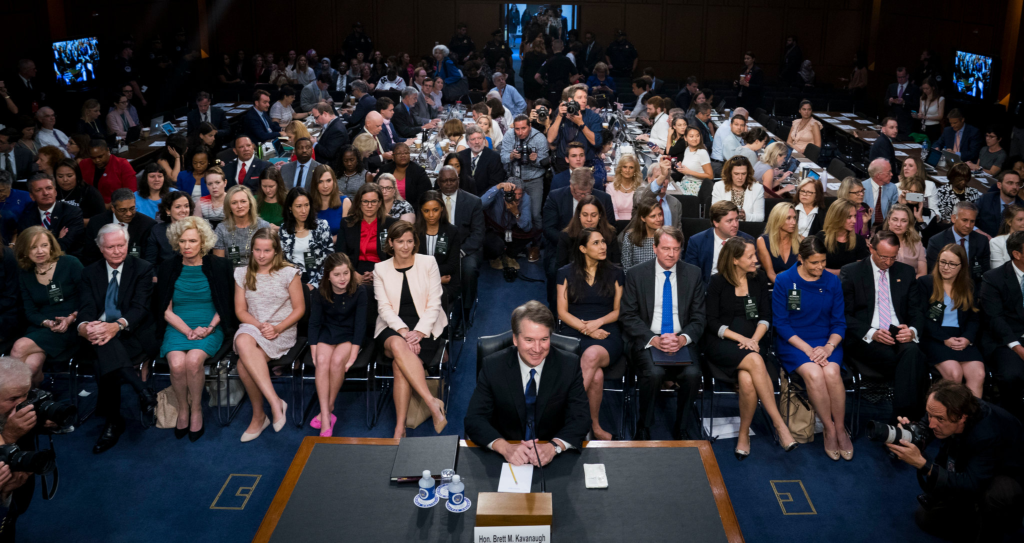 One day after Christine Blasey Ford, the woman accusing Supreme Court nominee Judge Brett Kavanaugh of sexually assaulting her when she was fifteen years old and he was seventeen, came forward with her allegations, the Senate Judiciary Committee announced that it will hold a hearing next Monday to hear from both Dr. Basey and the nominee:
WASHINGTON — The chairman of the Senate Judiciary Committee, under mounting pressure from senators of his own party, will call President Trump's Supreme Court nominee, Judge Brett M. Kavanaugh, and the woman who has accused him of sexual assault before the committee on Monday for extraordinary public hearings just weeks before the midterm elections.

Senator John Kennedy, Republican of Louisiana, told reporters Monday afternoon that the chairman, Senator Charles E. Grassley, Republican of Iowa, told senators there would be an "opportunity" for senators to hear from Judge Kavanaugh and his accuser, Christine Blasey Ford, in a public setting where senators would be able to ask questions. Both have said they are willing to testify. A Senate Republican aide confirmed that it would be on Monday, effectively delaying a planned committee vote on Judge Kavanaugh's nomination, which had been scheduled for this Thursday.

"Judge Kavanaugh looks forward to a hearing where he can clear his name of this false allegation. He stands ready to testify tomorrow if the Senate is ready to hear him," White House spokesman Raj Shah said.

The hearings will set up a potentially explosive public showdown, one that carries unmistakable echoes of the 1991 testimony of Anita Hill, who accused the future Justice Clarence Thomas of sexual harassment in an episode that riveted the nation and ushered a slew of women into public office. They will play out against the backdrop of the #MeToo movement, which has energized Democratic women across the nation.

Mr. Trump on Monday vigorously defended his nominee, calling him an "outstanding" judge with an unblemished record, and dismissing as "ridiculous" the prospect that Judge Kavanaugh might withdraw his nomination. Nevertheless, he told reporters that he was willing to accept a delay in the judge's path to confirmation in order to air the new information.

"He is somebody very special; at the same time, we want to go through a process, we want to make sure everything is perfect, everything is just right," Mr. Trump told reporters at the White House. "If it takes a little delay, it will take a little delay — it shouldn't certainly be very much."

The willingness of accuser and accused to testify publicly carried the potential for a high-profile hearing over the charge, with a lifetime appointment to the Supreme Court at stake. Dr. Blasey has said Judge Kavanaugh sexually assaulted her at a social gathering in the 1980s when they were both teenagers. Judge Kavanaugh has categorically denied the allegations, which Dr. Blasey, a research psychologist, detailed in a letter sent in July to Senator Dianne Feinstein of California, the top Democrat on the Judiciary Committee, who kept its existence secret until last week.

By Monday, both the letter and Dr. Blasey's identity had spilled out into the open, sending official Washington reeling and intensifying what had already been a nasty partisan battle over Judge Kavanaugh's confirmation. With the Senate Judiciary Committee scheduled to vote on the confirmation Thursday — a vote that now looks as if it will almost certainly be delayed — Senator Mitch McConnell of Kentucky, the Republican leader, angrily assailed Democrats for raising the allegations at the last minute. Senator Chuck Schumer of New York, the Democratic leader, demanded the F.B.I. investigate, and raised questions about Judge Kavanaugh's veracity.
More from Politico:
The Senate Judiciary Committee will have a chance to hear in public from the woman accusing Brett Kavanaugh of sexual assault and the Supreme Court nominee himself, a Republican member of the panel said on Monday.

The hearing has been scheduled for Monday Sept. 24. Both Kavanaugh's camp and that of Christine Blasey Ford, who came forward Sunday with the allegation, have been contacted about the planned public hearing, a source close to the confirmation said.

"As I said earlier, anyone who comes forward as Dr. Ford has done deserves to be heard. My staff has reached out to Dr. Ford to hear her account, and they held a follow-up call with Judge Kavanaugh this afternoon. To provide ample transparency, we will hold a public hearing Monday to give these recent allegations a full airing," Judiciary Chairman Chuck Grassley (R-Iowa) said.

Democrats on the Judiciary panel "were not informed about a hearing" in advance of the GOP decision, an aide said.

Republicans moved ahead after a frenetic day that began with Ford's lawyer saying that the California-based professor would willing to testify about her alleged high-school-era sexual assault by Kavanaugh — an accusation that has added fresh turmoil to his already tumultuous confirmation fight.

A growing number of Republicans said after Ford stepped into the public eye that GOP leaders' plans to confirm Kavanaugh by the end of the month may need to be altered in order to hear her out. As of midday on Monday, six Republican senators have said that the Senate Judiciary Committee needs to weigh Ford's account, a large enough group to raise serious doubts about whether the nomination will proceed.

But Kavanaugh himself has only doubled down on a strenuous denial of Ford's allegation. The judge told Sen. Orrin Hatch in a Monday phone call that he did not attend the party more than three decades ago at which Ford says the assault occurred, the Utah Republican said.

"I believe him. He's a person of immense integrity," Hatch told reporters, declining to address how Kavanaugh could speak definitively about not attending a decades-old event that Ford has only discussed in broad terms.

Hatch suggested that Ford may have been "mixed up" in her memory of the night in question.

President Donald Trump — rather than criticizing Ford, as he has blasted the #MeToo movement — told reporters Monday that "if it takes a little delay, it'll take a little delay" to vet the allegation.

"We want to go through a full process … and hear everybody out," Trump told reporters, adding that he has not spoken to Kavanaugh about the matter.

Senate Majority Leader Mitch McConnell (R-Ky.) aligned with Kavanaugh's denials, lamenting in a floor speech that Ford's allegation had emerged "at the last minute and in an irregular manner" as he gave Grassley a vote of confidence in conducting interviews of both the judge and the professor.

Minority Leader Chuck Schumer (D-N.Y.) pushed back on the GOP for being unwilling so far to delay their timetable for confirming Kavanaugh in order to vet Ford's story. "Republicans and their staff cannot impartially investigate these allegations," Schumer said on the floor.

Debra Katz, Ford's attorney, indicated openness to "a fair proceeding" in a Monday interview with "CBS This Morning."

"My client will do whatever is necessary to make sure that the Senate Judiciary Committee has the full story and the full set of allegations to allow them to make a fully informed decision," Katz said. "She's willing to do what she needs to do."
As I noted this morning, at least four Republicans had come out in favor of hearings on Dr. Basey's, as she is known professionally, allegations withing hours after they became public late yesterday afternoon. The most important of those Republicans, arguably, was Senator Jeff Flake, who sits on the Judiciary Committee and could have single-handedly block the Committee vote that was scheduled for Thursday, but which is obviously now delayed until at least late next week. Several other Senators joined in those calls, including Senator Susan Collins, who said that Kavanaugh and his accuser should both be heard from in a live hearing for the benefit of the Committee, the Senate, and the American people. While there was some push back against the idea of a delay in the vote from some conservatives, the pressure on Senate Majority Leader Mitch McConnell and Judiciary Committee Chairman Chuck Grassley to do respond only increased as the day went on. This only increased after the President's statement, which appeared to support the idea of a hearing, and after both Judge Kavanaugh and Dr. Basey, through her attorney, said that they would be willing to sit for a public hearing. At that point, it was clear that it would be politically, and most likely practically, impossible for Republicans to ram Kavanaugh's nomination through without a public hearing, especially with midterm elections just seven weeks away.
At the very least, this development means that Judge Kavanaugh will most likely not be confirmed in time for the beginning of the Court's term on the first Monday in October. All in all, though, this seems like a small price to pay in order to get at least something close to the truth out in the open. In the end, it's likely that all we will have to go on will be the testimony of Judge Kavanaugh and Dr. Basey, but that at least will be enough for Senators and members of the public alike to make their own determination about the credibility of the accuser and the accused and to determine what it should all mean for Judge Kavanaugh's fitness to be Supreme Court Justice. That's the least we can ask for.