Juror B29 Did Not Say Zimmerman 'Got Away with Murder'
ABC News selectively edited their interview with Juror B29 to give a false impression of what she said.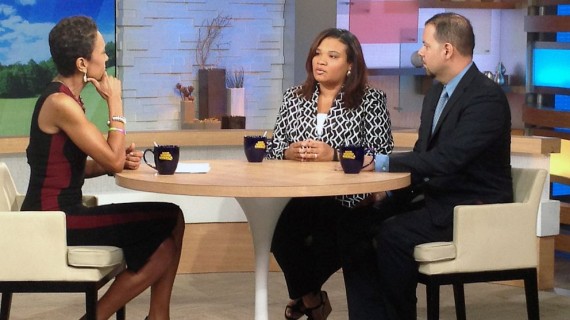 ABC News selectively edited their interview with Juror B29 to give a false impression of what she said.
Yesterday, I took an ABC News report of what happened on their morning show and commented on it as if it were the truth in a posting titled "Zimmerman Juror Says He 'Got Away With Murder.'" I was not alone.  Slate's William Saletan reveals the real story ("Did George Zimmerman Get Away With Murder? The media are reporting that a juror says Zimmerman is guilty of murder. That's not true.").
The reports are based on an ABC News interview with Juror B29, the sole nonwhite juror. She has identified herself only by her first name, Maddy. She's been framed as the woman who was bullied out of voting to convict Zimmerman. But that's not true. She stands by the verdict. She yielded to the evidence and the law, not to bullying. She thinks Zimmerman was morally culpable but not legally guilty. And she wants us to distinguish between this trial and larger questions of race and justice.
ABC News hasn't posted a full unedited video or transcript of the interview. The video that has been broadcast—on World News Tonight, Nightline, and Good Morning America—has been cut and spliced in different ways, often so artfully that the transitions appear continuous. So beware what you're seeing. But the video that's available already shows, on closer inspection, that Maddy has been manipulated and misrepresented. Here are the key points.
There's quite a bit more in Saletan's analysis, which I've already quoted generously. The bottom line is that ABC News exploited "the only minority of the Zimmerman jury," attempted to take advantage of someone not accustomed to being on television or otherwise expressing herself publicly, and then selectively edited the tape when they were unsuccessful in getting the story they wanted. Other outlets, including "the New York Times, Washington Post, Los Angeles Times, Chicago Tribune, and dozens of other newspapers" were duped along with me.
This is truly shameful conduct on the part of a news division once home to giants like John Cameron Swayze, Frank Reynolds, Harry Reasoner, David Brinkley, and Peter Jennings.  Yes, it's "Good Morning America" and not the nightly news and there's a lot more competition nowadays. The line between news and entertainment has been blurred virtually beyond recognition and, again, that's even more so on the morning shows. But blatantly lying to their audience and making this poor woman look like an idiot in order to pump the ratings for a day is beyond the pale.