Just This Once, John McCain Is (Partly) Right
John McCain is right that we shouldn't send ground troops to Syria, but his idea for increased U.S. intervention in the country's civil war is still too risky.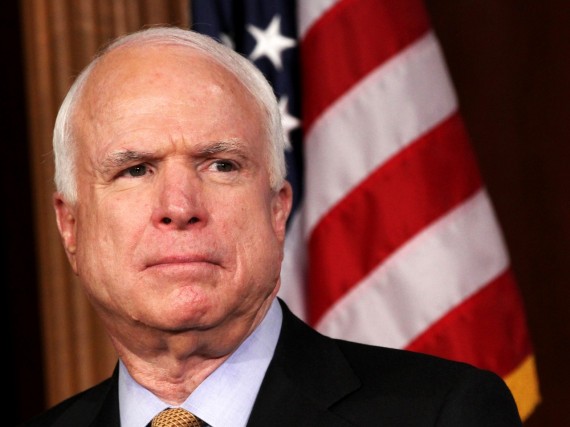 John McCain has been advocating for increased U.S. involvement in the Syrian civil war for nearly two years now, but even he has his limits:
An international coalition of troops should be ready to go into Syria to secure the country's chemical weapons stockpiles, Sen. John McCain (R-Ariz.) said Sunday, warning that U.S. troops on the ground would only spark more Mideast anger.

But McCain said that putting troops in Syria is the "worst thing United States could do right now," because the Syrian people are bitter and angry at the United States.

"I think that the American people are weary. They don't want boots on the ground. I don't want boots on the ground," McCain said on NBC's "Meet the Press."

But McCain urged the Obama administration to take several actions in Syria, such as arming rebel groups or establishing a safe zone, steps he and other GOP hawks have long pressed

(…)

McCain, one of the most outspoken lawmakers on Syria, said Sunday that it should not matter whether Assad used chemical weapons. Even if they had not been used, McCain argued, Assad's forces have committed atrocities already and killed tens of thousands.

McCain said that Obama's red line gave Assad a "green light" to do everything short of use chemical weapons.

"Our actions should not be dictated on whether Bashar Assad used chemical weapons or not," McCain said. "First of all, sooner or later he most likely would in order to maintain his hold on power."
McCain is right on this first point at least. Putting American troops on the ground in Syria would be an incredibly bad decision. Not only would it inject us into the middle of a civil war where it's unclear who the good guys actually are at this point, but it would also essentially mean that we were responsible for the post-Assad future of Syria just as we became responsible for the post-Saddam future of Iraq. As we've seen, that particular project has been less than successful, and the various factions that make up Syria are even more complicated that the Sunni-Shiite split that predominates in Iraq. Trying to keep the peace between Kurds, Sunnis, Shiites, and Alawaites, all of whom have reasons to fight each other, would mean committing ourselves to another long term military commitment.
What McCain doesn't understand, or which he chooses to ignore, is that even the "limited" involvement that he's in favor of poses the significant danger of sucking us further into the conflict in the future. In for a penny, in for a pound so to speak. Additionally,an "international coalition" is far harder to put together than McCain seems to think. Who is going to make up this coalition? The British? Somehow I don't think the British public is going to want to bear that burden in the wake of their experiences in Iraq. The French? That poses the danger of reigniting passions from the days when France controlled what is now Syria and Lebanon after the post-World War I collapse of the Ottoman Empire. The Turks? That poses the danger of igniting regional tensions, not to mention Kurdish resentment in the areas of Syria where they predominate. In the end, the U.S. would end up having to shoulder a large part of the burden of this "international coalition," and the mission would be seen as predominantly an American initiative notwithstanding whatever "international" window dressing may be put upon it.
In the end, there seem to be far more risks in intervening in Syria, even in the limited scenario that McCain proposes, than there are in not intervening at all.