Kirsten Gillibrand Drops Out Of Presidential Race
Kirsten Gillibrand has dropped out of a Presidential race few people realized she was in.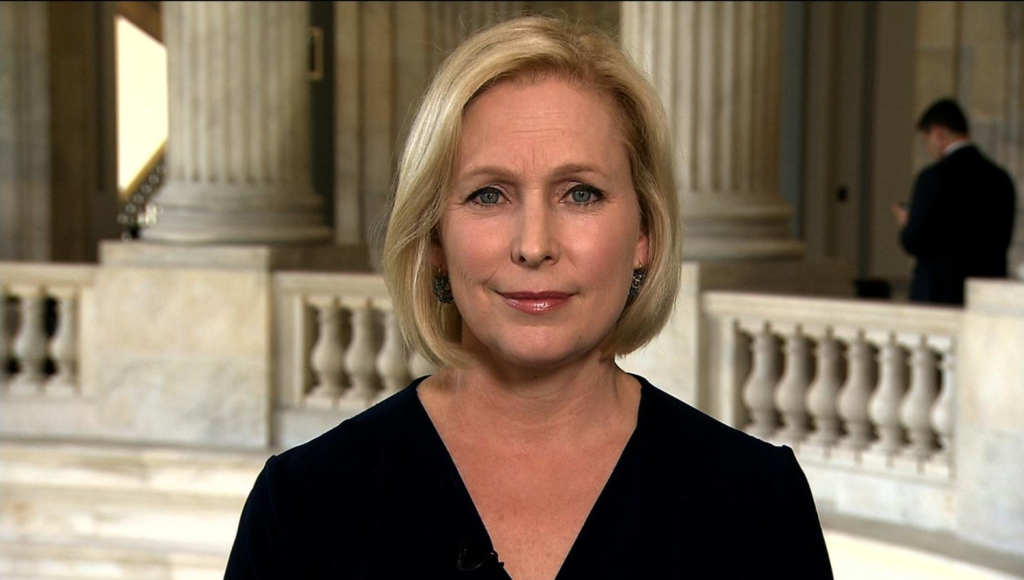 New York Senator Kirsten Gillibrand, who entered the race for the Democratic nomination back in September, announced late yesterday that she was dropping out of the race:
Sen. Kirsten Gillibrand dropped out of the presidential race Wednesday evening, pledging to help the eventual Democratic nominee beat President Donald Trump next year.

The New York Democrat, who ran a distinctly feminist campaign, failed to meet the Democratic National Committee's criteria for the committee's September presidential debate. A statement released by her campaign cited her lack of "access to the debate" stage as a reason she decided to end her run.

"We wanted to win this race," Gillibrand said in a video posted on her Twitter account. "But it's important to know when it's not your time, and to know how you can best serve your community and country."

Gillibrand championed women and families in her bid, becoming the first candidate to call for a pro-abortion rights litmus test for federal judicial nominations. She held rallies in Georgia and Missouri, after Republican state lawmakers passed a string of rigid anti-abortion laws. She was also one of the earliest and most vocal critics of President Donald Trump on the campaign trail, formally launching her campaign, after a brief exploratory period, at the foot of one of the president's hotels in Manhattan.

But Gillibrand struggled to stand out of the sprawling, diverse Democratic primary field, which included five other women. Like other candidates languishing at single or near zero digits in national polling, Gillibrand was not able to pull off a breakthrough moment. Instead, she received her first and only 2-percent poll earlier this month. She needed to get at least four such polls and accrue 130,000 donors to make the September debate stage.

Gillibrand's fundraising also lagged behind her rivals, despite becoming one of the top online fundraisers in the Democratic Party at the beginning of Trump's presidency in 2017.

One of the senator's most memorable moments came on the debate stage last month, when she confronted former Vice President Joe Biden's record on paid family leave, citing an editorial he wrote that said working women would "create the detoriation of the family." But her attack failed to land, after she hinted at the line earlier that weekend. Biden, for his part, punched back at Gillibrand, recalling a time she commended him for his advocacy for equality.

"I don't know what's happened except that you're now running for president," Biden said.

Still, Gillibrand built a reputation as a creative campaigner who showed up at unconventional locales. She bartended at Iowa's oldest gay bar, arm-wrestled college students and appeared at a drag show in Des Moines. She also appeared on Fox News — a controversial choice that some 2020 Democrats declined to follow. Her appearance elicited a memorable line from Fox host Chris Wallace, who called her "not very polite" when she pushed back on the network's coverage.
Not surprisingly Gillibrand's announcement came less than an hour after it became apparent that she was among those candidates who failed to qualify for the third debate in mid-September. Indeed, unlike arguably lesser candidates such as billionaire Tom Steyer and Hawaii Congresswoman Tulsi Gabbard, Gillibrand ended up being not even close to qualifying for this debate and seemed unlikely to qualify for the fourth debate in October as well. Additionally, as noted, her fundraising has been disappointing, to say the least, and was only likely to get more difficult as she faded from the national stage. Given all of that, pulling the plug at this point was probably the best thing for her. She has a Senate seat in New York that will likely be safe for as long as she wants to keep the job, and could be a potential contender for a Cabinet position or, perhaps even a candidate as running mate for whoever the Democratic nominee turns out to be.
In dropping out Gillibrand jons a number of other candidates who have ended their campaigns over the past six weeks or so. This includes California Congressman Senator Eric Swalwell, former Alaska Senator Mike Gravel, who has become something of a Democratic Harold Stassen, Washington Governor Jay Inslee, former Colorado Congressman John Hickenlooper, and Massachusetts Congressman Seth Moulton. It's likely we'll see other candidates drop out as well, perhaps over the next several days and most certainly over the next several weeks. The Democratic field, once the biggest in history, is slowly, but surely, winnowing down to the real contenders. It's about time.