Larry King Hanging Up The Suspenders
The most shocking news about Larry King's retirement announcement was the realization that he was still on the air.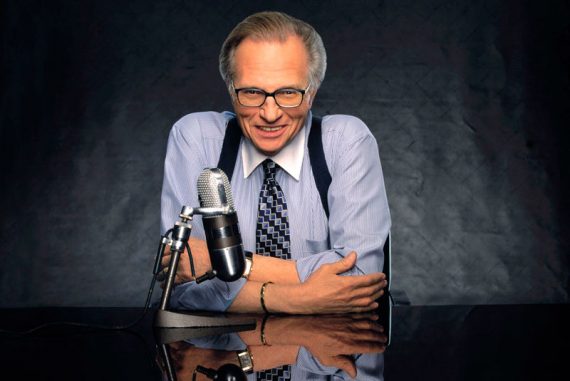 After twenty-five years, Larry King will be retiring from his nightly CNN show in the fall:
In the face of falling ratings, the CNN host Larry King announced Tuesday evening that he would end his long-running talk show, "Larry King Live," this fall.

Jonathan Klein, president of CNN's domestic channel, said that Mr. King, 76, was ending the show "on his own terms," just after his 25th anniversary. Mr. Klein said he would announce a new 9 p.m. program over the summer.

Mr. King will stay at CNN part time; in an announcement on his show, he said that he would host an undetermined number of specials "on major national and international subjects."

"Larry King Live," the centerpiece of the CNN prime-time schedule, has seen its ratings drop sharply in recent years, particularly in the last six months, leading to widespread talk that Mr. King's current contract, which will expire in June 2011, could be his last. Asked by Bill Maher, his guest on his Tuesday night show, about the speculation in the media, Mr. King said "that had nothing to do with it." He said he approached CNN management about the change and they "graciously accepted."

It will give "more time for my wife and I to get to the kids' little league games," he said on his show. Mr. King and his seventh wife, Shawn Southwick, reunited in May after having filed for divorce a month earlier.

In the last few weeks, executives at CNN, a unit of Time Warner, have repeatedly had to deny that they were close to signing a deal for Mr. King's replacement. Piers Morgan, a judge on "America's Got Talent," has been rumored to be talking to CNN about a job. Others likely to be seen as candidates are Katie Couric and Ryan Seacrest.

On Tuesday night, he said he would recommend Mr. Seacrest, "if he has a great interest in politics."
Larry King Live was a favorite stop for politicians and celebrities for many years, mostly because they knew that they would never face tough questions from a guy, whose interview style was haphazard at best, as demonstrated by this rather odd encounter with Jerry Seinfeld:
King did make a mark on politics in 1992, though, when his February 20th show became the launching point for Ross Perot's third-party bid for the Presidency:
The rest, of course, was history.
Although I did listen to his radio show back in the day, I wasn't much of a King fan once he made the transition to television and, in the end, neither were most Americans:
In recent years "Larry King Live" has lost a substantial amount of its audience, mirroring CNN as a whole, which has struggled to figure out how to compete in a sharply partisan cable news environment. Andrew Tyndall, a TV news analyst, said CNN depended for too long on Mr. King and his once-formidable audience. "They decided to cash in on his high ratings and postpone refreshing the whole lineup," he said.

Now the ratings are a source of embarrassment for the channel. In the second quarter of this year, Mr. King's show averaged 674,000 viewers, its lowest viewership in at least a decade, according to ratings from the Nielsen Company. It ranks well behind most popular cable news show at 9 p.m., "Hannity" on Fox News, as well as the No. 2 "The Rachel Maddow Show" on MSNBC.
When you're losing to Hannity and Maddow, and on some nights even Nancy Grace, well that's just embarrassing.