Lineup Set For Second Democratic Debate
The lineups for the second Democratic debate are set, and they include some interesting pairings.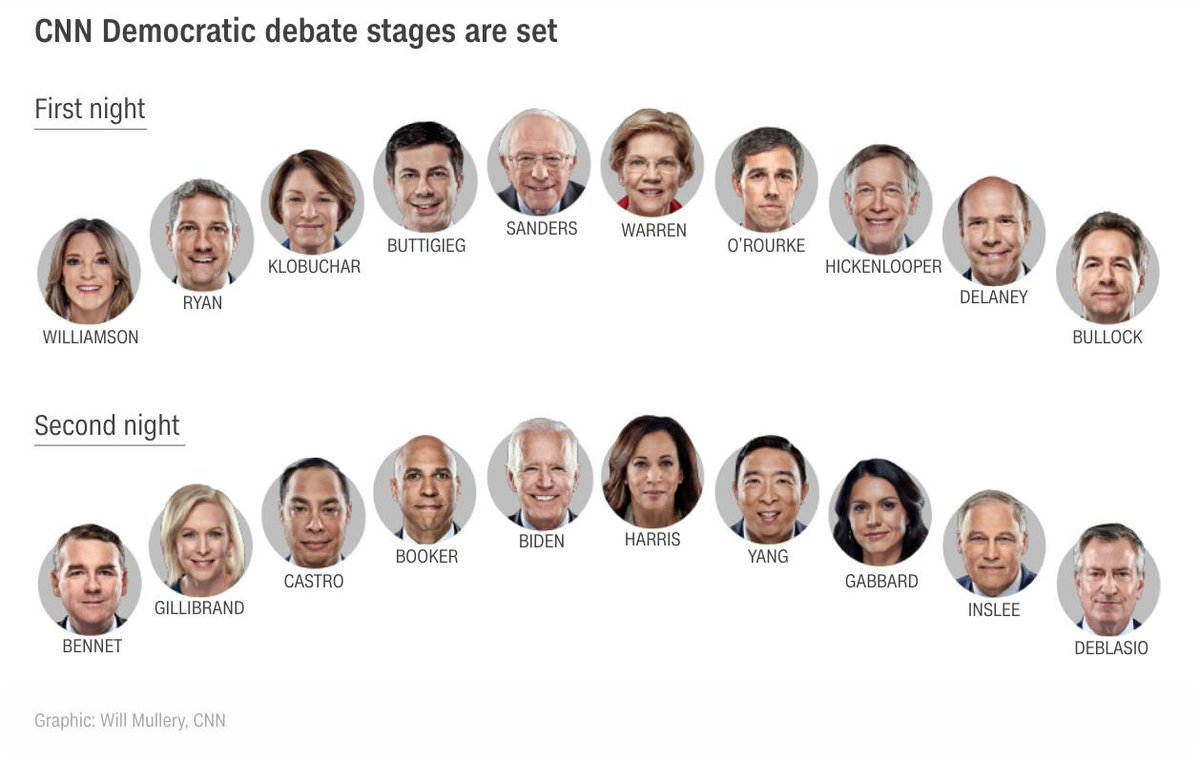 In a far-too-dramatic "draw" broadcast live on CNN last night, the lineup for the next two-night debate on the 2020 Democratic primary calendar has been set, and it sets up some interesting possible matchups for both nights:
Former vice president Joe Biden and Sen. Kamala D. Harris of California, who clashed at the first Democratic debate, will face off again in the next two-night debate at the end of July, while the ideologically aligned Vermont Sen. Bernie Sanders and Massachusetts Sen. Elizabeth Warren will appear together the other night.

Who is matched with whom can shift the trajectory of the race, as Harris showed in the first debate when she went after Biden on the issue of busing and race. It created a Harris vs. Biden narrative and helped catapult Harris toward the top of the national polls. The aftershocks of that moment were felt for days later, culminating in Biden giving a major speech defending his civil rights record.

A rematch gives Harris another shot to handicap Biden, while Biden gets an opportunity for a do-over after his fumbling performance against Harris last time.

For socialist democrat Sanders and capitalist Warren, who are vying for many of the same far-left voters, their matchup allows them the chance to differentiate. It also denies Sanders a chance to go after Biden, whom he competes with for the populist and working-class vote. In the past week, Sanders has targeted Biden for not embracing Medicare-for-all, providing a preview of how hard he planned to go after Biden if given the opportunity.

Debate host CNN held a live drawing on Thursday night to determine the lineups.

The Democrats wanted to avoid having separate first-tier and second-tier debates like Republicans did in 2016, so instead chose to randomly divide the whole field over two nights. It happened anyway in the first debate in June when all the top-polling candidates except for Warren were drawn for the same night.

This time, the candidates were divided into three tiers, and each tier was split between the two nights in an effort to ensure the nights were balanced. Biden, Warren, Harris and Sanders were in the top tier based on their poll rankings, guaranteeing two top candidates would debate each night.

Joining Sanders and Warren on the first night, July 30, will be South Bend, Ind., Mayor Pete Buttigieg; former congressman Beto O'Rourke; Sen. Amy Klobuchar of Minnesota; Montana Gov. Steve Bullock; Ohio Rep. Tim Ryan; former Colorado governor John Hickenlooper; former Maryland congressman John Delaney; and author Marianne Williamson.

The next night, July 31, with Biden and Harris, will be former housing secretary Julián Castro, entrepreneur Andrew Yang, Sen. Cory Booker of New Jersey, Sen. Kirsten Gillibrand of New York, New York Mayor Bill DeBlasio, Sen. Michael F. Bennet of Colorado, Hawaii Rep. Tulsi Gabbard, and Washington Gov. Jay Inslee.

The Democratic field is the most diverse ever and yet all five minority candidates ended up on the same night. If Harris does go after Biden again on race issues, he could face a pile-on with Booker onstage as well. Booker was actually the first candidate to take Biden to task for his comments about working with well-known segregationists early in his career.

O'Rourke, who raised a huge amount of money in his first 24 hours in the race, lost his early momentum while Buttigieg, who raised the most money of any candidate in the second quarter, surged. O'Rourke may try to recapture the mantle as the face of the next generation. Buttigieg, meanwhile, will have an opportunity to position himself as a pragmatist versus the more liberal Sanders and Warren.
So here's the lineup for the first night of the debate, July 30th, 2019 beginning at 9:00 p.m. EDT (highlighted candidates are polling at 5% or greater in the RealClearPolitics national polling average or in the polling averages for Iowa, New Hampshire, Nevada, or South Carolina:
Massachusetts Senator Elizabeth Warren
Vermont Senator Bernie Sanders
South Bend, Indiana Mayor Pete Buttigieg
Former Texas Congressman Beto O'Rourke
Minnesota Senator Amy Klobuchar
Former Colorado Governor John Hickenlooper
Ohio Congressman Tim Ryan
Maryland Congressman John Delaney
Marianne Williamson
Montana Governor Steve Bullock
And here's the lineup for the second night, July 31st, 2019 beginning at 9:00 p.m. EDT
Former Vice-President Joe Biden
California Senator Kamala Harris
New Jersey Senator Cory Booker
Andrew Yang
Former HUD Secretary Julian Castro
Hawaii Congresswoman Tulsi Gabbard
New York Senator Kirsten Gillibrand
Washington Governor Jay Inslee
Colorado Senator Michael Bennet
New York City Mayor Bill DeBlasio
In the last debate, we ended up with something of a lopsided lineup, with Elizabeth Warren having the stage to herself on the first night as far as front runners were concerned while Biden, Sanders, Harris, and Buttigieg all ended up on the second night. This time, we ended up with a somewhat more balanced lineup, but still one where most of the front runners are appearing on the first night while the big story of the second night will likely be the expected return of the Biden-Harris rivalry.
The most interesting matchup to watch for on the first night, obviously, will be the one between Elizabeth Warren and Bernie Sanders. While the two candidates have maintained a rather cordial relationship and have worked together in the past, they are the top two candidates coming out of the progressive wing of the party and are both essentially competing for the same group of voters. For the past several weeks, Warren, along with fellow Senator Kamala Harris, has been moving up in the polls and it seems clear that much of her support is coming from Sanders column, who has seen his numbers slip over the past month, putting him in danger of slipping into fourth place behind Biden, Warren, and Harris.
The second night, of course, will be highlighted by a redux of the matchup between Joe Biden and Kamala Harris that was the highlight of the second night of the June debate. No doubt, Biden's aides will make sure he's better prepared this time around so we're unlikely to see a repeat of what happened last month. Indeed, it's possible that the busing issue itself won't even come up. Instead, if Biden is going to be confronted by Harris, Cory Booker, or others on his record it will be on other issues arising from his long record of public services such as the Clarence Thomas-Anita Hill hearings and the 1994 Crime Bill. Biden will need to be prepared for all of this, and he'll also need to be more aggressive in differentiating himself from his fellow candidates than he was last month.
As for the rest of the field on both nights, for many of these candidates, this will essentially be their last chance to make a mark with voters and donors before the inevitably winnowing begins. This is important because the criteria for the debate after this one, set for mid-September, which will also apply to the fourth debate in October, will be essentially double what they are right now. This means that candidates like Cory Booker, Julian Castro, and Beto O'Rourke, who have been teetering on the edge of the qualification criteria for the third and fourth debates will need to find a way to turn things around for themselves. It also means that that candidates who were previously thought of as potentially strong challengers but who have underperformed, such as Senators Amy Klobuchar and Kirsten Gillibrand, will have to do a heck of a lot better if they are going to avoid being shut out of debate participation going forward, a development that would essentially doom their campaigns. The same goes for the significantly larger group of candidates polling below 1% who probably ought to consider dropping out if they can't turn things around quickly.
Photo array via CNN