Liz Cheney Walloped in Primary
The Trumper consolidation of their control of the GOP continues.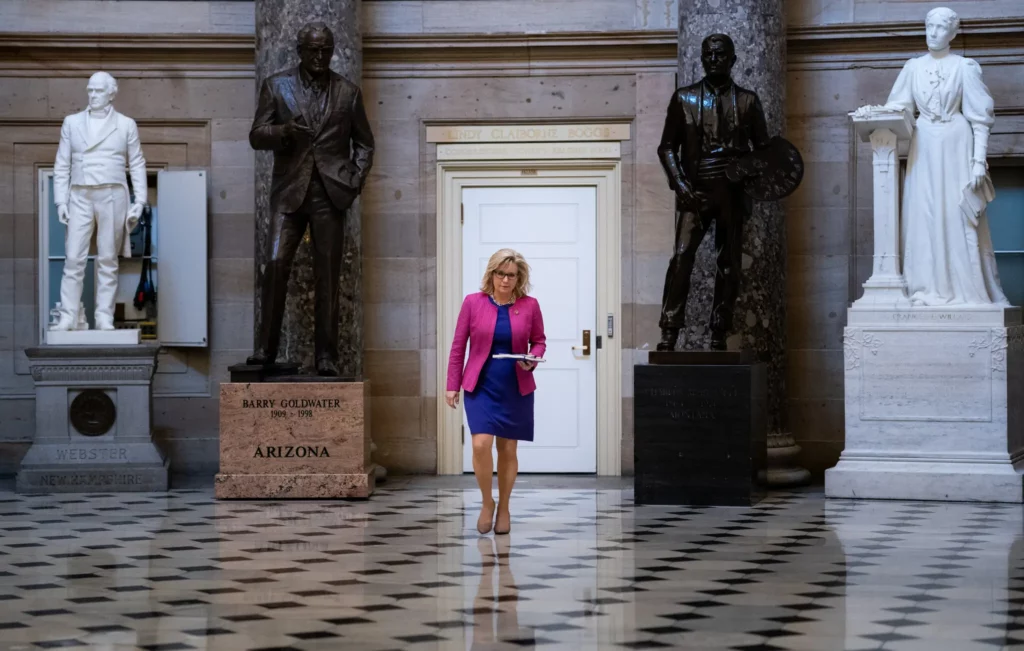 WaPo ("Liz Cheney loses primary while vowing effort to keep Trump from White House"):
Rep. Liz Cheney — the once-high-ranking Republican who defied her party to wage a lonely crusade against former president Donald Trump — lost her primary by a wide margin Tuesday while vowing she would do everything in her power to keep Trump from returning to the White House.
Harriet Hageman, a lawyer with Trump's endorsement, ousted Cheney, clinching the GOP nomination for deep-red Wyoming's only House seat. Cheney fell in defeat despite her appeals to Democrats and independents to re-register as Republicans and vote for her. The race marked the last primary challenge to a small group of House Republicans who voted to impeach Trump last year and are mostly set to leave Congress after withering backlash.

With more than 99 percent of the vote tallied, Hageman had about 66 percent to Cheney's nearly 29 percent, according to the Associated Press, which projected Hageman's win. Hageman headed into the day as the clear favorite and close observers had anticipated her victory for weeks.

The 45th president also loomed large Tuesday in two high-profile races in Alaska: Moderate Sen. Lisa Murkowski (R) faced a Trump-backed GOP challenger, Kelly Tshibaka, and both advanced from an all-party primary to the general election, the AP projected. Former governor Sarah Palin — an anti-establishment Republican backed by Trump — vied for Alaska's lone seat in the House in a special election that did not yet have a projected winner.
The paper's Editorial Board declares "The country needs more Liz Cheneys."
"If the cost of standing up for the Constitution is losing the House seat," Rep. Liz Cheney (R-Wyo.) recently told the New York Times, "then that's a price I'm willing to pay." On Tuesday, her state's voters came to collect.

Ms. Cheney's defeat in Wyoming's GOP congressional primary was predictable — and yet no less dispiriting. Polls had her trailing the eventual victor, Harriet Hageman, by a substantial margin. But no numerical analysis was necessary to see how far out of step Ms. Cheney had become with a Republican Party over which former president Donald Trump still holds so much power, even after his role in one of the nation's darkest days: Jan. 6, 2021.

Where many Republicans (including her opponent) say the 2020 presidential election was rigged, Ms. Cheney refuses to participate in election denialism. Where nearly all of her House colleagues refused to join Democrats in their efforts to investigate the Jan. 6 insurrection, Ms. Cheney has played a central role on the select committee seeking to hold to account those responsible. Her participation lent bipartisan legitimacy to the undertaking; her knowledge of her own party's politics proved invaluable to understanding how that day's horrible events came about.

And now, while candidates willing to spread the "big lie" are winning GOP primary races across the country, such as gubernatorial candidates Doug Mastriano in Pennsylvania and Kari Lake in Arizona, Ms. Cheney has lost.

This outcome says as much about the GOP as it does about Ms. Cheney's mettle. She did not lose because she surrendered her status as a card-carrying conservative. She's an antiabortion foreign policy hawk with a career score of 74 percent from Heritage Action, a conservative advocacy group, and a 79 percent score this session. She voted with Mr. Trump 93 percent of the time during his tenure. She lost because she refused to bow to Mr. Trump — or, at least, to remain silent about his campaign to undermine U.S. democracy, as do many Republicans who understand that Mr. Trump is a grave threat. The difference between her and the House Republican leadership from which she was ousted is that she recognizes that ideology and party loyalty should not matter when facing a fundamental threat to democracy.

Now, as politicians seed doubt in the outcome of votes before they even happen and spew reckless rhetoric that endangers elected officials and everyday government employees, the nation needs a broad coalition united in defense of bedrock values such as free-and-fair elections and the peaceful transition of power. The country needs, regardless of their positions on tax hikes or deregulation or free trade, more Liz Cheneys in government. Now, it will have one less.
Fewer. But, yes.
Contributing columnist Gary Abernathy urges "Liz Cheney and other jilted lovers need to move on from the GOP."
Liz Cheney's spectacular rejection by voters in Tuesday's Wyoming Republican House primary was predictable, not just because of her vote to impeach Donald Trump or her decision to join forces with Democrats on the Jan. 6 select committee, but also because she closed her campaign by calling her party "very sick." Wyoming Republicans, feeling fine, decided to change doctors.

[…]

Cheney will assuredly wear her defeat as a badge of honor, a testament to putting country first in ways that lesser Wyoming Republicans did not have the character to emulate. It's a popular narrative trotted out about Cheney, her Jan. 6 committee colleague Adam Kinzinger (R-Ill.) and any other Republican willing to chastise not just Trump but their party in general.

The jilted lovers of the GOP operate under the delusion that Republicans have just temporarily lost their way, and, once they realize their folly, will find their way home. But while the GOP fell hard for Trump in 2016, its lukewarm response to John McCain in 2008 and Mitt Romney in 2012 demonstrated that when it came to traditional suitors, the bloom was already off the rose.

Today's GOP has no interest in being rescued by the very people it ditched. Ronald Reagan remains the most revered modern president for many longtime Republicans, but this is no longer his party, any more than it was still the party of Dwight D. Eisenhower when Reagan ascended. Only 20 years had elapsed from Ike leaving the White House to the Gipper entering it; nearly three decades passed from Reagan's exit to Trump's arrival. Things change — just ask a John F. Kennedy Democrat.

Instead of constantly reproaching Republicans for their choices, everyone should stipulate the following: The Republican Party has some lingering conservative leanings, but it is now the populist, Make America Great Again party of its modern leader, Donald Trump. Even if someone else is its standard-bearer in 2024 — which would be a wise move, considering Trump's self-inflicted wounds after his election defeat — the GOP will not revert to the party of the past. Establishment Republicans who care to remain even modestly influential can pick up an oar and help row. Or, they can jump ship. Lectures and recriminations are futile.
I think that's all correct. Parties indeed change and this isn't even the party of George W. Bush, much less Reagan. But Abernathy doesn't really explain what he thinks Cheney should actually do once they abandon the GOP. Start another party? Become Democrats and try to steer that party in a more centrist direction?
Democrats will not like this:
Our national acrimony could be lessened by declaring a halt to portraying the GOP as a terrorist- or conspiracy-based organization represented by the Proud Boys, the Oath Keepers or other such groups. Millions of rank-and-file Republicans having no connection to fringe militias with exaggerated influence roll their eyes at the insults hurled their way. But the relentless hostility directed toward them across media platforms, and year after year of investigatory agencies targeting Trump, serve only to keep them defiantly in the former president's corner. The more you call millions of hard-working, patriotic Americans racists, cultists or terrorists, the more you push them away — and then complain that they're not listening.

Regardless of what they tell pollsters, whom they often regard as an extension of the mainstream media, most Republicans likely know the 2020 election wasn't fraudulent, although they might harbor suspicions about voting revisions enacted late in election season, with the pandemic used as justification. They may even agree that Trump is many of the unsavory things that his critics claim — but feel confident that still makes him as fit to be president as any other politician they know.

That might appear shocking to anyone embracing the spin that, by comparison, the Democratic Party distinctively stands for truth, justice and the American Way. The truth is that whatever Democrats are saying or doing about Trump and his party, most of them — especially those in leadership — do so less because they are offended or alarmed than because they think it's the strategy that will maintain or expand their power. If you think otherwise, your innocence is enviable.
At first blush, this is High Broderism in its extreme and rather silly. While I have no doubt that the Democratic leadership is cynical as hell, they're not openly undermining our democracy, fomenting conspiracy theories, and encouraging the use of violence to settle political disputes.
Still, fundamentally, I agree that, in a system of binary choices, it's counterproductive to condemn the whole lot of Republican voters as deplorables. To the extent they even vote, most of the right-wing extremist elements seem to have gravitated to the GOP. But they're a tiny element of the whole.
The country might heal more quickly if the left, the right and the media accepted the modern Republican Party for what it is, and if the GOP's old flames would stop so pitiably pining away. For those former lovers who can't agree to be friends, the best way to move on is to meet someone else. Maybe they could be introduced to someone in the new Forward party. They seem nice.
Even setting aside the massive cultural and institutional obstacles to creating a viable third party in our system, the fact of the matter is that Forward isn't really even a party at all.
Congressional bureau chief Paul Kane sees something bigger: "Liz Cheney went against the 'clear' path. Now she leads an anti-Trump movement."
All the Wyoming Republican had to do was keep quiet, like almost all her male GOP colleagues had decided to do.

"I could easily have done the same again, the path was clear, but it would have required that I go along with President Trump's lie about the 2020 election," Cheney told a crowd of about 100 supporters gathered in a valley inside the Teton mountain range. "It would have required that I enable his ongoing efforts to unravel our democratic system and attack the foundations of our republic.

"That was a path I could not and would not take."

[…]

Cheney used her defiant concession speech Tuesday night, after losing badly in the GOP primary to Trump's handpicked candidate, to promise a sustained campaign against the ex-president and his allies. She surrendered her rising-star status in Congress in a sacrificial manner toward a higher calling to take on the most powerful figure in her increasingly conspiratorial political party.

As she has done from her perch on the committee investigating the Trump-inspired 2021 attack on the Capitol, Cheney laid out the terms of how she will judge the success of her effort.

"We must be very clear-eyed about the threat we face and about what is required to defeat it. I have said since January 6, that I will do whatever it takes to ensure Donald Trump is never again anywhere near the Oval Office. And I mean this," she said, drawing cheers from a crowd that featured a few newfound admirers among local liberals but was largely made up of old-time hands from Wyoming Republican politics. Tucked off to the side of the crowd sat two of the most notable of the latter group: Cheney's parents, former vice president Dick Cheney and his wife, Lynne, herself a former chair of the National Endowment for the Humanities in the Reagan and Bush administrations.

It will be more difficult for the younger Cheney to garner the same level of attention next year, when she is out of office, after just six years and at the politically young age of 56. She won't have the vice-chair perch she currently enjoys on the Jan. 6 committee, whose hearings have drawn tens of millions of viewers on national TV.

But she has gained a level of attention that now dwarfs almost every other member of Congress, commanding a platform that all but a handful of other Republicans in the Capitol have attempted.

And she has become a prolific fundraiser, where in the past she would raise the minimum necessary to win in this small-population state where only the GOP primary matters.

Many supporters want her to run for president in 2024, some a bit naive in thinking she would be a top-tier contender. Cheney did little to tamp that down in Tuesday night's speech.
There's a whole lot more to the piece but, frankly, she may be leading but she has no followers. Many of us admire her for her bold stand against Trump. But there's not enough left of the old GOP to nominate her. And, while Democrats applaud her for her courage, she simply doesn't fit under their tent ideologically. I don't see any way that her political career isn't over.
Nor do I even see what more she could do to ensure Trump isn't the 2024 nominee. Anyone persuadable that he's unfit has long since been persuaded. And those who haven't sure as hell aren't taking their cues from her.