Majority Of Americans Oppose Trump Administration Family Separation Policy
New polling shows that the Trump Administration's family separation policy is widely unpopular, with only Republicans supporting it. That last fact, though, is why Trump is unlikely to change the policy.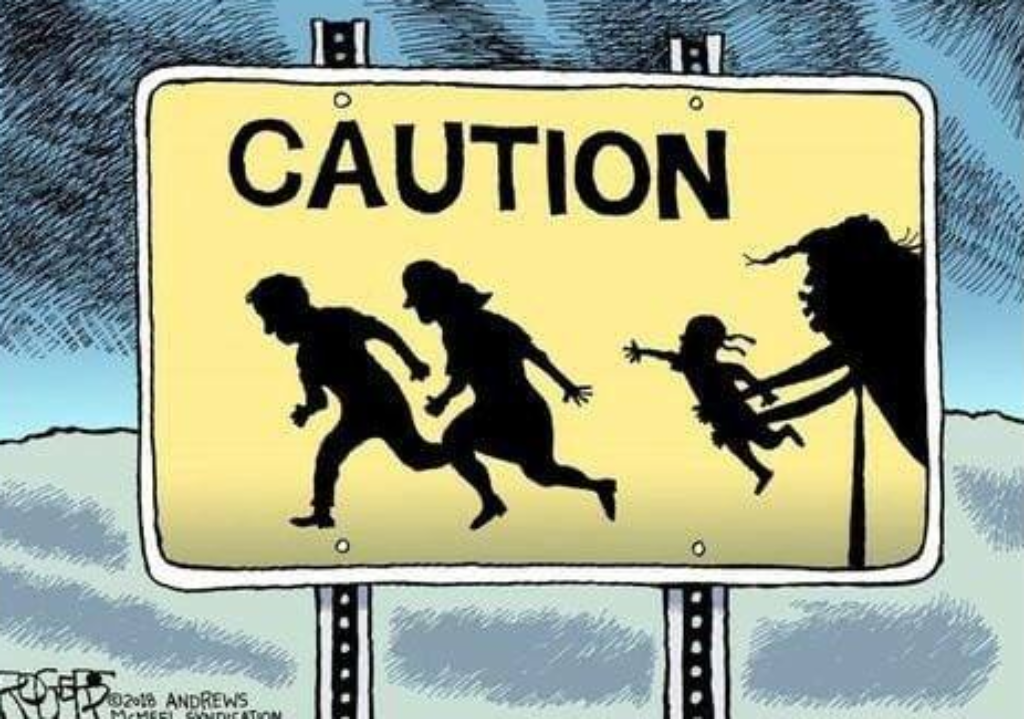 Four new polls show that most Americans oppose the Trump Administration's six-week-old policy of separating parents and children at the border, but each poll also finds that roughly half of Republicans support the policy.
First up, there's a new poll from Quinnipiac:
Roughly two-thirds of U.S. voters oppose the Trump administration's controversial policy of separating children from their parents who cross the U.S. border illegally, according to a Quinnipiac Poll released on Monday.

Sixty-six percent of those surveyed opposed the policy. The vast majority of Democrats surveyed — 91 percent — opposed the policy, compared with 35 percent of Republicans. Only 7 percent of Democratic voters support the policy, while 55 percent of Republicans support it

The poll comes as both Republican and Democratic lawmakers have denounced the "zero tolerance" policy that has resulted in parents being separated from their children as they're prosecuted for illegal immigration. President Donald Trump on Monday doubled down on the policy and blamed Democrats for holding up immigration reform legislation.

Photos from facilities where children separated from their parents were being held also went viral this past weekend after they showed young immigrants in cages, lying on green mats and using Mylar sheets for bedding.
While roughly one-third of Republicans oppose the Trump Administration's family separation policy, 55% say that they support it. The poll also finds that roughly half of American voters believe that the Administration is being too aggressive in deporting undocumented immigrants, with 86% of Democrats taking this position while 51% of independents and 10% of Republicans take this position as well. Some 13% of voters believe that the Administration is being aggressive enough, and roughly one-third of those surveyed believe the White House is taking the right amount of action at the border. The Quinnipiac poll also has some interesting findings on a number of other immigration-related issues:
79% of those surveyed the idea of allowing so-called Dreamers, which includes beneficiaries of the Deferred Action for Childhood Arrivals (DACA) program while just 15% oppose that idea. Among Democrats, 94% support the idea while 80% of Independents support it, and 61% of Republicans support it;
58% of those surveyed oppose the construction of President Trump's border wall, while 39% support it. Among Democrats, 92% of those survey oppose the border wall and 62% of self-identified Independents oppose the wall. Republicans, on the other hand support the wall 77% to 17%;
67% of those surveyed support the idea of illegal immigrants staying in the country and allowing them to eventually become citizens while 8% support allowing them staying in the country without the option of becoming citizens. Among Democrats, 88% support the idea of illegal immigrants being allowed to stay and become citizens while 65% of Independents support the idea. Among Republicans, somewhat surprisingly, 48% support allowing immigrants to stay and eventually become citizens
In addition to the Quinnipiac poll, there's a new poll from CNN:
Two-thirds of Americans disapprove of the Trump administration's practice of taking undocumented immigrant children from their families and putting them in government facilities on US borders, according to a CNN poll conducted by SSRS. Only 28% approve.

But among Republicans, there is majority support for the policy that has resulted in an uptick of children being separated from their families.

The separations are the end result of the administration's "zero tolerance" policy of criminally charging people who cross the border illegally.

The new poll numbers follow harsh criticism that President Donald Trump and the Republican Party are receiving after implementing the new policy.

"The United States will not be a migrant camp and it won't be a refugee holding facility," Trump said Monday.

The President was meeting with House Republicans at a conference to discuss this policy. Trump has suggested it may be a bargaining tool to get Democrats to cave on immigration demands and has placed the blame on the opposing party for not doing something rather than on himself or his administration for enacting the "zero tolerance" policy.

The controversial policy does have support in subgroups, particularly among Republicans, 58% of whom approve of it. Outside the GOP there is much less support. Just 5% of Democrats and 27% of independents approve. Sixty-two percent of the people who approve of the job Trump is doing as President also approve of the immigration policy and so do 51% of self-described conservatives.
And another from CBS News:
Sixty-seven percent of Americans call it unacceptable to separate children from parents who've been caught trying to enter the U.S. illegally. Much of this is driven by large percentages of Democrats (90 percent) and independents (66 percent) who find it unacceptable, while Republicans are more divided overall, with 39 percent calling it unacceptable, and one in five had not heard enough about it. Older, very conservative Republicans are more apt to say it is acceptable, while younger and more moderate Republicans do not.

President Trump's handling of immigration, generally, gets lower approval now — at 35 percent — than it did in May when it was 40 percent. Overall approval from Republicans has declined ten points to 73 percent now, from 83 percent in May

Americans who agree with the separation policy are more likely to be white, very conservative, evangelical, older, and to live in rural areas than those who find the policy unacceptable. They also overwhelmingly approve of how the President is handling immigration, more generally – at a greater rate than any partisan group.
Finally, another poll from The Daily Beast finds roughly similar numbers:
Nearly every day, voters have been confronted with heart wrenching stories about immigrant children being separated from their parents upon crossing the border into the United States.

The president incorrectly blames his administration's policy on Democrats, but regardless of his attempt to pass the responsibility, self-identified Republicans have his back, according to a new Ipsos poll done exclusively for The Daily Beast.

The poll of roughly 1,000 adults aged 18 and over, and conducted June 14-15, asked respondents if they agreed with the following statement: "It is appropriate to separate undocumented immigrant parents from their children when they cross the border in order to discourage others from crossing the border illegally."

Of those surveyed, 27 percent of the overall respondents agreed with it, while 56% disagreed with the statement. Yet, Republicans leaned slightly more in favor, with 46% agreeing with the statement and 32 percent disagreeing. Meanwhile, 14 percent of Democrats surveyed supported it and only 29% of Independents were in favor.
In s normal situation, of course, such numbers would cause an Administration to take a good, long look at the policy they adopted and realize they made a mistake. At the very least, this would happen because it seems clear that the longer this goes on and the more we hear the individual stories of parents and children who have been separated the more public opinion will turn against the Administration. As Aaron Blake notes at The Washington Post, though, with this President all that matters is what his base thinks. This is something that has been clear for a long time, of course. From the beginning of his Administration, this President has shown that he is perfectly fine with taking positions that are opposed by most Americans as long as his own party in general, and the hardcore members of his base in particular, support it.
It is, I suppose, not surprising that the Trump Administration's latest atrocious policy decision is supported by a majority or near-majority of Republicans. Time and again, Republicans have shown that there is literally nothing that Donald Trump can do or say that they will condemn him for and that they will continue to support him even when it is blindingly obvious that what he's doing is wrong. As both James Joyner and myself have noted several times over the past two months — see here, here, here — the Republican Party is basically Donald Trump's party now. Generally speaking, of course, it's typically the case that members of a President's party are supportive of his policies, but the extent to which Republicans in the Trump Era have become essential cult-like in their adherence to the agenda set by this Administration even when it becomes clear that what the Administration is doing, or what the President is saying wrong. This becomes especially true when it comes to an issue such as this, which raises what would seem to be a fundamentally immoral and cruel policy that did not need to be implemented. Instead of seeing that, while we are seeing many people on the right speak out against it they are generally people who have already expressed their opposition to the Trump Administration generally and President Trump specifically. Other Republicans, specifically those on Capitol Hill as well as the vast majority of the Republican base, are either demonstrating that they are afraid to speak out against this President or that they support these policies. Whichever it is, they are demonstrating either moral cowardice or complete and utter depravity.