The Perils of a One-Man Political Party
The GOP and Donald Trump are indistinguishable now. But it's not clear what that means.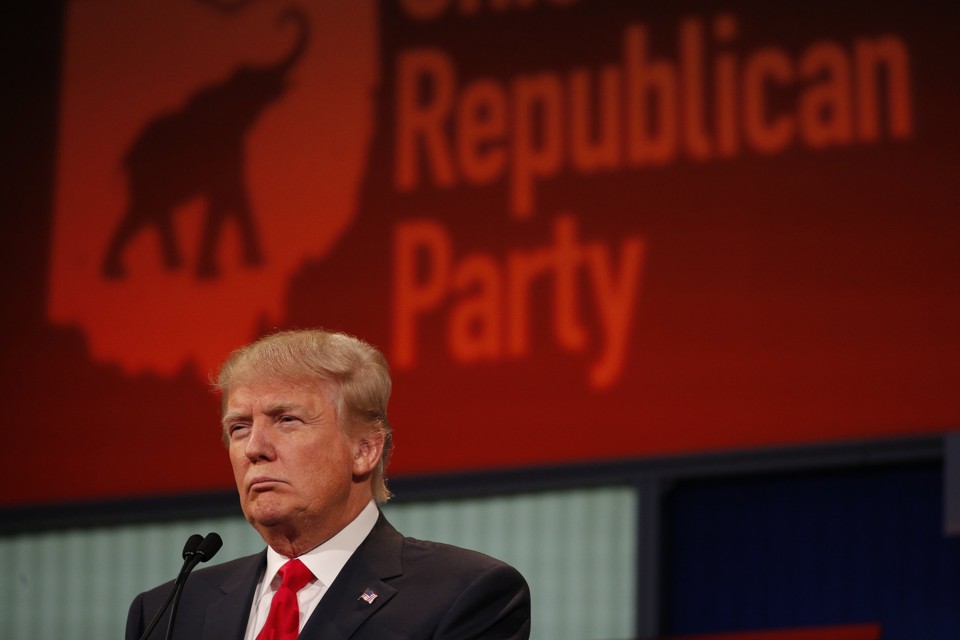 Many are realizing, as I posted yesterday, that the string of primary defeats for Republicans who got on the wrong side of the President mean the GOP is Donald Trump's party now.
A POLITICO report ("'This is the new Republican Party'") tells of the despair among the non-Trumpers:
The anti-Trump candidates are fleeing, and the ones who stick around are getting trampled. The chill has gone out among whoever's left: there's no more speaking up, and if there is, it's just for the sake of a speech, a protest quote that quickly disappears.

They chalk it up to party loyalty, or staying unified for the midterms. They say they still believe in the principles, but they don't tend to do more than say the words. Then, when the microphones are off, they confide. They complain. They nurse fantasies that there's a reckoning coming, that maybe this will all end with the Republican Party nominating someone like Eisenhower. Or at least like Paul Ryan.

And each time they watch another of their own go down, they wince, try to move on. Don't look back. Try to forget.

[…]

"People become disenchanted with the way democracies work. A strongman comes along, says, 'You've got to give up some freedoms, but if you do, I'll take care of these problems for you,'" [former South Carolina Governor Mark] Sanford said late Tuesday in his concession speech. "We've got to stay true to this notion of the democratic principles that our founding fathers laid out."

Former California Gov. Arnold Schwarzenegger, a Trump critic from the start, couldn't agree more.

"Hell no," Schwarzenegger said in an interview Wednesday about whether the GOP is lost to Trump. "A party can never be about one person. A party is about principles. Anyone, on either side, whose politics are based on being for or against the president is misguided.

"The focus needs to be on the issues — on keeping our economy booming, on reducing our huge debt, on the inequality of our education system, on cleaning our air," he added. "Those are the principles that have spanned generations of Republican leaders, from Lincoln to Roosevelt to Reagan, and it's those principles that will get us back on track."
That the GOP writ large hasn't stood for those things in years is worth noting—but so is that fact that the party continued to have room for those, especially outside the Deep South, who were more in the libertarian or Teddy Roosevelt Progressive mold, especially at below the Presidential level.
Much of this complaining is sour grapes. And Trump Republicans can rejoice that, finally, the party of elites is being transformed into a populist party. But, not only does that have a necessarily limiting appeal at the ballot box but the fact that Trump himself is so erratic creates problems. We can see this playing out in multiple reports.
POLITICO ("GOP senators' frustration with Trump — and each other — boils over"):
GOP infighting reached a new level on Wednesday, with Sen. Lindsey Graham berating Sen. Bob Corker for pushing his amendment that would allow Congress to block President Donald Trump's tariffs, according to attendees and people briefed on the exchange.

Corker (R-Tenn.) has been on a rampage this week over the Senate GOP's reluctance to vote on his amendment. And in a private party lunch on Wednesday as most Republicans blamed Sen. Rand Paul (R-Ky.) for blocking amendments to a defense bill, Corker defended Paul and argued that his blockade was being used as an excuse for the rest of the party to avoid other amendment votes.

Graham, who has been blocking Paul, then jumped in. The South Carolina senator, who has argued Republicans should give Trump room to negotiate on trade, unloaded on Corker. Graham was irked over Corker's speech in which he said the GOP doesn't want to "do anything that might upset the president, according to four sources familiar with the matter.

"You don't care about the Republican Party because you're leaving," Graham told Corker, who is retiring.
This is bizarre on a number of levels. First, the notion that Corker is insufficiently conservative or loyal to the Republican Party is simply bizarre. Second, while GOP leaders have sometimes pushed hard against protectionism (see Ronald Reagan and Japanese subsidies of their steel and auto industries) it has long been a free trade party, pushing back in recent decades against the populist wing of the Democratic Party.  That populism is increasingly ascendant in the GOP is one thing. But that advocating longstanding platform policies suddenly renders one a RINO is baffling.
The combination of Trump being not only outside the normal Republican ideological spectrum but not having an obvious counter-ideology of his own is especially problematic. See, for example, Bloomberg's report "Trump Allies Want Immigration Tweet Before They Vote for Bill."
House Republicans are rushing to assemble a compromise immigration bill for a vote next week alongside an existing conservative proposal, a strategy that a White House official told GOP lawmakers has President Donald Trump's blessing.

Stephen Miller, the main architect of the Trump administration's approach on immigration, met with GOP lawmakers at the Capitol on Wednesday and told them this was probably their last and best chance to pass conservative immigration legislation, according to a person in the room who asked not to be identified when describing private meetings.

The person said Miller assured lawmakers that Trump supports a plan laid out by House leaders late Tuesday that will put two immigration bills on the floor next week: a GOP compromise bill being pulled together by leaders of different Republican factions and one favored by conservatives that is sponsored by Judiciary Committee Chairman Bob Goodlatte of Virginia.

Lawmakers from the conservative Republican Study Committee told Miller, however, that immigration is such a hot-button issue in their districts that they need an explicit and public Trump tweet — not just a closed door meeting with a staffer — to give them political cover to vote for legislation that hardliners could label as "amnesty" for undocumented immigrants, according to the person in the meeting.
The immigration issue is one that has been divisive for a generation of Republicans now. Reagan himself was chastised for signing an "amnesty" bill back in 1986 and 2008 nominee John McCain, instinctually a moderate on the issue, has been forced to take on hard-line positions in election years. What's different now, though, is that we have a President who has a tendency to make deals in private and then turn around and renounce them the next time he takes some Twitter time.
The bottom line is that longtime Republican leaders, including rather dyed-in-the-wool conservatives, have no idea what this President is going to do and, consequently, don't trust him. That's no way to run a political party.