Majority Supports Life Without Parole Over Death Penalty For Murder
A turning point in public opinion?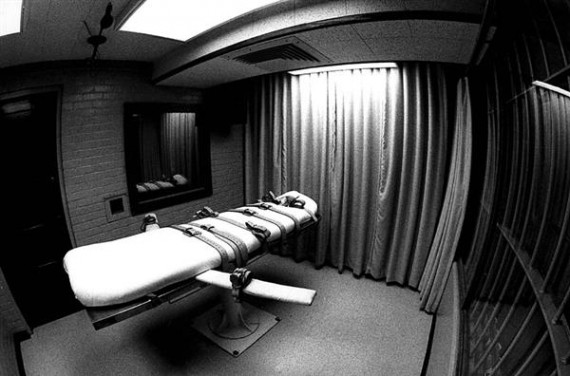 A new poll shows that, for the first time, a majority of Americans favor life in prison without parole over the death penalty:
For the first time, a majority of Americans prefer that convicted murderers spend life in prison rather than receive the death penalty, a new poll says.

According to a new Washington Post-ABC News poll released Thursday, 52 percent of Americans say they would prefer that people convicted of murder spend life in prison with no chance of parole, compared to 42 percent who prefer the death penalty for those people. That marks the first time in the Post-ABC News poll that a majority of Americans have preferred a life sentence for convicted murderers.

The net rating has shifted 14 percentage points in favor of a life sentence since 2006.

The survey comes more than a month after the botched execution of Oklahoma man Clayton Lockett. Lockett ultimately died of a heart attack after a failed lethal injection left him "writhing and clenching his teeth on the gurney," according to an Associated Press report in April.

Most Americans still back the death penalty, the poll says, but that support has declined in recent years. Thursday's poll reports that 60 percent of Americans support the death penalty, down from almost two-thirds support in surveys in 2002-06. Support for the death penalty was at 80 percent in 1994.

Thirty-seven percent of Americans oppose the death penalty, according to the survey.

A Gallup poll released last month reported that 61 percent of Americans view the death penalty as morally acceptable, down 10 points since 2006.
It's important to be clear about what we're seeing here. It's not so much that the American public is rejecting the death penalty or turning away from it on moral or other grounds, although the fact that the overall approval for capital punishment has declined over the past decade is certainly significant. Instead, we've now got a majority of people who say that they would rather see a murderer spend the rest of their life in prison than sent to death row, where they're likely to spend decades before getting anywhere near an execution date in any case.  Thanks to either legislative action or court decisions, several states have already moved in this direction, with states such as New York and New Jersey, which had both revived the death penalty as a sentence after the Supreme Court's opinion in Gregg v. Georgia which ended what had effectively been a moratorium on the death penalty in the wake of the earlier decision in Furman v. Georgia, although neither state had ever actually executed anyone. Recent controversies in Ohio and Oklahoma over the procedures involved in execution by lethal injection have brought the issue back into the forefront, with some states going so far as to bring back more barbaric forms of punishment.
There are likely several factors that have contributed to this change in public opinion.
Over the past 20 years or so, many states have radically altered the entire idea of parole for violent or repeat offenders, in some cases eliminating it entirely for certain offenses. So, unlike decades ago, the idea of "life without parole" now actually means what it says. In most states, someones who receives such a sentence would never even get the opportunity for a parole hearing, leaving aside the question of whether they'd even be granted parole. For some offenders, this strikes me as an appropriate sentence, and it is a more than appropriate alternative for a death penalty that, history has shown us, has been applied in an unfair, arbitrary, and capricious manner that often has more to do with the quality of the legal defense that a defendant can afford than it does with innocence, guilt, or the severity of  a particular crime.
Additionally, since the advent of reliable DNA testing we've seen numerous cases of people held in prison for decades, in several cases on Death Row, for crimes they did not commit. In Texas, we've learned of the cases of Cameron Todd Willingham and Claude Jones, two men executed in Texas who were very likely innocent of the crimes they had been charged with. As we've brought cameras into the courtroom, the public has become more aware of the fact that things can go horribly wrong during a trial, either in favor of the prosecution or the defense. Given all of this, perhaps its the case that the American public has concluded that risking life or death in those circumstances simply isn't worth it.
The big question, of course, is whether this will lead to changes in the law. Obviously, we're unlikely to see states like Texas abandoning the death penalty any time soon, but this change in public opinion could have a huge impact in states where the enthusiasm for execution isn't quite so gung-ho as it is in the Lone Star State such as Pennsylvania, Ohio, and others where executions have been far less common than they have in Texas, Oklahoma, and Virginia. Additionally, the ongoing problems that states are having obtaining the drugs used in executions, caused in no small part by the fact that the companies that make them are becoming less willing to sell them to the states for purposes of killing, is likely to slow the pace of executions nationwide for some time to come. Perhaps all of these factors combined will speed up the day that we finally put this unfortunate practice behind us.