Many Top Jeb Bush Donors Are Looking To Jump Ship
With almost no sign that he'll be able to turn his campaign around, many of Jeb Bush's top campaign donors are looking to jump ship to other candidates.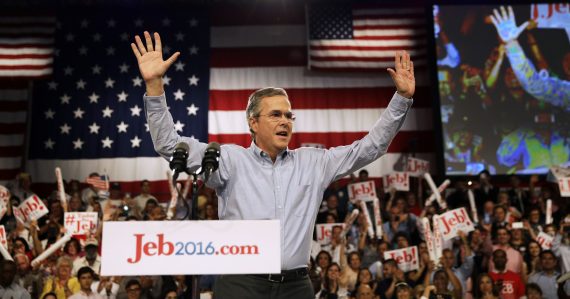 With the start of voting in the 2016 election cycle getting closer and little sign that he is going to rise out of the doldrums that his campaign has been in for months, Jeb Bush is finding it harder for the big money donors that have been backing his campaign to open their checkbooks:
When Jeb Bush announced a record fundraising haul in July, the Florida Republican rewarded major donors with a two-day celebratory retreat at the family compound in Kennebunkport, Maine. They also delivered a message: $114 million was just the beginning of how much cash they would need to win.

Now, seven months later and just 17 days before the first ballots are cast, Bush's donors are no longer high-fiving or strategizing how to keep funds flowing. Instead, the money spigot is shutting off as the donor class believes it is just a matter of time before the candidate they threw so much money behind drops out of the race.

POLITICO talked to nearly two dozen major donors, and most say they are waiting for what one veteran Republican and former Bush 43 administration appointee described as the "family hall pass" to jump to another campaign after the New Hampshire primary.

"I'm resigned to it being over, frankly. It's really disappointing," said one top Bush Wall Street donor. "I'd urge him to get out after New Hampshire if he doesn't do well, but he probably won't."

The deterioration of the Bush campaign has been a humbling experience for his fundraisers. A year ago, even before he was a candidate, Bush's team was locking down donors across the country and getting commitments for six- and seven-figure checks with little trouble. Donors were pitted against each other to see who could raise more and be in the good graces of the man who, at the time, was described by many in Bush World as the inevitable nominee.

Now the fundraising pitch is decidedly different.

"Hey, I need you to throw away money on Jeb — out of loyalty," a Bush fundraiser has told donors recently.

Rival campaigns are watching Bush's finance operation closely and have been working behind the scenes to lay the groundwork to poach his donor network. So far, a top Florida Republican fundraiser, Brian Ballard, has been one of the only notable defections to Sen. Marco Rubio's camp after Bush's campaign attacked Rubio.

"Donors I've talked to are desperate not to abandon Jeb because of their long bonds and loyalty with the family, but they are also recognizing there is no ROI [return on investment] on this campaign," said Rick Wilson, a veteran Florida political operative who is backing Rubio. "The sense of these folks is it is so sad. They whisper to each other, 'When will Jeb go?'"

Contingency planning among the donor set is in full force. Much of Bush's Wall Street support network will shift to Rubio. Even those who still see an outside shot for the former Florida governor expect Rubio to emerge as the establishment alternative to Donald Trump and Texas Sen. Ted Cruz.

"I think Jeb has the best qualities to be the president, he's just not doing the world's best job of getting there," said a top Wall Street executive who has donated and raised money for Bush. "My attitude is still wait and see what happens. I can't believe Donald Trump is going to get the nomination. As long as there is still all this insanity there is hope for Jeb."

But once Bush is out, this donor said he was ready to move on to Rubio. "If Jeb were to get out for any reason, most of his support would go to Marco."
This isn't how it was all supposed to go, of course. A year ago, when the race for the Republican nomination had barely begun and Jeb Bush was still in the "exploratory" phase of his campaign, Bush was the clear leader among the prospective Republican candidates for President. A year ago, for example, Bush was averaging 17% in the RealClearPolitics national average, eight points ahead of his nearest potential rival, New Jersey Governor Chris Christie, and one of only two potential Republican candidates in double digits for quite some time. As he explored the possibility of running for President, Bush was able to raise record amounts of money for his "Right To Rise" SuperPAC that dwarfed anything that any of the other Republican candidates were able to raise. At the state level, Bush was doing surprisingly well in Iowa notwithstanding the fact that he was not the type of conservative that voters in that state were likely to support, and performing strongly in New Hampshire, South Carolina, and, of course, Florida, Even the fact that his last name was Bush didn't seem to be hurting him among Republicans as much as many pundit had thought it would. One of the main reasons for this seemed to be the fact that the former Florida Governor was perceived as being the candidate best situated to beat presumptive Democratic nominee Hillary Clinton in a General Election. All of this seemingly pointed to the probability that Jeb Bush was a the candidate to beat in the race for the Republican nomination in 2016, and the fact that he was garnering the support of nearly all of the big money donors in the Republican Party suggested that he was well on the way to building a campaign juggernaut that would be hard for anyone to beat.
A year later, all of those presumptions about a Bush 2016 campaign have proven to be incorrect.
Whatever dominance Bush had in the polls came to an end once Donald Trump entered the race and passed him both on the national level and in states such as New Hampshire, although it's worth noting that he had already been passed in Iowa by Wisconsin Governor Scott Walker, who had a brief stint as a star in his own right before quickly fading away away. More importantly, Bush found himself completely unable to withstand the attacks that were directed his way by Donald Trump virtually from the moment that Trump entered the race. Bush was 'low energy,' Trump would say, and couldn't be trusted to have the leadership skills needed to fix the country's problems. In debate after debate, Bush would attempt to attack Trump only to see the business mogul deflect those attacks back at him as Bush's poll numbers continued to sink. An effort to take on Marco Rubio, who we had long been told was someone that Bush had been close to for years as the two worked together in Florida politics, proved to be an utter failure as Bush saw the junior Senator pass him in the polls as well. By late August, Bush was losing fundraisers, and in October there were reports that donors were concerned about the course of a campaign that seemed to be going nowhere. Later that month, James Joyner described Bush's campaign as "mostly dead," and there's nothing that has happened since then that can be said to appreciably change that assessment.
The state of Bush's campaign, and the reason why Bush donors are understandably looking to jump ship, can be seen best by looking at the polls themselves. Nationally, the former Florida Governor finds himself in fifth place with an average of 4.8% and recent polling that shows him as low as 2% among Republicans nationally. He's performing similarly in Iowa, where he stands in fifth place with a 4.4% average with no sign that there's any chance of upward momentum in the two weeks or so before the Caucuses in the Hawkeye State. More distressing for Bush is the fact that he stands at fifth place in New Hampshire, a state where one would have expected him to be doing far better but where the "establishment" vote seems to be being divided between Marco Rubio, John Kasich, and Chris Christie. Bush is also in fifth place in South Carolina and Nevada, meaning that he stands at fifth place in all four of the contests that will take place in February. Even in Florida, where Bush served two terms as a relatively popular Governor and has been well-regarded since leaving office, Bush stands in fourth place at 11% in the RealClearPolitics poll average, a far cry from the 27% he was averaging a year ago before the race actually began. All of this has happened despite very successful fundraising on Bush's party and an aggressive media campaign both on his campaign and by the SuperPAC supporting him, and it points strongly to the idea that Bush's campaign is fatally wounded and unlikely to recover.
Given all of this it's not surprising that donors are looking for a green light to jump ship. To a large degree, many of them have stuck with Jeb out of loyalty to the Bush family and for the lack of a better alternative. With the time before the race enters its next phase dwindling quickly, though, and Bush showing no signs of turning his floundering campaign around, one suspects they won't stick around much longer unless they see evidence that Jeb Bush can turn himself into a viable candidate again. Since that doesn't seem to be very likely, I suspect we'll start seeing news of fundraisers jumping to Rubio and other candidates in the near future. If that happens, it would take a miracle in the form of a win in one or more of the February contests to turn Bush's campaign around, and that just doesn't seem likely.