Signs Of Trouble For Jeb Bush
Once the Republican frontrunner, Jeb Bush is now floundering and dealing with donors worried that they may be backing the wrong horse.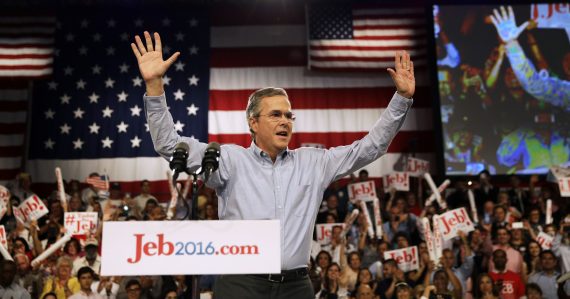 Today's news brings signs of trouble for Jeb Bush's Presidential campaign, which has been struggling for some time now:
Jeb Bush, once a front-runner for the Republican presidential nomination, is implementing an across-the-board pay cut for his struggling campaign as he attempts to regain traction just 100 days before the party's first nominating contest.

The campaign is removing some senior staff from the payroll, parting ways with some consultants, and downsizing its Miami headquarters to save more than $1 million per month and cut payroll by 40 percent this week, according to Bush campaign officials who requested anonymity to speak about internal changes. Senior leadership positions remain unchanged.

The campaign is also cutting back 45 percent of its budget, except for dollars earmarked for TV advertising and spending for voter contacts, such as phone calls and mailers. Some senior-level staff and consultants will continue to work with the campaign on a volunteer basis, while other junior-level consultants, primarily in finance but including other areas, will be let go, the officials said. The officials declined to say who would be removed from the payroll or provide an exact dollar figure for the savings. (A summary of the changes, provided to Bloomberg Politics by the campaign, is posted here.)

Bush's advisers, under pressure from their donors and from falling and stagnant poll numbers, have been discussing ways to retool the campaign in recent days, and came to the conclusion that a course correction was essential. While recent tangles with Donald Trump have energized the campaign, Bush's senior team recognized a more fundamental set of changes was required that didn't involve dealing directly with the party's surprising—and surprisingly durable—front-runner.

Analysts and rival campaigns will view the changes as a desperate act, perhaps the last one, of a man whose campaign has dropped in the polls in recent months and has remained mired in the middle of a crowded field despite a month-long blitz of friendly television ads. None of the changes deal directly with what even many of Bush's supporters say is his main challenge: The burden of trying to convince voters hungry for change to choose a man whose father and brother both served as president.

Officials said the changes—the second time the campaign has cuts its payroll this year—will enable them to shift more resources into New Hampshire, where the campaign has the largest operation in the state, and other states where early voters begin casting ballots in February. There will be more volunteers and surrogates for Bush, which the campaign refers to as "friends of Jeb," on the ground to help in a state that his brother lost in 2000 and his father won in 1988.

One Bush adviser told Bloomberg Politics in an interview Friday morning that the team was "unapologetic" about the changes, saying the moves were from a "position of strength." "This is about winning the race," the adviser said. "We're doing it now and making the shifts with confidence. We expect to win."

Bush plans to continue to focus on a core message that argues that he has experience to make the kinds of fundamental changes voters want to see in Washington. The campaign changes reflect that, an adviser said.

The campaign claims to have the most extensive field operation in Iowa, New Hampshire, South Carolina, and Nevada, states with the first four nominating contests. Bush had $10.3 million available for the primary race as of Oct. 1, about the same as U.S. Senator Marco Rubio, but less than U.S. Senator Ted Cruz and Dr. Ben Carson. Right to Rise USA, the super-PAC being run by Mike Murphy, raised $103 million in the first six months of the year.

Still, many thought Bush would keep the pole position heading into the 2016 primary calendar. But the former Florida governor and his advisers had little choice but to make the changes to redirect resources and attempt to create a new narrative for the campaign before the Feb. 1 caucuses in Iowa and—more importantly for Bush—the Feb. 9 primary in New Hampshire.
The root of Bush's problems can be seen quite easily in the polls of the Republican Presidential race. Right around the time that Donald Trump entered the race, Bush was the clear front runner in the national polls, leading his closest rival at the time, Wisconsin Governor Scott Walker, by a comfortable margin and far out pacing the rest of the field. Reflective of that strength, Bush turned in fundraising numbers for the reporting period that ended June 30th that were remarkably strong given the fact that he had only been in the race for about two weeks before the reporting period ended. Since then, though, the former Florida Governor has seen his fortunes change significantly. Like the rest of the rest of the Republican field, Bush saw his poll numbers drop as Donald Trump's rose, and he often has been the target of Trump's barbs in speeches an interviews in which Trump describes him as "low energy" and in other negative terms. Most recently, Trump baited Bush into an exchange over comments about George W. Bush's actions before and after the September 11th attacks, a subject that most Republican politicians would stay away from. Bush's performance in the first two debates has also not been very good, or at least hasn't received very good reviews. Thanks in no small part to all of that Bush now finds himself in fifth place at 7.2% in the RealClearPolitics national average behind Trump, Ben Carson, Marco Rubio, and Ted Cruz. Bush's fortunes have suffered a similar fate in Iowa, where he also stands in fifth place in the polling average at 5.7%, although it's worth noting that he had never been quite dominant in the Hawkeye State to begin with.  Not surprisingly, Bush is doing somewhat better in New Hampshire, where he's averaging 9.3% and stands in third place, but even there that is quite a fall from earlier in the year when the former Governor was seemingly alone at the top of the field in the Granite State. Bush is faring worst of all right now in South Carolina, where he stands in sixth place and averaging 5.7% and in danger of falling into also-ran status in the Palmetto State. Finally, the best indication of Bush's problems can be seen in his home state of Florida, where what was once a seemingly insurmountable lead has shrunk away to the point where a popular two-term former Governor now sits in fourth place behind Trump, Carson, and Rubio with an average of 12.7%.
With numbers like this, Bush's big advantage in fundraising seems to be drying up for him. Back in August, for example. the Bush campaign lost three of its top fundraisers in a sudden move that surprised nearly all observers. More recently, the campaign has found itself having to reassure many of the big money donors who have put their money on Jeb Bush that the troubles that we saw unfold over the summer would be addressed and the campaign would get back on track. Nonetheless, as the send of the last fundraising quarter approached, there were reports that donors were sending signals to the Bush campaign had become worried about declining poll numbers and mediocre debate performances and that the campaign was being told that it didn't have much time to turn things around. In recent days, perhaps, we've seen tangible signs of that donor angst in the report that Bush raised $13.4 million in the quarter that ended September 30th. This is a respectable amount, but it's hardly what many expected the former Florida Governor would be able to raise, and it stands in contrast to the $20 million raised by Ben Carson, the virtually unlimited war chest of Donald Trump, and isn't much more than the $12 million raised by Texas Senator Ted Cruz. Most importantly, though, Bush's FEC report showed that the campaign had just $10 million cash-on-hand and  had a tremendously high burn-rate of 86%, meaning that the campaign was spending nearly as fast as it was raising money. It's this last fact, no doubt, that is at the core of today's announcement regarding spending cutbacks.
All of this adds up to very bad news for Jeb Bush.
As it was, he headed into this race as someone fighting against the very strong headwinds of a Republican Party that has moved significantly to the right since his brother first ran for President in 2000, and even further than it had been when his father ran in 1980 and 1988. Whereas George W. Bush benefited to no small degree from his name and pedigree, for Jeb the last name Bush has been something of an albatross ever since people first became speculating about whether or not he would enter the race for the White House. To a large degree, of course, much of this can be attributed to what the political media have called "Bush fatigue" and the idea that Americans in general and Republicans in particular were not ready for the brother of a President and second son of a President to become President in his own right, especially given the legacy that George W. Bush left behind when he departed the White House in January 2009.
Despite those handicaps, Bush was widely seen as a very strong contender for the Republican nomination this time around. In no small part this is because he had become the candidate that much of the "mainstream" wing of the Republican Party, especially the big money donors that had backed Mitt Romney in 2012, and because for a long time he was widely seen as the candidate best positioned to take one Hillary Clinton, the likely Democratic Presidential nominee. In a typical year, Bush would likely be in a far stronger position than it is right now, but this is not a typical year. In addition to the rise of Donald Trump and the fact that the GOP field is currently dominated by two anti-establishment candidates, the wide-open field right now means that Republican voters and donors have felt much freer to pick and choose who they might back at any given moment. Additionally, one cannot discount the influence of the Tea Party and other populist movements inside the GOP at this point in the race, and all of those movements are very negative about Jeb Bush and any of the other candidates perceived to be part of the "establishment." Add all of that together, and throw in the 300-pound gorilla named Donald Trump, and the advantages that Bush had when he entered the race are turning out to be far less important than they seemed to be at the start of the race.
None of this is to say that Bush's campaign is completely doomed. We are still several months away from the start of voting in any of the early primaries, and Bush remains well-positioned financially and organizationally to bounce back in enough time to become a real contender, especially if Republican voters finally do end up bringing their romances with Donald Trump and Ben Carson to an end. It won't be an easy thing, though. Bush's fall in the polls, for example, reminds us that Mitt Romney never really fell below second place during the entire 2012 nomination fight and his fundraising remained strong enough to ultimately fend off the challenges posed by candidates like Rick Santorum and Newt Gingrich in the primaries themselves. Bush is faring much worse than Romney did four years ago, and he's being surpassed or equaled in fundraising by other candidates. To some extent, the massive haul that the pro-Bush SuperPAC has taken in will help offset this, but those funds can only be used for certain purposes and if Bush continues to flounder in the polls as we get closer to the kickoff of the primary season we could find things ending for him much sooner than anyone anticipated.