Marco Rubio Easily Wins Florida Senate Primary
As expected, Marco Rubio easily won the primary for his Senate seat. The General Election battle, though, promises to be more difficult.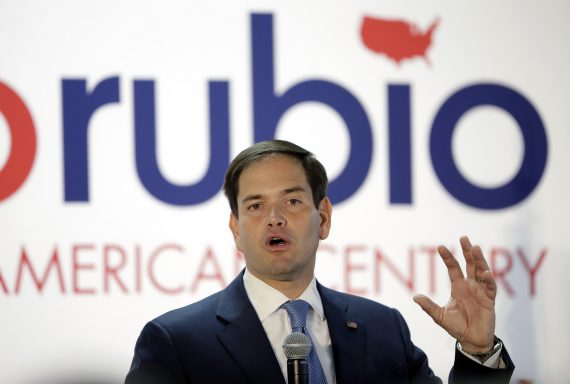 After initially saying that he would not be running for office after coming in a distant second in the Florida Presidential Primary earlier this year, Marco Rubio was persuaded by Senate Republicans to change his mind and enter the race for his seat, which Republicans are desperately hoping to hold onto in a year when control of the Senate is clearly up for grabs. When he did, most of the other candidates for what had been a rare open seat in Florida decided to step aside, so it wasn't entirely surprising last night that Rubio easily won the primary for his seat, setting himself up for a high profile showdown with Democratic nominee Patrick Murphy in November:
Republican Sen. Marco Rubio and Democratic U.S. Rep. Patrick Murphy each easily won their primaries Tuesday, setting up a November showdown that's guaranteed to be nasty as each party grapples for a majority in the Senate.

Rubio, who decided at the last second to seek a second term, easily fended off millionaire homebuilder Carlos Beruff and Murphy used the backing of President Barack Obama and other Democratic leaders to defeat U.S. Rep Alan Grayson, who was counting on his party's most faithful liberal voters to overcome Murphy's money and establishment support.

(…)

Rubio had declared during his failed presidential campaign that he would not run again for Senate. But he nearly cleared what had been a crowded GOP field with his last-minute turnabout.

Beruff rolled the dice to see if the anti-establishment mood powering Donald Trump's presidential campaign could send him to Washington as well. But after spending $8 million of his own money and going nowhere in the polls, he essentially shut down his campaign ahead of the primary.

Rubio supporters at his party near Walt Disney World whooped and chanted "Marco! Marco! Marco!" when The Associated Press declared him the winner.

"I voted for Marco only because I've been a longstanding supporter," said Diane Martin-Johnson, 66, after voting early Tuesday in Pinellas Park. "It's unfortunate he didn't do his job fully in Washington this term. I do think he deserves another chance. He thought he was doing the right thing (by running for president). That's my only complaint against him. He's a good man."

Murphy, a former Republican, quickly earned party support and raised significantly more money. He was also backed by Vice President Joe Biden and Senate Minority Leader Harry Reid. Grayson, a fiery liberal known for brash comments and hamstrung by a difficult divorce, relied mostly on small donors and feuded with party leaders.

Todd Martin, 53, and his 18-year-old daughter Haley, voted together in Tallahassee, where they recently moved as she starts college. They both chose Murphy, in part because they like his efforts to get government to address algae outbreaks near their former home in Vero Beach.

"I grew up on the river and it's a shame what they let happen," Todd Martin said. "I like where Patrick Murphy stands on the algae. It's very important to me."
Unlike six years ago, Rubio won't have the benefit (or challenge) of a strong third-party candidate that meant that he could win election without having to obtain a majority of the vote. In that election, you may recall, former Florida Governor Charlie Crist dropped out of the race for the Republican nomination when it was apparent that he would lose to Rubio and entered the race as an independent. In the end, Crist, managed to come in second place in the race and prevented Rubio from getting more than 50% of the vote but in retrospect was not as serious a challenger as it first appeared he would be at the time. Rubio's performance in this primary battle was also much better than his performance in the March Presidential Primary, when he garnered 27% to Donald Trump's 45.7%.  This time around Rubio will have to win an outright majority, and he'll have to do it in an environment where the campaign for President is likely to have a significant impact on the outcome of his re-election bid.
As things stand right now, Rubio appears to be well-situated to win re-election, though. According to RealClearPolitics, Florida's junior Senator has a 5.7 point lead over Murphy, with Rubio garnering an average 46.7% and Murphy garnering an average 41.0%. However, at the same time Hillary Clinton has a narrow lead in the Presidential race in the Sunshine State, with a 2.7 point lead in a head-to-head match and a 3.6 point lead in a four-way race. This suggests the possibility that Rubio could be hampered by having Trump at the top of the ticket in the same way that incumbent Republicans in other parts of the country have found themselves. Murphy has already started hitting Rubio with the fact that he is on the same ticket as Trump and the fact that Trump has said he supports the GOP nominee, though its unlikely that he'll be campaigning with Trump at any point in the future. Additionally, Rubio's run for the White House this year has already raised questions about whether he is seeking re-election mostly so he continues to have a political voice heading into the 2020 elections. When asked about this, Rubio has said he can't commit to serving the full six years of a second term, suggesting that he is at least thinking about running again in 2020 if the GOP ends up losing the White House, something that Murphy also hit Rubio on:
Rubio just yesterday said "no one" could commit to a 6-year term. Well, Marco: I can. I commit to you that I will serve my full term. #FLSen

— Patrick Murphy (@PatrickMurphyFL) August 31, 2016
If Florida voters perceive that Rubio sees the Senate as merely a stepping stone to another run at the White House, they may make Rubio pay for his lack of commitment at the polls, at which point Rubio's political career would effectively be over at least in the short term. In any case, we'll be keeping an eye on this race both because of what it might mean for the battle for control of the Senate and what it might mean for Republicans in 2020 and beyond.