Marco Rubio's Supposed Expertise On Foreign Policy Leaves Much To Be Desired
Marco Rubio is often described as one of the GOP's leaders on foreign policy, but a close look reveals a decided lack of substance.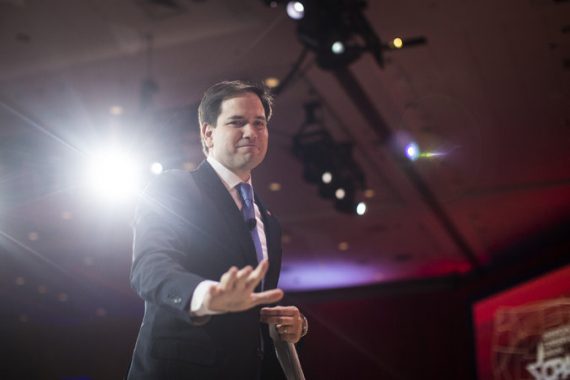 Michael Brendan Dougherty isn't very impressed with Marco Rubio's supposed foreign policy expertise:
Rubio has a reputation for foreign policy expertise because he chooses to talk about foreign policy often, promises large budgets to the Pentagon, and mostly pronounces the words correctly. Rubio's foreign policy consists of babyish moralizing, a cultivated ignorance of history, and a deliberate blindness to consequences. This is the same "foreign policy expertise" that led to a misbegotten war in Iraq and empowered Sunni insurgencies across the Middle East.

It will be enormously popular among people who think nothing of wasting money and other people's lives. Or as Rubio may one day call them from the West Wing, "my fellow Americans."
As Dougherty notes earlier in his post, though, when you actually look at the substance of Rubio's statements on foreign policy issues, there seems to be far less substance than his boosters lead people to believe, and in the end not very much to be broad about. Generally speaking, it is fair to put Rubio among the hawks in the Republican Party along with people such as John McCain and Lindsey Graham. While he did end up briefly joining Rand Paul's 2013 filibuster on drones, the fact is that he and the Senator from Kentucky are quite far apart when it comes to foreign policy issues even after you take Paul's recent moderation into account. For example, Rubio has been one of the most vocal critics of the President's opening to Cuba and continues to defend an decades old embargo that had outlived its usefulness when the Senator was attending college. Given his ties to the hardliners in the Cuban immigrant community in Miami, this is perhaps not surprising, but the fact that he continues to cling to a policy that has no rational basis, serves no rational purpose, and hurts the Cuban people far more than it helps them is a fairly apt demonstration of the extent to which his ideas are rooted in the past.
Rubio's ideas are also stuck in the past when it comes to dealing with what's left of our principal Cold War adversary. As the Ukraine crisis has unfolded over the past year, the Senator has urged the Administration to take a harder and harder and supported the idea of sending Western arms to Ukraine, Like many Republicans, he seems to hold to the somewhat naive idea that Putin would simply back down from Russia's territorial claims in Crimea and elsewhere if only the United States had a President who acted "tougher, forgetting among other things that when it comes to Europe, the United States can't simply act alone but must take the position of our NATO allies into account. Additionally, he seems to accept the rather misguided idea that Putin's actions are based in Cold War era revanchism rather than traditional Russian nationalism. As a result, he espouses policy ideas that seem more appropriate for the 1980s than the 21st Century.
In early 2011, Rubio was, along with McCain, Graham, and others, among the most vocal supporters of American intervention in the Libyan civil war, calling on the Administration to fully back the rebels that were fighting to overthrow Moammar Ghadaffi at the time. Since then, of course, we have seen Libya descend into chaos as the ethnic groups that made up the rebel coalition have been unable to agree about much of anything among themselves other than taking revenge against those who supported the previous regime. The result is that Libya has, much like Yemen and Afghanistan, become a breeding ground for militants and terrorist groups that have branched out to other parts of Africa and seem likely to pose a threat to the region for years to come. Most recently, the chaos in Libya has led to a migrant crisis that has caused thousands of people to seek refuge in Malta, Italy, and elsewhere along Europe's Mediterranean coast. When critics of American intervention in Libya raised these types of events as possibilities in 2011, Rubio and other advocates of intervention dismissed them out of hand and continued with their full-throated defense of a strategy that seemed to think about none of the potential consequences that could follow from the downfall of a leader who had been in power for more than thirty years.
As Doughtery points out, Rubio's record has not been much better when it comes to Syria, where he attacked the Obama Administration for not following through on its "red line" threat against the Assad regime over its use of chemical weapons while at the same time saying that the President has not done enough to stop the Islamist rebels fighting to overthrow the Assad regime. Like McCain and others on the right, Rubio was among those calling for American military aid to the so-called "moderate" Syrian rebels virtually from the time that the Syrian civil war began. As we've come to learn, though, the idea of "moderate" Syrian rebels is largely a myth and any effort to arm them is going to inevitably mean that weapons end up in the hands of ISIS, who even Senator Rubio seems to agree is a far more dangerous adversary than the Assad regime.
And yet, as Doughtery notes, it is in connection with ISIS that Rubio's foreign policy rhetoric becomes the most incoherent:
In early 2015, Rubio decided that what the campaign against ISIS really needed was stronger adjectives. At CPAC, he said the president should "put together a coalition of armed forces from regional governments to confront them on the ground, with U.S. special operations support, and then provide logistical support, intelligence support, and the most devastating air support possible."

"Devastating." I guess he really means it now.

Rubio concluded, "The reason Obama hasn't put in place a military strategy to defeat ISIS is because he doesn't want to upset Iran."

I don't know how to say this respectfully. But this is dumber than a brick in a tumble-dryer: a clanging, dangerous error. Iran is one of the principal enemies of ISIS. It didn't even need to be persuaded to join the fight. It sees ISIS as another manifestation of the kind of Sunni extremism that threatens Iran's regional allies: Bashar al-Assad in Syria and the Shia-friendly government in Baghdad. If we really wanted to stick it to Iran, we'd be arming Islamic State fighters and providing "devastating air support" to them.
On some level, I have to think that Senator Rubio realizes how dumb this comment actually is. He's admittedly an intelligent man and it doesn't take much time studying the ISIS situation to realize that Iran and ISIS are on opposite sides of a fight. Of course, even the Obama Administration doesn't necessarily like to admit publicly that the United States and the Islamic Republic are essentially on the same side in the fight against ISIS, something that has obviously gotten a bit more complicated given the current situation in Yemen, which looks for all the world to be turning into a proxy war between Saudi Arabia and Tehran. Nonetheless, the fact remains that the suggestion that the President is holding back in the fight against ISIS because he "doesn't want to upset Iran" is just so utterly absurd that one can only assume that it is the kind of line that Rubio threw into the speech as red meat for the CPAC crowd. That's not really an excuse, though, because a foreign policy that's guided mostly by sound bites that appeal to the crowd isn't much of a foreign policy at all.
When he began his campaign last week, Senator Rubio made the case for his being the candidate for a new century. This is both an obvious reference to the fact that he is likely to be one of the youngest, if not the youngest, candidates in the race in 2016, and a sign that his campaign intends to be centered around the argument that he offers a break from the past both for the Republican Party and, if he gets the nomination, for the country. When it comes to the issue that has come to define him, though, Rubio's ideas are very much stuck in the past.