Maximal Angst Despite Minimal Cause
Quite often, political fights are about attitudes rather than issues and polices.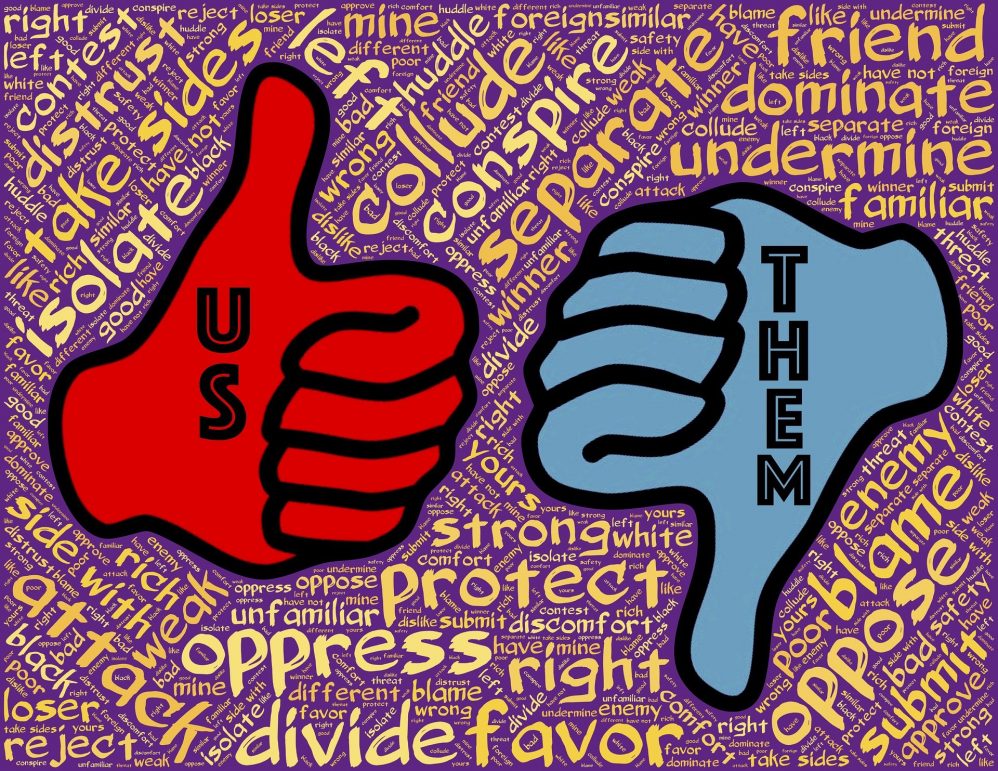 While our politics are not always aligned, I've enjoyed Ezra Klein's work for going on two decades now, dating from when we were both starting out blogging. Even though he was just an undergrad at UCLA and I had finished my PhD several years earlier, I found his writing insightful and, most of all, fair. That still characterizes his work, and especially his eponymous podcast, today.
Sunday, Steven Taylor recommended the May 6 episode, an interview with Matthew Continetti, titled "Donald Trump Didn't Hijack the G.O.P. He Understood It." Today, I would recommend the May 13 follow-up, "What Does the 'Post-Liberal Right' Actually Want?" featuring political theorist Patrick Deneen. But my point isn't so much to encourage you to listen to the show as to use it to illustrate a common theme in American political discourse: a tendency to make sweeping charges about one's political opponents despite comparatively marginal grievances.
Deneen is a highly successful scholar. He's a year older than me and finished his political science PhD the same year as I did. In his case, at Rutgers, a fine but by no means elite university. His dissertation, "The Odyssey of Political Theory," was awarded the 1995 American Political Science Association Leo Strauss Award for Best Dissertation in Political Philosophy. He immediately parlayed that into a two-year stint as the speechwriter and Special Advisor to Joseph Duffey, the Director of the United States Information Agency under Bill Clinton. He then spent seven years as a professor at Princeton before moving on to Georgetown for another seven* and finally to his current post at Notre Dame. He has also published several books, most notably his widely-praised (including by former President Obama) 2018 Yale University Press volume, Why Liberalism Failed.
Klein interviewed him on his podcast about that book and found much common ground. In the relatively short time since, though, he's noticed something:
Deneen has moved towards embracing something more like total political war, counseling conservatives to abandon niceties like pluralism, to use the power of the state to crush their enemies, and to treat this moment at every level as a civilizational struggle. In an essay called "Abandoning Defensive Crouch Conservatism," Deneen describes the world he sees. Quote, "the national trajectory over the past 75 years has been one of a continuous movement to ever more extreme forms of liberalism." And that, if you're liberal, may sound good to you, but he doesn't think so. He writes, "liberalism's internal logic leads inevitably to the evisceration of all institutions that were originally responsible for fostering human virtue, family, ennobling friendship, community, university, polity, church." In another essay, he writes, "liberalism offered to humanity a false illusion of the blessings of liberty at the price of social solidity. It turns out that this promise was yet another tactic employed by an oligarchic order to strip away anything of value from the weak."

And as that quote suggests, Deneen doesn't see the problems of modern America as an accident. He sees it as malice. Take a speech at the 2021 National Conservatism Conference. In it, he attacks America's ruling elites, "who have mutually benefited from the decimation of the working class of all races in this country, and of all geographic regions of this country. The full flowering of the reality of this ideology reveals it to be an ideology of rapine and plunder, the stripping of the wealth from a ship that they are sinking, while busily stocking the lifeboats until the last moment, when they will be able to cut loose." If you see your enemies like that, if you see them as that sinister, but also as always winning, as having an almost unbroken record of success, well then, of course, the stakes are high. Of course, you would do almost anything to defeat them. But for all the force of Deneen's rhetoric, for his fury at people like — I mean, I guess me, who he believes have destroyed the country he loves — I often find it hard to figure out what he's actually saying should be done, what he would do or counsel others to do with the power he wants the right to win and wield so ruthlessly.
Over the first hour or so of the conversation—already long for the podcast format—a pattern emerges: Klein asks for specific examples of Deneen's grievances and is answered with calm but longwinded discourses into the generalities. While he and Klein very much agree that various social ills exist, Klein keeps pressing his guest as to what it is that Democrats/progressives/his adversaries have done to cause them. And he's answered with more calm but longwinded discourses into the generalities.
More frustratingly, it becomes clear that Deneen isn't really a conservative in any meaningful sense of how the word is used in American politics other than on social issues. Indeed, he's a combination of wistful for an imagined set of policies John F. Kennedy might have espoused but didn't; a populist who longs for a German-style system of support for tradesmen, mothers, and farmers; and a reactionary unsettled by the vast social changes over the period of roughly our lifetimes. And it's not just the LGBTQ stuff that has so many social conservatives roiled right now but no-fault divorce, abortion, and the general breakdown of some fantasy version of family life.
And, through it all, Klein continues desperately to try to "steel man" Deneen's argument because he's genuinely trying to understand where it's coming from. At roughly the 67 minute mark, we finally get to this:
KLEIN: . . . I read you as having two primary levels of critique here. And one level of critique is that over a long period of time, a set of policies and cultural understandings have come into force which have given people too much choice, and given people too much cultural license to exercise that choice in ways that have really weakened institutions for people in the bottom half of the income scale, let's say. So we have geographic mobility that takes people out of the communities they grew up in, and they move to big cities where they can make more money.

We have no fault divorce and gay marriage, which allow people to form or unform family units in ways where you think the default, at the very least, is in the wrong place. We have a general view that people should go off and find their loved ones wherever, and we can kind of keep going through. So one question I'm interested in there is around what choices you think we have today that we should have less of. But on the other level — is I think you believe that all these choices have created a kind of elite class that is so detached from guild, ward and congregation, as you put it, that they are now a corrupt elite. They cannot possibly represent or help guide the people they need to represent, or help guide, because they have no authentic connection to them. And it's that connection of a high choice society, creating an elite, making fundamentally different choices, that you see as the fundamental corrupting force.

Did I get that in a way that is recognizable to you at least?

DENEEN: Yeah, that's actually probably better than I could have put it myself, but yes. And you know — that in some ways, the rise of the success of that elite class that you — the second point — has considerably relied upon precisely the weakening of the institutions of guild, ward, and congregation. In other words, what liberated this increasingly — let's say, cosmopolitan, globalized, urban ruling class, was precisely the weakening of those institutions that might once have been sort of the limiting features in which they would have likely led their lives. So the very thing that might be regarded as the sources of success by that ruling class, it turns out, is premised upon a set of consequences that has fallen and rebounded with profound negative effects upon the people who are not members of that class.
Essentially, it comes down to Deneen not liking how American society has come to be, and, while he tends to blame it on the Left, he really blames it on some vague Elite Class. Indeed, it turns out he rather likes Joe Biden—and even Bernie Sanders—but not some vague Other Democrats that he thinks are (it's not clear which) running or going to run the party.
There's much more to unpack from the episode but the post is already long. Honestly, the whole thing is rather baffling to me and, to his credit, Klein just continues to engage, probe, and look for shared points of understanding from which to proceed.
Given that Deneen's policy preferences seem much more closely aligned with the Democrats, against whom he rails, than with the Republicans, who he urges on to fight a no-holds-barred, salted earth war for survival, the only explanation I can come up with is that his stance is visceral rather than rational. What finally came to mind is Julian Sanchez's 2009 post "The Politics of Ressentiment" (which, to complete the circle, was itself a reaction to Matt Continetti's attempts to defend Sarah Palin from her critics, of which yours truly was one) and especially this observation:
The secret shame of the conservative base is that they've internalized the enemy's secular cosmopolitan value set and status hierarchy—hence this obsession with the idea that somewhere, someone who went to Harvard might be snickering at them.
Deneen is, as noted at the outset, a very successful academic. Despite less than elite beginnings, he has held tenure-track jobs at three of the most prestigious universities in the country. And yet, he recognizes that his views on social issues are not only out of step in those circles but, frankly, looked down upon as backward, if not bigoted.
Indeed, most of what he seems to call for—which he only articulates when Klein painstakingly pries it out of him—isn't so much different public policy but a change in elite attitudes. He wants those who chose to stay in rural America despite the lack of jobs to not only somehow be provided high-paying, high-status jobs without them having to leave their roots or go to school but also for their lifestyle to be accorded the same—if not more—respect as those who leave to go to Harvard Law and make managing partner in a Manhattan firm. This is, to say the least, a challenge. And yet he seems to think there was some golden era when this was the norm.
We ultimately get to this exchange:
KLEIN: And so you really have a model here, where if you've got in a bad populace, if you've lost your common culture — and I think you believe that's true, that people are taking too many drugs, and getting divorced too often, and watching too much porn. And it's become a weakened culture, and you think the elites are corrupt and out of touch. Is this something, at that point, you can do through democracy?

I mean what is your relationship, then, to political change, particularly once you believe that kind of both the demos and the governing class are different kinds of, but interlinked, disasters?

DENEEN: So the record of human history is not necessarily a hopeful record of the score. And so there is some cause, maybe considerable cause, for pessimism. That quote that you just read — once those conditions of a kind of common culture and a culture that cultivates, once those have broken down, it's almost always the case that especially when you experience the divide that we have, which is — it's increasingly a class divide — that the likelihood is either some form of oppression by one class or the other class.

And I think that's — in many ways, that describes our politics today. It's a politics of fear of being governed either by the populists or by the elites, and that's — it's not, I don't think it's an exaggeration to say that's underlying a lot of the panic of our politics today. So it's either a kind of impending tyranny, and or some form of a civil war, a stasis, whether it's a kind of hot Civil War or cold Civil War.

I don't want to simply just arrive at a pessimistic conclusion. And that's why I try to frame this in terms of, if we don't want our elites making the people worse, and the people in some ways making the elites worse, especially by a kind of panicked effort to dismiss or cordon off those populist concerns and demands, then the hope lies in both making each other better.

And here, I'm not sure — I don't have any crystal ball to suggest what the possible mechanism might be. But I do think it will be probably a combination of two things. It would be a combination, number one, of the populist threat forcing elites to behave better, forcing the managerial elite to govern on behalf of the condition and concerns of everyday people, forcing them to concede, in some way, some of the benefits of their position, and a fear and a defensive posture may result in some beneficial outcomes.

But I also think that it's not unlikely — and I guess I would place myself in this category — it's not unlikely we will see something of a rebellion from within the elites. And this is always the case in revolutionary moments. Revolutions aren't just the people picking up pitchforks and overthrowing the elites. It's someone like a Lenin, who grew up as an elite, who becomes a kind of class traitor and calls out the deficiencies of his own class.

And I do think that there are growing number of voices from the managerial elite who are deeply concerned about the corruptions that we're seeing in our own institutions, and are calling for and demanding and amplifying, I think, the charges that you're seeing coming from the populist direction. So I think, in some ways — again, I can't say what the mechanism will be, but I think if there is going to be some kind of improvement rather than a kind of devolution, it's probably going to come — it would have to come from both directions.
This is just incredibly radical while at the same time coming across as wildly unfocused. Because, again, it's not really any specific set of policy outcomes or institutional reforms that Deneen is after. Rather, he wants an elite that thinks as he does that somehow simultaneously treats the working class as equals while elevating their tastes to elite levels.
___________________
*Reading between the lines, one presumes he failed to achieve tenure at both institutions. Given his prolific publication record, one presumes it was a "fit" issue. I suspect the fact that his PhD was from comparatively lowly Rutgers didn't help. And, certainly, his weird brand of conservatism would have been out of place at both institutions.