Democracy, Demagogues, and Populist Pandering
The rise of Trump and Sanders has resurrected a debate as old as Western civilization.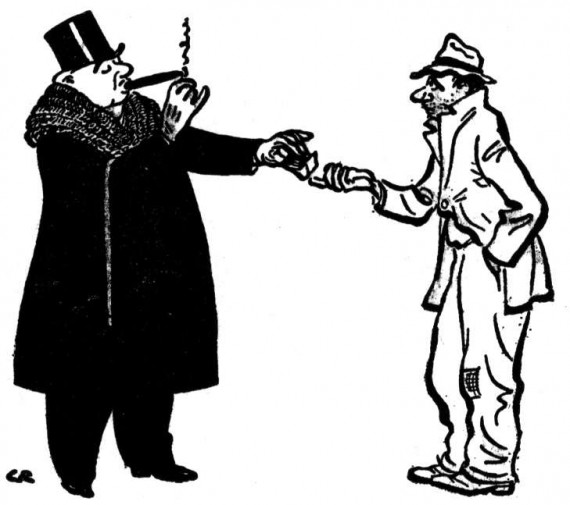 Donald Trump's winning the Republican nomination and, to a lesser extent, Bernie Sanders' giving Hillary Clinton a much tougher run than anyone expected, has naturally resurrected an ages-old debate about democracy. On the one hand, their success demonstrates that the elites of both parties have failed to understand the needs and interests of ordinary folk. On the other, there are the elites coming out of the woodwork to decry the folly of giving too much control to the unwashed masses.
The latter view is espoused by Andrew Sullivan in a New York Magazine essay titled "Democracies end when they are too democratic." The setup goes back to Plato's warnings of too much equality.
And it is when a democracy has ripened as fully as this, Plato argues, that a would-be tyrant will often seize his moment.

He is usually of the elite but has a nature in tune with the time — given over to random pleasures and whims, feasting on plenty of food and sex, and reveling in the nonjudgment that is democracy's civil religion. He makes his move by "taking over a particularly obedient mob" and attacking his wealthy peers as corrupt. If not stopped quickly, his appetite for attacking the rich on behalf of the people swells further. He is a traitor to his class — and soon, his elite enemies, shorn of popular legitimacy, find a way to appease him or are forced to flee. Eventually, he stands alone, promising to cut through the paralysis of democratic incoherence. It's as if he were offering the addled, distracted, and self-indulgent citizens a kind of relief from democracy's endless choices and insecurities. He rides a backlash to excess—"too much freedom seems to change into nothing but too much slavery" — and offers himself as the personified answer to the internal conflicts of the democratic mess. He pledges, above all, to take on the increasingly despised elites. And as the people thrill to him as a kind of solution, a democracy willingly, even impetuously, repeals itself.
Sullivan, of course, sees Trump as the latter-day manifestation of this.
And as I watched frenzied Trump rallies on C-SPAN in the spring, and saw him lay waste to far more qualified political peers in the debates by simply calling them names, the nausea turned to dread. And when he seemed to condone physical violence as a response to political disagreement, alarm bells started to ring in my head. Plato had planted a gnawing worry in my mind a few decades ago about the intrinsic danger of late-democratic life. It was increasingly hard not to see in Plato's vision a murky reflection of our own hyperdemocratic times and in Trump a demagogic, tyrannical character plucked directly out of one of the first books about politics ever written.

Could it be that the Donald has emerged from the populist circuses of pro wrestling and New York City tabloids, via reality television and Twitter, to prove not just Plato but also James Madison right, that democracies "have ever been spectacles of turbulence and contention … and have in general been as short in their lives as they have been violent in their deaths"? Is he testing democracy's singular weakness — its susceptibility to the demagogue — by blasting through the firewalls we once had in place to prevent such a person from seizing power? Or am I overreacting?
Sullivan allows as to how he might be and acknowledges that, over time, America's democratization has mostly been to the good, expanding freedoms for the poor, for women, for racial minorities, and for gays. Still, he worries. He worries that removing the barriers the Framers set up to direct democracy has allowed unqualified candidates—those without years of seasoning on the national stage—to emerge, sometimes doing quite well. He worries that various developments have lessened people's faith in The System. He simultaneously rejoices in the opening that blogging and other social media has given to free speech and worries that the flattening has taken away the calming powers of the old gatekeepers.
Those who believe that Trump's ugly, thuggish populism has no chance of ever making it to the White House seem to me to be missing this dynamic. Neo-fascist movements do not advance gradually by persuasion; they first transform the terms of the debate, create a new movement based on untrammeled emotion, take over existing institutions, and then ruthlessly exploit events. And so current poll numbers are only reassuring if you ignore the potential impact of sudden, external events — an economic downturn or a terror attack in a major city in the months before November. I have no doubt, for example, that Trump is sincere in his desire to "cut the head off" ISIS, whatever that can possibly mean. But it remains a fact that the interests of ISIS and the Trump campaign are now perfectly aligned. Fear is always the would-be tyrant's greatest ally.

And though Trump's unfavorables are extraordinarily high (around 65 percent), he is already showing signs of changing his tune, pivoting (fitfully) to the more presidential mode he envisages deploying in the general election. I suspect this will, to some fools on the fence, come as a kind of relief, and may open their minds to him once more. Tyrants, like mob bosses, know the value of a smile: Precisely because of the fear he's already generated, you desperately want to believe in his new warmth. It's part of the good-cop-bad-cop routine that will be familiar to anyone who has studied the presidency of Vladimir Putin.

With his appeal to his own base locked up, Trump may well also shift to more moderate stances on social issues like abortion (he already wants to amend the GOP platform to a less draconian position) or gay and eventransgender rights. He is consistent in his inconsistency, because, for him, winning is what counts. He has had a real case against Ted Cruz — that the senator has no base outside ideological-conservative quarters and is even less likely to win a general election. More potently, Trump has a worryingly strong argument against Clinton herself — or "crooked Hillary," as he now dubs her.

His proposition is a simple one. Remember James Carville's core question in the 1992 election: Change versus more of the same? That sentiment once elected Clinton's husband; it could also elect her opponent this fall. If you like America as it is, vote Clinton. After all, she has been a member of the American political elite for a quarter-century. Clinton, moreover, has shown no ability to inspire or rally anyone but her longtime loyalists. She is lost in the new media and has struggled to put away a 74-year-old socialist who is barely a member of her party. Her own unfavorables are only 11 points lower than Trump's (far higher than Obama's, John Kerry's, or Al Gore's were at this point in the race), and the more she campaigns, the higher her unfavorables go (including in her own party). She has a Gore problem. The idea of welcoming her into your living room for the next four years can seem, at times, positively masochistic.

[…]

And so those Democrats who are gleefully predicting a Clinton landslide in November need to both check their complacency and understand that the Trump question really isn't a cause for partisan Schadenfreude anymore. It's much more dangerous than that. Those still backing the demagogue of the left, Bernie Sanders, might want to reflect that their critique of Clinton's experience and expertise — and their facile conflation of that with corruption — is only playing into Trump's hands. That it will fall to Clinton to temper her party's ambitions will be uncomfortable to watch, since her willingness to compromise and equivocate is precisely what many Americans find so distrustful. And yet she may soon be all we have left to counter the threat. She needs to grasp the lethality of her foe, moderate the kind of identity politics that unwittingly empowers him, make an unapologetic case that experience and moderation are not vices, address much more directly the anxieties of the white working class—and Democrats must listen.
Anis Shivani takes Sullivan's article to task in a Salon essay titled "Our awful elites gutted America. Now they dare ring alarms about Trump, Sanders — and cast themselves as saviors." Much of it is a screed against Sullivan himself, some of which (choices he made as editor of the New Republic, his enthusiastic support of the Iraq War) is fair, some of which (notably the charge that Sullivan, who always labeled himself a tortured conservative, was a bad liberal) not so much. But his core argument is interesting:
Both parties are in terminal decline after forty years of ignoring the travails of the average worker (the Republicans admit they're in the intensive care unit, while the Democrats calling for Sanders to quit already have yet to come around to admitting that they might have the flu), and voters on both right and left have at last—and this is a breath of relief—stopped caring about the cultural distractions that have kept the elites in power. No, they want their jobs back, even if it means building a wall, keeping Muslims out, deporting the illegals, and starting trade wars with China and Japan—because what else did the elites give them, they're still opposing a living wage!

[…]

You've all now, the elite punditocracy on either spectrum, suddenly become nostalgic for George W. Bush, because he didn't—well, not always—use the crude and blatant vocabulary that Trump deploys to demonize Mexicans and Arabs and Muslims and foreigners. But Bush is the one who actually implemented, with your full support, plans to surveil, discriminate against (in immigration proceedings), and impose a de facto bar on Muslims from the "wrong countries" that is still, under Barack Obama, a severe disability on Muslims who may want to emigrate to this country.

Where were you elites when Barack Obama, Hillary Clinton, and the Democratic party elite spoke as one with Republicans on endlessly strengthening border security, on the need to mercilessly enforce immigration laws, on imposing such punitive measures against potential legalization that it becomes possible only in theory not in reality?

The natural conclusion of these ideas is the literal wall, but Trump didn't start it, he's only putting the finishing touches on the discourse that you elites, on both sides, have inflamed for twenty-plus years. Bill Clinton started the demonization of immigrants—legal immigrants were made ineligible for benefits—for the first time since the liberalization of immigration laws in 1965. Bill Clinton ended welfare, tapping into racist discourse about African Americans, and permanently unmoored millions of people from the social safety net. No, Trump didn't start any of it, Paul Begala and Karl Rove, representing both parties, and the elite interests they represent, poisoned the discourse.

[…]

The worst offenders of all are the American left's cultural warriors, who daily wage some new battle over some imagined cultural offense, which has nothing to do with the lives of normal people but only the highly tuned sensibilities of those in the academic, publishing, and media ecospheres.

The Hillary supporters have the authoritarian mentality of small property owners. They are the mirror image of the "realist" Trump supporters, the difference being that the Trump supporters fall below the median income level, and are distressed and insecure, while the Hillary supporters stand above the median income level, and are prosperous but still insecure.

To manipulate them, the Democratic and Republican elites have both played a double game for forty years and have gotten away with it. They have incrementally yet quite comprehensively seized all economic and political power for themselves. They have perverted free media and even such basics of the democratic process as voting and accountability in elections. Elites on both sides have collaborated to engineer a revolution of economic decline for the working person, until the situation has reached unbearable proportions. The stock market may be doing well, and unemployment may theoretically be low, but people can't afford housing and food, they can't pay back student loans and other debts, their lives, wherever they live in this transformed country, are full of such misery that there is not a single word that an establishment candidate like Hillary Clinton or Jeb Bush says that makes sense to them.
Most of this is over-the-top but there's certainly truth in it. Ditto the triumphant predictions of change to come:
The game, for the elites, is over. This is true no matter what happens with the Sanders campaign. The Republican party as we have known it since the Reagan consensus (dating back to 1976) is over. The Democratic party doesn't know it yet, but Bill Clinton's neoliberalism (and what followed in his wake with complicity with Bush junior, and the continuation of Bush junior's imperialist policies with Barack Obama) is also over, or well on its way to being over. The elites are in a cataclysmic state of panic, they don't know whether to look right or left, they have no idea what to do with Trump, they don't know what to do with the Bernie diehards, they have no idea how to put Humpty Dumpty together again.

And these same elites, both liberal and conservative, these same journalists and celebrities, became quite comfortable with Bush once the war on terror was on. They'll get used to Trump too, his level of fascist escalation will soon be presented byThe Times and other institutions as something our democracy can handle, just as they continually assured us during those eight years of gloom that our democracy could easily take care of Bush. We, the citizens, don't need to get our hands dirty with implementing checks and balances, the elites will do it on our behalf. Soon, once he starts talking to the elites, you won't even be that afraid of Trump. Wait, he's the one who wants to make America great again, and what's so wrong with that?

The election of Trump would end the Republican party as we know it, but more refreshingly it would also end the Democratic party as we know it. The limits of the academic left's distracting cultural discourse in keeping economic dissatisfaction in check would be fully exposed. Trump threatens the stability of the fearmongering discourse of Sullivan and his like. The threat to their monopoly of discourse is the real reason for the panic.

Oh, and Hillary, good luck fighting Trump with your poll-tested reactions. Your calculated "offenses" against his offensiveness against women or minorities or Muslims are going to be as successful as the sixteen Republicans who've already tried it. You won't be able to take on Trump because you do not speak the truth, you speak only elite mumbo-jumbo. Trump doesn't speak the truth either, but he's responding to something in the air that has an element of truth, and you don't even go that far, you speak to a state of affairs—a meritocratic, democratic, pluralist America—that doesn't even exist.
In fairness to Sullivan, he acknowledges elite complicity—his own included—in his essay.
The deeper, long-term reasons for today's rage are not hard to find, although many of us elites have shamefully found ourselves able to ignore them. The jobs available to the working class no longer contain the kind of craftsmanship or satisfaction or meaning that can take the sting out of their low and stagnant wages. The once-familiar avenues for socialization — the church, the union hall, the VFW — have become less vibrant and social isolation more common. Global economic forces have pummeled blue-collar workers more relentlessly than almost any other segment of society, forcing them to compete against hundreds of millions of equally skilled workers throughout the planet. No one asked them in the 1990s if this was the future they wanted. And the impact has been more brutal than many economists predicted. No wonder suicide and mortality rates among the white working poor are spiking dramatically.

"It is usually those whose poverty is relatively recent, the 'new poor,' who throb with the ferment of frustration," Hoffer argues. Fundamentalist religion long provided some emotional support for those left behind (for one thing, it invites practitioners to defy the elites as unholy), but its influence has waned as modernity has penetrated almost everything and the great culture wars of the 1990s and 2000s have ended in a rout. The result has been a more diverse mainstream culture — but also, simultaneously, a subculture that is even more alienated and despised, and ever more infuriated and bloody-minded.

This is an age in which a woman might succeed a black man as president, but also one in which a member of the white working class has declining options to make a decent living. This is a time when gay people can be married in 50 states, even as working-class families are hanging by a thread. It's a period in which we have become far more aware of the historic injustices that still haunt African-Americans and yet we treat the desperate plight of today's white working ­class as an afterthought. And so late-stage capitalism is creating a righteous, revolutionary anger that late-stage democracy has precious little ability to moderate or constrain — and has actually helped exacerbate.

For the white working class, having had their morals roundly mocked, their religion deemed primitive, and their economic prospects decimated, now find their very gender and race, indeed the very way they talk about reality, described as a kind of problem for the nation to overcome. This is just one aspect of what Trump has masterfully signaled as "political correctness" run amok, or what might be better described as the newly rigid progressive passion for racial and sexual equality of outcome, rather than the liberal aspiration to mere equality of opportunity.

Much of the newly energized left has come to see the white working class not as allies but primarily as bigots, misogynists, racists, and homophobes, thereby condemning those often at the near-bottom rung of the economy to the bottom rung of the culture as well. A struggling white man in the heartland is now told to "check his privilege" by students at Ivy League colleges. Even if you agree that the privilege exists, it's hard not to empathize with the object of this disdain. These working-class communities, already alienated, hear — how can they not? — the glib and easy dismissals of "white straight men" as the ultimate source of all our woes. They smell the condescension and the broad generalizations about them — all of which would be repellent if directed at racial minorities — and see themselves, in Hoffer's words, "disinherited and injured by an unjust order of things."

And so they wait, and they steam, and they lash out. This was part of the emotional force of the tea party: not just the advancement of racial minorities, gays, and women but the simultaneous demonization of the white working-class world, its culture and way of life. Obama never intended this, but he became a symbol to many of this cultural marginalization. The Black Lives Matter left stoked the fires still further; so did the gay left, for whom the word magnanimity seems unknown, even in the wake of stunning successes. And as the tea party swept through Washington in 2010, as its representatives repeatedly held the government budget hostage, threatened the very credit of the U.S., and refused to hold hearings on a Supreme Court nominee, the American political and media Establishment mostly chose to interpret such behavior as something other than unprecedented. But Trump saw what others didn't, just as Hoffer noted: "The frustrated individual and the true believer make better prognosticators than those who have reason to want the preservation of the status quo."
It's a fascinating discussion. While I'm sympathetic to Sullivan's arguments and share his disdain for the Trump nomination, I don't believe the solution is less democracy. Indeed, I'd prefer the primaries be more democratic in many senses, most notably eliminating caucuses, superdelegates, and the like. Likewise, while I find Shivani's analysis flawed and hyperbolic, I fundamentally think it's correct: it's up to the elites to come up with programs and policies that benefit the people. It's not shocking at all that, after decades of decline, they no longer trust the elites of either party to serve them. Trump and, to a lesser degree, Sanders are poor vehicles for that. But I understand why they're so attractive.