McMahon, Buck, Bennet Win, Georgia Governor's Race Too Close To Call
Another round of primaries last night made the playing field for November just a little bit clearer to see.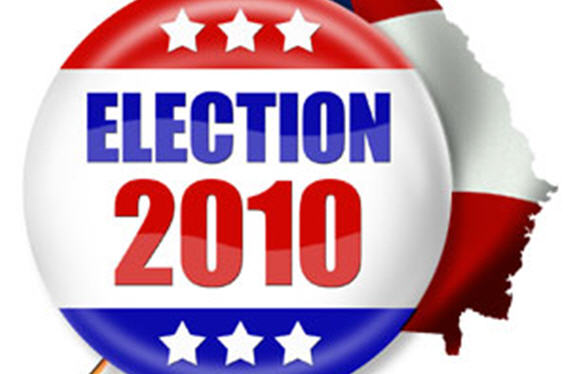 Last night's round of primary races brought few surprises, but did help to further set up the chessboard that we'll watching for the next three months.
The least surprising result of the night came in Connecticut where former WWE CEO Linda McMahon beat her two Republican opponents:
Wrestling maven Linda McMahon easily captured the GOP Senate nomination in Connecticut Tuesday, but if she thought free spending in a deep-blue state was the sole path to November success, her results showed that money isn't everything.

McMahon spent $22 million for a come-from-behind convention victory, but still fell just short of topping the 50 percent mark in Tuesday's three-way Republican primary.

And that was against one opponent who'd dropped out and rejoined the race three weeks ago, and another with virtually no name recognition and even less cash.

But the limits of self-funding also were revealed on the Democratic side. One-time liberal hero Ned Lamont seemed poised to capture the gubernatorial nomination after outspending rival Dan Malloy by nearly five to one – only to lose to Malloy in a lopsided upset.

Democrats crowed over McMahon's less-than-dominating showing ahead of a matchup with state Attorney General Richard Blumenthal, who's run a flawed race and gotten tripped up by his own missteps. Yet he's got some built-in advantages, thanks to his party's registration advantage over Republicans, and high name recognition and approval ratings.

That said, Blumenthal has been widely derided by Democratic strategists, albeit privately, for a sense that his misstatements about his service during the Vietnam War robbed Democrats of what should be a reliably safe race, forcing national committees to focus attention and resources on the state. His former 30-point lead has shriveled to just 10 points in the latest poll.

"He has not run a particularly good campaign," said one veteran Democratic strategist who's a longtime observer of the state's politics.
As The New York Times notes this morning, McMahon can be expected to wage just as tough, and just as well-funded, a campaign against Blumenthal as she did against Simmons and Schiff. While McMahon does have a money advantage here, and has managed to close the poll gap with Blumenthal to some degree over the summer, I'd still put this as a likely Democratic seat when the dust settles in November, unless Blumenthal just runs an appallingly bad campaign.
Down the East Coast in Georgia, the Republican Gubernatorial runoff between Karen Handel and Nathan Deal remains too close to call:
Republican gubernatorial candidate Nathan Deal said Wednesday that he is "cautiously optimistic" that when the final vote tally is in, he will be his party's choice to take on Democratic challenger Roy Barnes in November.

Making a 6 a.m. appearance on Channel 2 Action News, Deal said it's "nice to be in the lead."

With 99 percent of the votes counted, Deal holds a 0.2 percent advantage over Karen Handel. He said military votes will likely not be in until Friday. Handel declined an invitation to appear on Channel 2.

Deal said that if he is the ultimate victor in Tuesday's runoff, "I think that we will unify the Republican Party and we'll move forward."

Addressing the state's unemployment situation, Deal said, "I'm the only candidate in the race that has had a specific proposal.

"I think the best way to attack the jobs issue is to create a more favorable business climate in our state," Deal said. "I think that's the way you grow jobs."

Deal said that if named the Republican nominee for governor, he "will campaign on the issues" against Barnes. "Talk about the importance of jobs for our people, the importance of a good education system for our children. I think that's what Georgians want to hear."

Barnes, appearing a few minutes later on Channel 2, said he doesn't have a preference on a Republican challenger.

"I think this race comes down to who can put Georgians back to work and kids back to school," Barnes said.
Despite Barnes's comments, it's fairly clear that Deal is the candidate they would prefer to run against. In addition to the fact that Barnes has polled better against Deal than Handel, there's the fact that Deal's time in Congress created several ethical problems prior to his resignation to run for Governor and, there are rumors in Atlanta of a Grand Jury investigation that may or may not be focused on Deal or one of his close aides. Barnes is a former Governor who lost a close race for re-election in 2006, he's going to be a tough candidate for the GOP this fall.
The Georgia race is also the most interesting of the night for Republicans because it pitted a candidate backed by Sarah Palin and Mitt Romney against one backed by Mike Huckabee and Newt Gingrich. Palin even traveled to Georgia on Monday to campaign for Karen Handel. For the moment, it doesn't appear that it did Handel any good.
Out in Colorado, meanwhile, Tea Party endorsed candidate Ken Buck edged out former Colorado Lt. Gov. Jane Norton for the Republican Senate nomination:
Ken Buck defeated Jane Norton in the GOP primary for U.S. Senate on Tuesday, setting up a general election this fall that pits an establishment Democrat against a scrappy, Tea Party-backed opponent.

Buck's victory over Norton, who garnered early support from the Republican establishment throughout the country and who outraised him by more than $2 million, was the result of his strength among the state's grass roots.

"We, tonight, have just won the Republican nomination for United States Senate," Buck told a large crowd gathered in Loveland. "Get a good night's sleep, because for the next 83 days we are going to unite the Republican Party."

(…)

Tuesday's victory for Buck was the latest example of a story playing out in the Republican Party nationwide: Tea Party underdog emerges from nowhere and beats the more moneyed, establishment candidate.

Buck rode that Tea Party support, despite a gaffe late last month in which he called Tea Party proponents who question President Barack Obama's birth certificate "dumbasses."

"Ms. Norton didn't spend the time answering questions the way the newly awakened grassroots voters were demanding," said Lu Busse, a 9/12 movement leader. "They preferred Ken Buck. . . . He got to know them."

Buck was among the lousiest fundraisers among all four Senate candidates, pulling in just $1 million since the spring of 2009.

But Buck was helped by a Virginia-based group called Americans for Job Security, which spent roughly $2 million on ads and mailers in Colorado since last winter, many of which were negative about Norton. The group doesn't have to disclose its donors.

Colorado College professor Bob Loevy called Buck's early help with ads the "nationalization of Colorado election campaigns."

"I think the fact that an outside group came in and targeted the former lieutenant governor in the state so strongly and so negatively is further proof to the extent that Coloradans are losing control of their election campaigns," he said.
Perhaps, but outside organizations getting involved in campaigns isn't exactly a new phenomenon. The difference here is that Norton, stupidly it seems, choose to ignore the attacks and run a "positive" campaign that didn't respond to the allegations. That obviously didn't work out too well for her.
Buck will face incumbent Senator Michael Bennet in November. Bennet handily defeated Andrew Romanoff in a Democratic primary that received national attention mostly because it featured two candidates back by an incumbent President who backed Bennet, and former President Clinton, who back Romanoff. It's unclear how much those endorsements actually played a role in the primary, but I'm sure we'll hear the pundits talking about it today. So far, polls show the Buck-Bennet race to be fairly close.
No real national trends last night, but the board for November is getting clearer, and the battle is just beginning.