MI and GA Continue to Thwart Trump
Some Republicans are doing their jobs.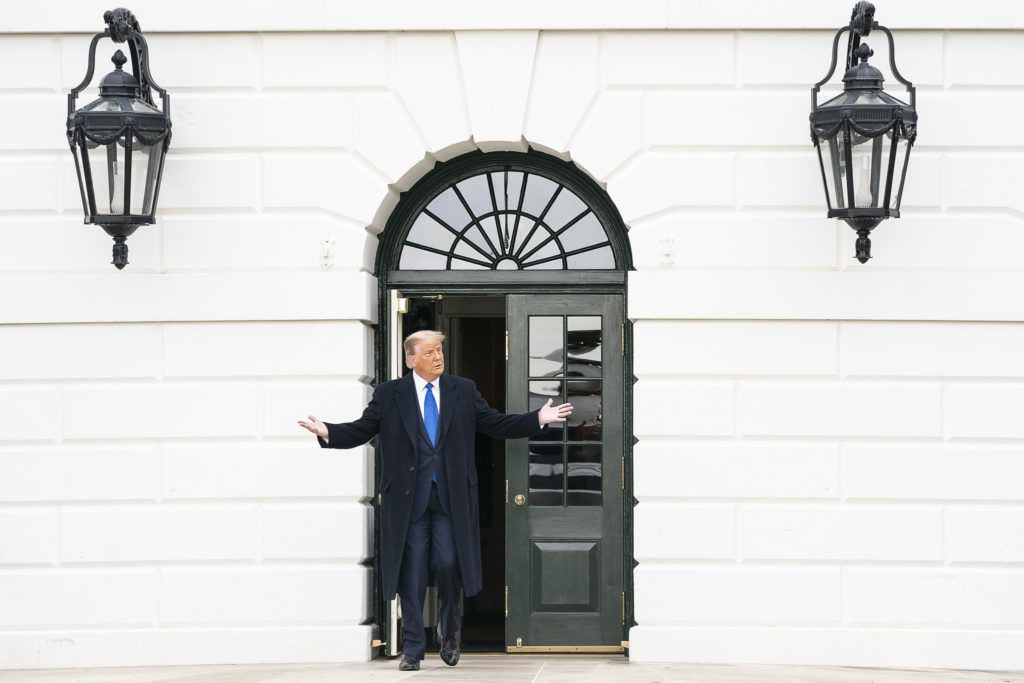 Despite the real problems that I discussed in my previous post with Trump's ongoing attempts to subvert democracy, the good news is that despite the moral cowardice of his co-partisans in Congress, state-level Republicans are doing their jobs.
Via WaPo: Trump suffers twin defeats in his effort to overturn Biden's victory in key states.
First, the results of Trump's thoroughly inappropriate attempt to influence legislators from Michigan:
Michigan Republicans declar[ed] after a White House meeting that they had learned nothing to warrant reversing the outcome in their state.

"We will follow the law and follow the normal process regarding Michigan's electors, just as we have said throughout this election," Michigan Senate Majority Leader Mike Shirkey (R) and Speaker of the House Lee Chatfield (R) said in a joint statement issued late Friday.
I will admit, my preference would have been for these individuals to have turned down the invitation and state, publicly, that such a meeting was inappropriate. But at least they have continually stated that they will follow the law.
"We have not yet been made aware of any information that would change the outcome of the election in Michigan," Shirkey and Chatfield said in their joint statement.

"Michigan's certification process should be a deliberate process free from threats and intimidation," they added. "Allegations of fraudulent behavior should be taken seriously, thoroughly investigated, and if proven, prosecuted to the full extent of the law. And the candidates who win the most votes win elections and Michigan's electoral votes. These are simple truths that should provide confidence in our elections."
Second, in regards to Georgia:
in Georgia, Republican Secretary of State Brad Raffensperger certified Biden's roughly 12,000-vote win, and Gov. Brian Kemp, also a Republican, signed the certification, leaving little chance for a delay of the seating of Biden's electors there. Trump can still request a recount in the state, but Raffensperger — who has resisted pressure from Trump's allies to support their claims of irregularities in the vote — has said he does not expect such an exercise to change the outcome.

"As secretary of state, I believe that the numbers that we have presented today are correct," he said in a statement Friday. "The numbers reflect the verdict of the people, not a decision by the secretary of state's office or of courts or of either campaign."
The exceedingly good news in both of these cases is that elected Republican officials, when put in the position of using their offices to subvert the election, are not doing so. Instead, the Republican-controlled Michigan legislature is on track to behave as the law dictates. And, in Georgia, the Republican Secretary of State and Republican Governor have done their jobs.
Thus far any actual critical governing function has been performed as it should be regardless of partisanship.
Although, several other actions, such as the GSA official who will not release transition funds or the attempt by the two Wayne County Canvassers to change their vote, show some erosion in this arena, but in noncritical ways.
None of this lets the Republican Party off the hook for playing along and contributing to, Trump's subversion. Their combination of silence in some areas and repeating of Trump's talking points in others is truly inexcusable (and I mean that very precisely).
In other words, the fact that some members of the party are doing their jobs does not take away the damage being done by others in the party who are unwilling to step up to a microphone and tell simple truths about the current occupant of the White House's behavior.
In fact, the party held a press conference at its national headquarters this week to present a series of wild and unsubstantiated claims, thus endorsing Trump's nonsense rather blatantly.
The good news remains the process appears to be working, but the bad news is that one of our two major parties continues to subvert public trust on those processses.