Michele Bachmann's Epic Collapse
Executive summary: She's a kook unfit to serve as dog catcher, much less leader of the free world.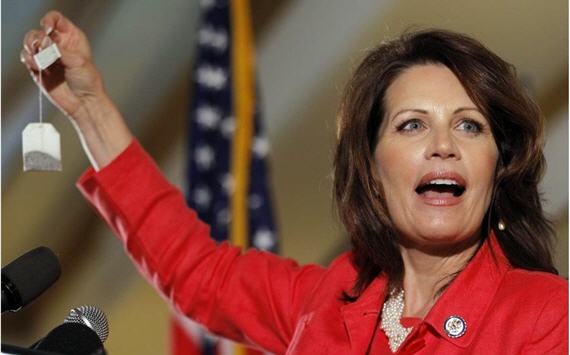 An inordinately long Politico piece examines "Michele Bachmann's hard fall." My executive summary: She's a kook unfit to serve as dog catcher, much less leader of the free world.
The piece opens with a reminder:
Four months ago, Michele Bachmann seemed poised for a banner December.

She'd just won the Ames Straw Poll — vanquishing her Minnesota rival, Tim Pawlenty, in the process — and was getting accustomed to life in the top tier of 2012 candidates.
But most of us understood at the time that the Ames Straw Poll is meaningless and that it was inconceivable that Bachmann would win the nomination. Then again, I didn't see her flaming out to the point that she wouldn't be competitive in her native Iowa's caucuses. If recent polling is any indication, she'll finish near the bottom of the field. Indeed, the piece notes that "She faces uncertain reelection prospects in her own House seat at the end of the presidential primary season."
That's what you get for flying too close to the sun, I guess.
So, what happened? Well, Bachmann's true colors were revealed.
Instead, her campaign slowly disintegrated. There was a bitter split with a coterie of top advisers, a slew of campaign trail missteps and claims of unfair treatment. Contributions dried up and the candidate herself never quite developed a message. Once Rick Perry stole her thunder after her Ames Straw Poll win, she retreated to a familiar comfort zone of Fox News and conservative radio appearances.

"I think to a certain extent it was a smoke and mirrors operation," said her former campaign manager, Ed Rollins. "The debates kept her in it and the end of the day that's not the substance [of a campaign]…We got her to a point where people looked at her [but], just as other candidates found out, once the spotlight goes on you, you better be prepared."
That should read "one of her former campaign managers." She's on at least number three now. Regardless, it has been an amateur operation from the get-go:
The congresswoman also suffered a key problem that many first-time presidential contenders fall prey to — she refused to take the counsel of the people she brought on to tell her how to handle a presidential campaign.

"I think for her, she is her own best adviser," said one former Bachmann staffer, who spoke on condition of anonymity. "And so I think anything that comes from the outside is not just filtered in the normal sense but doesn't weigh the same as how she weighs her instincts on things. Her instincts outweigh, generally speaking, a fair amount of counsel. Having lost only a school board election and having won ever since, I think she feels like she has great political instincts. But it's just that we're at a different level at this point. She's not an easy person in terms of taking counsel."
Yes, first-time candidates tend to lack a strong organization and to have outsized confidence in their own political instincts. But Bachmann went well beyond the norm here and for no good reason. She was a virtual unknown who had won nothing larger than a House district; she hadn't earned the enormous ego that comes with being a governor or senator.
But just like that, Perry stepped all over any momentum she gained by jumping into the race the same day as the straw poll. The next night, presented with an opportunity to get the better of her new rival from the South at a Blawk Hawk County GOP fundraising dinner, Bachmann refused to come out of her campaign bus and share the spotlight with him, despite entreaties from most of her advisers.

The news coverage of the event was not favorable. According to many Iowa politicos, it was the turning point for her campaign there. She seemed weak by comparison, and while she used the debates to soldier on, she has never reached the same heights again.

Not long after, Rollins and two members of the team he'd put together, David Polyansky and pollster Ed Goeas, parted ways with the team. For new campaign management, she turned to Keith Nahigian, a longtime advance man who'd worked with her campaign and with whom, as one former staffer put it, she felt as if she could heed her own counsel and instincts a bit more.

The split had been presaged, however, for weeks, thanks to a divide between the staffers and advisers on her campaign bus, and the national and Washington-based team. Her then-state chairman, Kent Sorenson — who is now a Paul backer — disliked her national advisers and the way they ran things and made that clear to her, sources said.

It was then that Bachmann decided to double down and continue to follow her political instincts, according to several sources familiar with the campaign — addressing the hard-right of the party with a string of Fox News appearances instead of broadening her message. She also failed to develop a cohesive message beyond beating up on 'Obamacare' and talking about the nation's fiscal crisis.
Beyond the provincialism, though, there was the bizarre character revealed by the national spotlight.
And she repeatedly made claims on the campaign trail that she couldn't back up — including the one where she recounted a mother telling her about a daughter developing "mental retardation" thanks to the HPV vaccination that Rick Perry had mandated in Texas for young girls. The medical community at large denounced the claim, and it added to a sense that she was unserious, and prone to making claims without having the facts first.

[…]

Bachmann herself developed a penchant for, as Rollins put it, seeing "sinister" motives in almost everything that happened along the way. She accused Newt Gingrich of "buying" tea party support in South Carolina. Sorenson was accused of leaving for a payoff. Her campaign has suggested sexism is part of the underlying problem — a fact that may be true, but it hasn't seemed to help her by saying so publicly.

Conservative radio host Steve Deace, who is neutral in the race but who has described Michele Bachmann as the most consistent conservative in her record, expressed surprise at her past few weeks — noting that she'd accused Bob Vander Plaats of trying to get her to drop out (which he denied), accused Sorenson of being bought off (which he denied), a super PAC that had backed her switched to Mitt Romney, and she asserted that no pastors have asked her to get out of the race (though a prominent one said he did).

"She's accused three people of lying, all of whom say what she says is not true…When she won the Ames Straw Poll, she had just spent the summer [hitting] House Speaker John Boehner for cutting deals with Obama on the debt ceiling," said Deace, adding that instead of focusing on the payroll tax cut fight that the House GOP lost, Bachmann chose to talk about "all these sideshows, which make great copy for blogs but which don't impact any voters. They don't create new jobs."
The beauty of our otherwise exhausting and frustrating presidential selection process is that it eventually reveals these flaws. In a short contest, it would be possible for a charismatic candidate to catch lightning in a bottle and win over the nominating electorate by virtue of some good commercials, a strong debate performance, or spouting some clever lines on "Hannity." Over a grueling campaign that drags on for months, though, the candidates too stupid or crazy to serve are revealed.