Mike Huckabee Doubles Down: Obama Has A "Different Worldview" From The Rest Of Us
A day after apologizing for an odd comment about the President's upbringing, Mike Huckabee now feeds into the conservative myth that Barack Obama isn't a real American.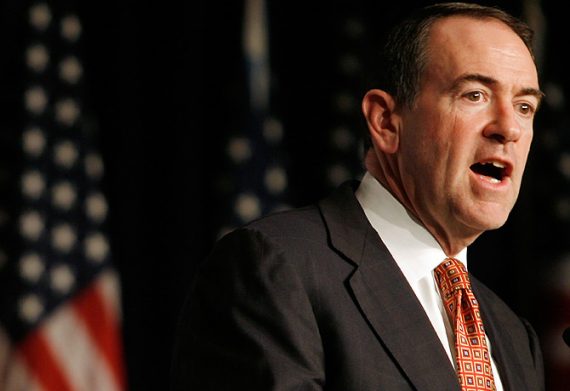 Fresh off apologizing for his odd assertion that Barack Obama was raised by his father and grandfather (who, again, died before Obama was born) in Kenya, Mike Huckabee showed up on Bryan Fischer's radio show and doubled down on the right-wing meme that Barack Obama just isn't one of us:
Huckabee: And it's really an indication of just how pathetic some of these folks are who claim to be journalists and reporters and have failed to do a decent job. You know, I admitted that I misspoke on that, but I corrected it. But what I have never done is taken to position that Obama was born in Kenya or Indonesia or anywhere other than Hawaii where he claims to have been born. Frankly Bryan, that is not a popular position with conservatives but it is the position I have consistently taken and I just am very amazed at the firestorm this has caused, especially in light of the fact that the talk show host himself has said there is nothing to it.

Fischer: Well Governor, what got lost in all the shuffle was the legitimate point that you were making which is that we may have a president who has some fundamentally anti-American ideas that may be rooted in a childhood where he had a father who was virulently anti-colonial, hated the British – might have something to do with the President returning the bust of Winston Churchill back to England. You know, I was struck by the fact that when he made his tour to Indonesia, he made a point of going to an Indonesian memorial that celebrated the victory of Indonesians over British troops – again, part of that anti-colonial thing. And so I'd like you to comment on that; you seem to think that there is some validity to the fact that there may be some fundamental anti-Americanism in this president.

Huckabee: Well, that's exactly the point that I make in the book and I don't know why these reporters – maybe they can't read, I guess that's part of it because it's clearly spelled out and I'm quoting a British newspaper who really were expressing the outrage of the Brits over that bust being returned and the point was that they felt like that due to Obama's father and grandfather it could be that his version and view of the Mau Mau Revolution was very different than most of the people who perhaps would grow up in the United States. And I have said many times, publicly, that I do think he has a different worldview and I think it is, in part, molded out of a very different experience. Most of us grew up going to Boy Scout meetings and, you know, our communities were filled with Rotary Clubs, not madrassas.
I've never quite understood why the right has always been so obsessed over the President's decision to return a bust of Winston Churchill that had only been in the Oval Office since 2001, especially since replaced it with the bust of Republican President Abraham Lincoln. After all, isn't it better to have one of America's greatest President's represented than a foreign leader? Can someone explain that one to me?
Huckabee's is merely expressing publicly something that has been roaming around the undercurrent of American conservatism for two years now, and which only really started to surface when Dinesh D'sSouza published his foolish thesis that the President has a "Kenyan anti-colonialist worldview," an idea that Newt Gingrich quickly picked up and ran with. As I noted at the time:
The idea that Barack Obama, who was educated for all but five years in American public schools, attended American universities, and only saw his father once after his parents divorced in 1964 is somehow guided in life by the dreams of the Luo tribe from the 1950s-era movement for Kenyan independence from Great Britain is, quite honestly, absurd.

I can honestly think of only one reason for Gingrich and D'Souza to say stuff like this. It's not racism per se so much as it is a desire to feed into the idea that Barack Obama is not a real American. Why else emphasize his ties to a country he's only visited twice in his entire life and to an era of history that most Americans have no connection to at this point ?

It's cheap, and it's cynical.
And, it appears, Mike Huckabee is playing the same game now.