Mike Johnson (Who?) for Speaker?
Could the fourth time be the charm?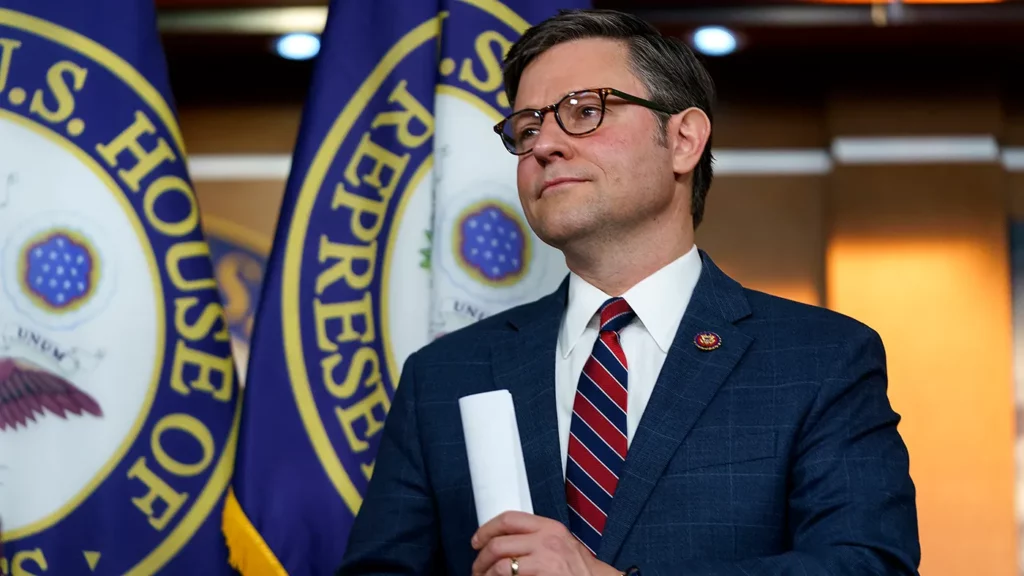 Under the headline "Republican Fatigue Helps Mike Johnson's Chances," Taegan Goddard points us to a Punchbowl News story explaining that thesis:
We have a new GOP speaker nominee. The fourth in three weeks. And the second in just one day. But this time may be different.

Late Tuesday night, the House Republican Conference tapped Rep. Mike Johnson (R-La.) as its speaker designate. Johnson won with 128 votes in the secret-ballot election and had minimal opposition during a roll-call vote.

We're going to get to the outlook for Johnson in a minute. Let's just pause for a second and recognize that this is Day 22 with no speaker. On Tuesday alone, the House GOP had two speaker nominees. House Majority Whip Tom Emmer lasted only four hours and 10 minutes before withdrawing. Johnson was elected after 10 p.m.

[…]

Here are some things to keep in mind during the next 24 hours.

1) Johnson stands a good chance of getting to 217. After former Speaker Kevin McCarthy, he may be the best positioned of any House Republican to do so. Johnson can lose only four votes, so this will be tough. But he can make it. Both House Majority Leader Steve Scalise and Judiciary Committee Chair Jim Jordan, who failed in their own speaker bids, have offered support.

Three GOP lawmakers voted "present" last night in the private GOP-only roll-call vote, as we scooped: Reps. Mark Amodei (Nev.), French Hill (Ark.) and Thomas Massie (Ky.).

There were another 23 absences. This is where Johnson's problems will be, if he has any. Some may be holdouts, but there was also an event last night that some GOP lawmakers attended instead of the vote.

Republicans who missed the vote include Emmer and Rep. Guy Reschenthaler (R-Pa.), the chief deputy whip who ran Emmer's speaker campaign. They both will support Johnson on the floor.

Other Republicans missing the roll call include Reps. John Rose (Tenn.), Derrick Van Orden (Wis.), David Joyce (Ohio), Julia Letlow (La.) and Mike Simpson (Idaho).

2) If Republicans can't elect Johnson as speaker, the game is up. Moderate Republicans will go to the floor and join with Democrats to elect Speaker Pro Tem Patrick McHenry for some indeterminate period of time. The House has been without a speaker for 22 days. Members are fed up with the paralysis.

Yet this actually works in Johnson's favor. If Republicans rally around him, they'll end up with a speaker elected by just GOP lawmakers without owing Democrats anything.

3) The floor proceedings will start at noon today. House Democrats expect their entire caucus to be in attendance. House Republicans think they will have close to full attendance as well. So Johnson will likely need 217 to win.

4) Republicans believe that Johnson is a safe bet across the broad spectrum of the GOP conference. Yes, he's very conservative. The Louisiana Republican was one of the main GOP election deniers in 2020. But Johnson isn't a public firebrand like Jordan. Johnson is more difficult to demonize because he has a low profile.
I must confess that I did not know Johnson existed until last night. Whether that's a function of a very common name or a lack of legislative accomplishment—or an intentional "low profile"—I don't know.
But, frankly, the ability to get the votes of the four most radical members of the Caucus is almost by itself disqualifying. And, even if it's opportunistic cowardice rather than true belief, being an election denier is even more disqualifying.
Rather obviously, it's well past time for whatever is left of a "normal" Republican wing to form a coalition with Democrats and get the show back on the road, electoral consequences be damned. Alas, that's really unlikely to happen.
Punchbowl gets into the practicalities:
5) Should Johnson win, there will be Louisianans as No. 1 and No. 2 at the leadership table. This is incredibly unusual.

But with Johnson's lack of experience at the top rung of the party, Scalise could become one of the most powerful majority leaders in recent memory.

6) Johnson isn't a big fundraiser, and this is a problem. He has $1.1 million on hand in his reelection account and a measly $83,441 in his leadership PAC. Whether you like it or not, the House Republican political machine is powered by six- and seven-figure contributions to the Congressional Leadership Fund, the GOP leadership-linked super PAC. This is something that Johnson has to begin to think about — and quickly.

7) As we mentioned in the Tuesday AM edition, the next speaker will be immediately tossed into the fire. Johnson will be thrown into a room with Senate Majority Leader Chuck Schumer, Senate Minority Leader Mitch McConnell, House Minority Leader Hakeem Jeffries and President Joe Biden to solve the government-funding standoff. This is like advancing straight from tee-ball to the majors.

Consider this: Johnson has a staff of 13 in D.C. McCarthy had a staff of more than 35. Should he win, Johnson is going to have to move quickly to assemble a team that can handle the Herculean task of managing the House Republican Conference. It'll be interesting to see whether Johnson dips into the current leadership ranks for help or whether he starts anew.

Johnson isn't planning any conference meeting before the vote today, and his allies were working the phones late into the night in a bid to nail everyone down.

We'll have much more about this potentially huge leadership shakeup throughout today and the rest of the week. But we'll note this from our friend Melanie Zanona at CNN — the McCarthy sign over the entrance to the speaker's office came down Tuesday night.
We'll see soon enough, I guess.
UPDATE: Alas, Johnson won easily.