Mississippi Governor Taps Cindy Hyde-Smith To Replace Thad Cochran
Mississippi's Governor has chosen a replacement for Thad Cochran, but the White House isn't too happy about the pick.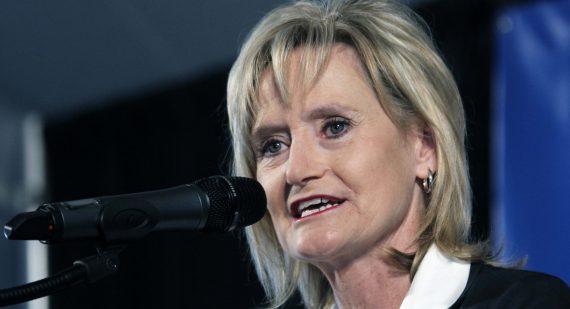 Mississippi's Governor has tapped a top-ranking female official in state government to replace Thad Cochran in the U.S. Senate:
Mississippi Agriculture and Commerce Commissioner Cindy Hyde-Smith will be coming to the U.S. Senate next month.

GOP Gov. Phil Bryant formally tapped the Republican former state senator to fill the unexpired term of Senate Appropriations Chairman Thad Cochran, who is poised to go out with a win on an omnibus spending bill before resigning effective April 1.

Hyde-Smith spoke following Bryant's announcement in her hometown of Brookhaven on Wednesday afternoon.

She highlighted her work as agriculture commissioner, while praising President Donald Trump's work on rolling back regulations, making specific reference to the Waters of the United States rule.

Hyde-Smith also noted her involvement in what was also one of Cochran's many priorities: the establishment and maintenance of the U.S. Department of Agriculture's catfish inspection office. The regulation of catfish and similar fish from Asia has been a key to the domestic catfish industry.

"I worked hard with our Mississippi delegation to make sure proper inspection is now being done," Hyde-Smith said.

She highlighted her support for Second Amendment rights and opposition to abortion, as well as advocacy for the state's defense business.

"The American dream is alive and well in Mississippi," she said.

Bryant's decision was not a surprise, and Hyde-Smith is expected to run in November to fill out the rest of Cochran's Senate term, which expires at the beginning of 2021. Hyde-Smith will be the first woman to represent Mississippi in Congress.
Hyde-Smith has been supportive of President Trump in the past and served on his campaign's agriculture advisory committee. Additionally, her name has been in the mix to replace Cochran ever since he announced that he would be stepping down from the Senate seat he has held since first being elected in 1978. As noted, Hyde-Smith will serve at least until the Special Election that will be held to determine who will finish out the rest of Cochran's term takes place in November.
Before getting to that point, though, Hyde-Smith will have to deal with what could be a strong primary challenge. Chris McDaniel, who is perhaps best known as the candidate who challenged Cochran back in 2014 and forced the race into a runoff that Cochran ended up winning thanks in no small part to strong support from Mississippi's African-American community. McDaniel had announced last year that he would be challenging Senator Roger Wicker, who is up for re-election in November, but decided in recent weeks to switch his candidacy to the race for Cochran's seat, a fact that makes it significantly more likely that McDaniel could win the primary and, by extension, the General Election given Mississippi's status as a strongly red state.
On an unrelated note, Hyde-Smith will be the 23rd woman currently serving in the U.S. Senate, and joins fellow Republicans Lisa Murkowski of Alaska, Susan Collins of Maine, Joni Ernst of Iowa, Deb Fischer of Nebraska, and Shelly Moore Capito of West Virginia as the sixth Republican woman currently serving in the Senate.
The Governor's announcement came at virtually the same time that it was reported that President Trump would not support Hyde-Smith in the primary:
White House officials this week told Mississippi Gov. Phil Bryant that President Donald Trump did not plan to campaign for or endorse Republican Cindy Hyde-Smith if she was appointed to the state's open Senate seat, saying they were worried that the former Democrat would lose.

Bryant responded that he intended to pick Hyde-Smith for the post, anyway. He went ahead and formally announced Hyde-Smith, who had previously been serving as the state agricultural commissioner, as his selection Wednesday, praising her "intellect, compassion, toughness and determination to get things done."

During a phone call Tuesday, administration officials told Bryant that Hyde-Smith's past history as a Democrat would hobble her in the special election contest for the seat being vacated by longtime GOP Sen. Thad Cochran. Hyde-Smith switched parties in 2010 while serving in the state Senate.

The conversation was described by two White House aides with direct knowledge of the call.

The message underscored the profound misgivings the administration and senior Republicans have about the Hyde-Smith pick.

Republicans are deeply concerned that Chris McDaniel, an anti-establishment conservative state senator who is running for the seat, will use Hyde-Smith's past party affiliation against her in the race. In recent days, the White House and other senior Republicans reviewed polling conducted by the National Republican Senatorial Committee showing Hyde-Smith in third place in a prospective match-up, trailing McDaniel and a prospective Democratic candidate.

(…)

Trump had initially lobbied Bryant to appoint himself to the seat, but the governor declined. Many in the party had hoped that Bryant would select Mississippi Secretary of State Delbert Hosemann for the post. The White House has been in touch with the governor over the course of the past three weeks about his selection.

While the president does not currently plan to endorse Hyde-Smith, the White House will continue to monitor the race, one of the administration officials said.

Administration officials do not want Trump to embarrass himself by weighing in for a candidate who is seriously hobbled. It was a scenario that played out in last year's Alabama Senate special election, when the president got behind appointed Sen. Luther Strange in a GOP runoff, only to see him fall short against former state Supreme Court Justice Roy Moore.

White House aides briefed Trump on Tuesday prior to speaking with Bryant. They recommended that, for now, the president should not endorse or campaign for Hyde-Smith should she get the appointment. Trump, according to one person familiar with the conversation, did not object.
While McDaniel's decision to shift over to the race for Cochran's seat likely means smooth sailing through November for Roger Wicker, it guarantees that we'll see a raucous primary battle in the Magnolia State between Hyde-Smith and McDaniel and perhaps other candidates should anyone else decide to enter the race. It appears from the press coverage that Hyde-Smith will be able to count on support from the GOP "establishment" at the state and national level, the fact that the White House is presently balking at backing her bid and that McDaniel is mounting a challenge seems to guarantee that there will be another epic battle in Mississippi, although it probably won't be nearly as weird as the primary battle between Cochran and McDaniel four years ago.