Mitt Romney: The Inevitable Nominee?
Despite all the negatives going against him, Mitt Romney may yet be the inevitable Republican nominee.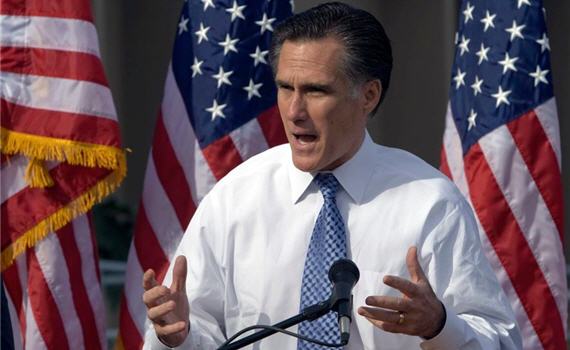 In the midst of the rise of Rick Perry and continued speculation over the Presidential plans of such non-candidates as Chris Christie and Sarah Palin, Timothy Carney argues that, in the end, Republicans will line up behind Mitt Romney:
The fight to unseat Obama in 2012 also is expected to revolve around Obamacare — particularly its infringements on individual liberty, its naked budget gimmickry to hide a spending time bomb, and the central-planner technocratic mind-set it embodies.

So it's hard to imagine a worse leader for this fight than Mitt Romney. Romneycare in Massachusetts not only looks a lot like Obamacare, it literally was a model for Obamacare. You would think the Republicans would want someone without an individual mandate to cast the first stone at the president. That was the conventional wisdom just a few months back.

But that conventional wisdom looks wrong now. Contrary to what a superficial reading of the polls would suggest, Romney is now the front-runner.

While he trails both Rick Perry and Michele Bachmann in Iowa polling, Romney is dominating the New Hampshire polls. In the latest 50-state Rasmussen survey — the only national poll hitting a large number of likely voters (as opposed simply to registered voters) — Romney is within the margin of error. In two general-election polls last week (a Marist nationwide poll and a Quinnipiac poll of the crucial state of Florida), Romney fared better against Obama than did Perry.

Intrade, the online futures market, now gives Romney a 44 percent chance of winning the nomination, while Perry is below 30 percent.

(…)

This leaves Republicans with the unthinkable: Romney, who ran to the left of Ted Kennedy in 1994 and who could have been Obama's health policy director, is now the most likely man to carry the GOP nomination in 2012.

It's Republican history repeating itself. In 2008, John McCain was the man the GOP base would never tolerate. McCain had passed unconstitutional "campaign finance reform," resisted Bush's tax cuts, supported a Ted Kennedy-sponsored "patients' bill of rights," and advocated amnesty for illegal immigrants, among other apostasies.

But ultimately, McCain was "next in line," having come in second to George W. Bush in 2000. The GOP primary electorate settled for him.

Romney was effectively runner-up in 2008. He's next in line. After Perry's recent stumbles, Romney's now at the front of the pack.
In an ordinary year, this is how things would play out. It's largely the way that Republican nominations have played out going all the way back to 1960. As we've been reminded so many times, though, this isn't an ordinary year. The other candidate who could have plausibly challenged Romney as the "next in line," Mike Huckabee, decided not to run this time around even though several polls in the spring were showing him leading the GOP field. More importantly, the rise of the Tea Party and changes in the way that convention delegates will be allocated in the early primaries has arguably changed the dynamics of the race in several ways.
Nonetheless, Carney does have a point here. One by one, candidates have risen up to challenge Romney this year and, one by one, they've all fallen away. Even a hypothetical candidate like Sarah Palin was never able to beat Mitt Romney in any credible poll. The latest challenger is Perry and, while he has managed to top Perry for now he's also faltered and there's plenty of reasons to believe that he could end up falling away just like all the others have. If that happens, then Romney will be left standing alone.
It's worth noting that the national polls of the field that get so much attention aren't nearly as important as they're made out to be. What matters are the races going on in individual states, especially the early primary states where the results are likely to give some candidates momentum, while bringing a swift end to other campaigns. Iowa looks good for Perry at the moment, Romney has a huge lead in New Hampshire. After those primaries, the race will move on to states like South Carolina, Nevada, Florida, and then the big states like New York, New Jersey, and California, where Romney is likely to have built up a very good network thanks to money and endorsements. Going forward, it's easy to see how Romney could coast into the nomination with an air of inevitability by April or May of 2012, despite the fact that he appears to be out of step with the GOP base.
The thought of Mitt Romney accepting the nomination in Tampa in August 2012 probably makes many conservatives shudder, but as Daniel Larison notes they would have nobody to blame but themselves:
A Romney nomination is the outcome that many movement conservatives openly preferred four years ago, and it was mostly because of the unexpected and (to party elites) unwelcome spoiler role of Huckabee that kept it from happening. Opposition to McCain was understandable and laudable, but in the drive to find someone to thwart McCain many movement conservatives embraced someone who had zero credibility as the viable conservative alternative. Because of this mistake, they invested Romney with legitimacy and credibility among Republican voters that he could never have had otherwise. As fashionable as it is to throw inconvenient policy positions down the memory hole, it is harder to persuade most voters that the candidate who was acceptable enough to the movement yesterday must be rejected tomorrow.
Indeed. The Mitt Romney of 2012 is essentially the same Mitt Romney who was endorsed by National Review and lauded at CPAC 2008 when he stood in a ballroom and announced that he was withdrawing from the Presidential race.  There are, no doubt, plenty of regular non-activist conservatives out there who are wondering how they guy everyone loved in 2008 has suddenly turned into Public Enemy No. 1 (or maybe No.2, after Obama). The main reason, of course, his health care reform, but it seems odd to punish Romney for something he did many years ago when he was Governor of a state where the legislature was controlled by a large enough Democratic majority to override any veto he would make. Yes, Romney embraced the plan but what else does one expect a politician to do, especially when it contained elements that had been advanced by groups like the Heritage Foundation only a few years previously? I'm not really much of a Romney fan personally, but when I hear some conservatives say that there's no difference between him and the President, I just roll my eyes. That statement is not only wrong, it's ridiculously wrong.
The GOP could do a lot worse than having Mitt Romney as it's nominee, heck it could do so by nominating some of the people running against him. If he does end up winning the nomination there will be some complaining by the activists, but they'll get in line behind him just like they got in line behind McCain.