Mitt Romney's Bizarre View Of The U.S-Israeli Relationship
Mitt Romney's view of the ideal relationship between the United States and Israel is, at the very least. quite odd, and, potentially, dangerous.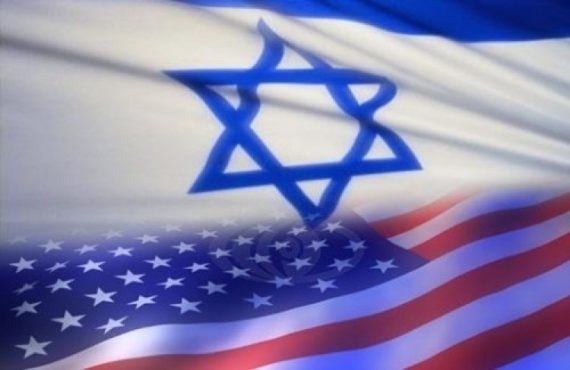 During Thursday's debate's in Florida, Mitt Romney had this to say about the relationship between the United States and Israel:
(UNKNOWN): Abraham Hassel (ph) from Jacksonville, Florida.

How would a Republican administration help bring peace to Palestine and Israel when most candidates barely recognize the existence of Palestine or its people? As a Palestinian-American Republican, I'm here to tell you we do exist.

BLITZER: All right. Let's ask Governor Romney, first of all.

What would you say to Abraham?

ROMNEY: Well, the reason that there's not peace between the Palestinians and Israel is because there is — in the leadership of the Palestinian people are Hamas and others who think like Hamas, who have as their intent the elimination of Israel. And whether it's in school books that teach how to kill Jews, or whether it's in the political discourse that is spoken either from Fatah or from Hamas, there is a belief that the Jewish people do not have a right to have a Jewish state.

There are some people who say, should we have a two-state solution? And the Israelis would be happy to have a two-state solution. It's the Palestinians who don't want a two-state solution. They want to eliminate the state of Israel.

And I believe America must say — and the best way to have peace in the Middle East is not for us to vacillate and to appease, but is to say, we stand with our friend Israel. We are committed to a Jewish state in Israel. We will not have an inch of difference between ourselves and our ally, Israel.

This president went before the United Nations and castigated Israel for building settlements. He said nothing about thousands of rockets being rained in on Israel from the Gaza Strip. This president threw —

(APPLAUSE)

ROMNEY: I think he threw Israel under the bus with regards to defining the '67 borders as a starting point of negotiations. I think he disrespected Prime Minister Benjamin Netanyahu.

I think he has time and time again shown distance from Israel, and that has created, in my view, a greater sense of aggression on the part of the Palestinians. I will stand with our friend, Israel.
The first point to deal with here, of course, is Romney's assertion that the President "threw Israel under the bus." The comment refers to a speech that President Obama made last May regarding Middle East peace in which he said the following:
So while the core issues of the conflict must be negotiated, the basis of those negotiations is clear: a viable Palestine, and a secure Israel. The United States believes that negotiations should result in two states, with permanent Palestinian borders with Israel, Jordan, and Egypt, and permanent Israeli borders with Palestine. The borders of Israel and Palestine should be based on the 1967 lines with mutually agreed swaps, so that secure and recognized borders are established for both states. The Palestinian people must have the right to govern themselves, and reach their potential, in a sovereign and contiguous state.
As I noted at the  time, this caused an eruption of outrage on the right despite the fact that Obama was merely restating a position that the United States had taken regarding the Israeli/Palestinian issue going back to at least 1999, if not earlier.  That part of the speech is just partisan nonsense, though. It's standard Republican fare when it comes to Obama's policy toward Israel that's aimed both at attracting the support of Evangelical voters who seem to have a loyalty to the State of Israel based largely on the Book or Revelation, as well as the naive idea that mouthing these words is going to cause significant numbers of Jewish voters to suddenly decide that they are Republicans.
The more alarming part of Romney's statement though, and one that I doubt any of the candidate's on the stage other than Ron Paul would disagree with, is Romney's assertion that there should be "not an inch of difference" between the United States and Israel." In fact, you can take Israel out of that statement and insert the name of any of our other allies, including our longest-standing and arguably still most important, ally the United Kingdom. No matter which nation it is that you're talking about, there often are differences of opinion between allies, sometimes over issues that one of the parties finds incredibly important. The idea that Romney suggests, that an alliance means complete support at all times under all circumstances, is simply absurd. Such a position would lock the United States into taking action even when it isn't in our national interests.  It was precisely that kind of trip-wire approach to alliances and treaty obligations that led Europe to march of to war in 1914 over what was really nothing more than a dispute between a decaying Austria-Hungary and the growing power of Serbian nationalists. Because one man got off a lucky shot on a street in Sarajevo, the entire continent of Europe was plunged into war. There's very little about that kind of worldview that seems rational.  Every nation has its own interests, even allies, and they don't always intersect. 'Israel (or Britain or Germany) right or wrong' is not a rational foreign policy, it's a campaign slogan designed to garner votes that shows signs of a candidate who isn't serious about foreign policy.
Daniel Lairson comments:
Consider the absurdity that the presidential nominating contest of the more American nationalist of the two major parties has been filled with candidates that cannot and will not distinguish between Israeli and U.S. interests. Their own words confirm that this is how they think about the bilateral relationship. Not only are these candidates mistakenly identifying the interests of the two states in a misguided expression of solidarity, but they are shouting it from the rooftops and implicitly finding fault with anyone who doesn't conflate the interests of the two states as completely as they do.
Indeed, it is not uncommon to find anyone who disagrees with the conservative orthodoxy when it comes to Middle East policy condemned as "anti-Israeli," or even anti-Semitic.  It's an excellent way to shut down debate, and a tactic that comes right out of the Saul Alinsky playbook that conservatives condemn so much.
Ed Kilgore comments on the oddity of rhetoric like this coming from Republican candidates:
Isn't it a bit odd, even somewhat unprecedented, for a prospective U.S. president to announce in advance that he is giving an ally a blank check to control U.S. policy in a major region of the world?

(…)

it's one thing to suggest that the U.S. will naturally favor its historic ally in intractable disputes. It's another thing altogether to outsource your policies unconditionally to a foreign government whose positions on matters of war and peace are more than a little controversial to its own people, particularly if your represent the supposedly hard-core U.S. nationalist party that claims it doesn't trust anybody or anything other than naked self-interest and military power. Perhaps the refusal of contemporary conservatives to see allies anywhere else in the world—certainly not among those debt-ridden socialists of Europe—has made them hold Israel all the closer. But an awful lot of Israelis would tell you that giving this sort of total leverage over the United States to Bibi Netanyahu is not an act to be taken lightly. He will not hesitate to use it.
That, of course, is the danger of Romney's comments. Give an ally a blank check and you end up creating a situation where you drag your country into a conflict that it neither wants nor needs. It's fairly well established, for example, that the United States has dissuaded Israel from directly attacking Iran since the Bush Administration. Romney, however, would give them a blank check to go to war against Tehran despite the rather obvious consequences of such an action. That's not only insane, it's a policy that essentially says that the national interests of the United States must take a back seat to the national interests of Israel. For the Prime Minister of Israel, perhaps, that is the correct policy. For the President of the United States, it's a dereliction of duty.
As a final point, I'd note that Romney didn't even bother to address the concerns of the Palestinian-American Republican who asked the question that he was responding to on Thursday. But, then again, how many votes would that get him?