Mitt Romney's Unforced Tax Return Error
Mitt Romney has a bit of a tax return dilemma.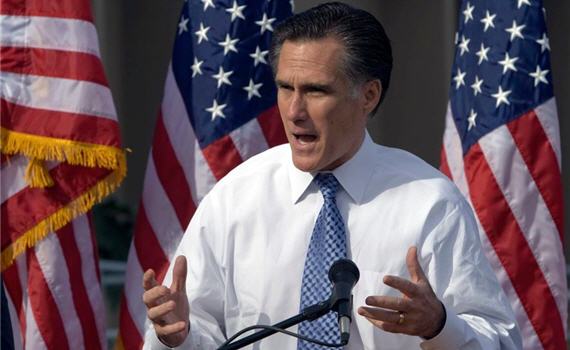 For much of the Presidential campaign, Mitt Romney has dodged the question of when, if ever, he was going to release his tax returns. Dodging the question hasn't really worked out so well for him, though. There is no legal requirement that Presidential candidates release their tax returns, it has become customary for them to do so at some point during the campaign, so he had to know that the day would come when he'd have to release them. During Monday's debate, Romney responded to a direct question from Rick Perry and Bret Baier, by saying he'd release his returns sometime in April.
If Romney thought that would be the end of the story, he was dreadfully wrong, though. The question followed him on the campaign trail, and unforunately for Romney, instead of telling the reporters that he'll answer all questions when the returns are released, Romney decided to feed the media beast:
Under growing pressure from rival Republicans to release his tax returns, Mitt Romney said on Tuesday that he paid a tax rate approaching 15 percent on his millions of dollars in annual income but said he would not make public his full return until April.

His effective tax rate was "probably closer to the 15 percent rate than anything," Mr. Romney said at a campaign stop in South Carolina, noting that most of his considerable income over the last decade has come from investments rather than from earned income like salary. He also characterized as "not very much" the $374,327 he reported earning in speaking fees last year, though that sum would, by itself, very nearly catapult most American families into the top 1 percent of the country's earners.

Mr. Romney mentioned the 15 percent figure in response to a question at a news conference, leaving uncertain whether his comment was unplanned or a deliberate effort to begin airing the issue ahead of a general election campaign. But his remarks on Tuesday drew immediate criticism from the Obama administration and Republican rivals, and are likely to cement Mr. Romney's place as an unwilling emblem of the intensifying national debate over taxation and income inequality, which burst into the campaign this month when rival candidates began attacking Mr. Romney's career in the leveraged buyout business.

Mr. Romney's admission left unclear — and his campaign declined to clarify — whether the 15 percent he was referring to represented his overall tax burden or simply his federal income taxes. That makes it hard to compare the figure with the tax burdens of a typical middle-class American — or of Mr. Romney's opponents. President Obama reported paying an effective federal tax rate of 26 percent on his 2010 family income.

But in acknowledging that most of his income comes from investments, Mr. Romney underscored a fact likely to figure prominently in attacks from Mr. Obama and other Democrats in the coming months: He is among the small percentage of very wealthy Americans who have benefited enormously from shifts in federal tax policy that have pushed federal tax rates on investment income well below the top 35 percent rate for wages and salaries, which constitute most earnings for the vast majority of people.

"The low taxes on capital gains and dividends are why people who make a ton of money, which is largely from investment income, do awfully well," said Robert McIntyre, the director of Citizens for Tax Justice, which advocates for more progressive taxation. "The Warren Buffetts, the hedge fund managers — they pay really low tax rates."
Here's where Romney made his mistake,  I think. Talking about tax returns before the documents are released makes no sense whatsoever. One danger is that the candidate ends up saying something now that gets contradicted, even just slightly, by what's in the documents. The other danger is that you then end up giving the media two stories, one being what you said  about your income, the other being that he hasn't released his tax returns. While Romney may want to wait until April to deal with this, the fact that the door was opened at the debate means that it will need to be dealt with sooner, which is why Chris Christie is right when he said this morning that Romney should release his returns as soon as possible, even if that means the 2011 return isn't ready yet.
At the same press conference, Romney also characterized his sources of income in a manner that is likely to cause political issues for him in the future:
"What's the effective rate I've been paying? It's probably closer to the 15 percent rate than anything," Romney, a GOP presidential candidate, said. "My last 10 years, I've — my income comes overwhelmingly from investments made in the past rather than ordinary income or rather than earned annual income. I got a little bit of income from my book, but I gave that all away. And then I get speaker's fees from time to time, but not very much."
As it turns out, Romney earned some $374,327.62 from speaking fees in 2010 and the early part of 2011 according to disclosures, earnings which alone place him near the top 1% of American taxpayers. There's nothing wrong with this, of course, although I'm sure there are some will try to point to the mere fact that Romney made a lot of money on speaking fees as a sign of something wrong. The problem for Romney is in the way he characterized the amount as "not very much." It's clear that what Romney meant by this is that the amount he made from speaking fees was a relatively small portion of his overall income, but that's not how it's going to be characterized six months from now, as Philip Klein notes:
[S]tatements like this are just gold to President Obama, who hopes to make Romney a poster child for his class warfare reelection strategy. A comment like this, in the middle of January, isn't likely to be on voters' minds in November. But if Romney continues his pattern of making such statements, it will become a huge problem should he be the nominee.
Gingrich's Republican opponents have already jumped on the issue, starting with Newt Gingrich who yesterday said that he could rename his proposal for a 15% flat tax "The Mitt Romney Flat Tax."  Of course, we can expect much worse from the Obama re-election campaign and the Democrats in the fall so perhaps, as Michael Shear suggests, it's a good thing that this issue is coming out now rather than nine months from now:
Mr. Romney and his allies are also using this opportunity as a dry run of sorts — testing which responses work and which do not.

"It was sadly inevitable that the Obama campaign and the D.N.C. would demonize Governor Romney for succeeding in the private sector, abiding by the law, and seeking to keep taxes low for all Americans," wrote Douglas Holtz-Eakin, an economic policy adviser for Senator John McCain in 2008, who is neutral this time. His article in National Review Online was titled: "It's the Silly (Tax Policy) Season."

Mr. Romney, too, will no doubt be better at answering these questions in nine months if he is the nominee.

If that is the case, he may look back on these past several weeks and remember them fondly as the time that he finally figured out how to confront the biggest attack on his economic credentials from President Obama.
Perhaps that's true. There really isn't anything that Romney can do about the fact that he's wealthy, it's a fact that voters will evaluate the importance of on their own and which those on the left will no doubt use to try to demonize him. One can argue that the should have been more prepared for attacks like this from fellow Republicans, and that's true. However, as Shear notes perhaps this will end up being a good thing for Romney to the extent that it prepares him for the inevitable, relentless, and endless attacks from the left for the sin of being wealthy that are going to come his way starting just a few short months from now.