More on Alternative Electors
More on why it isn't going to happen.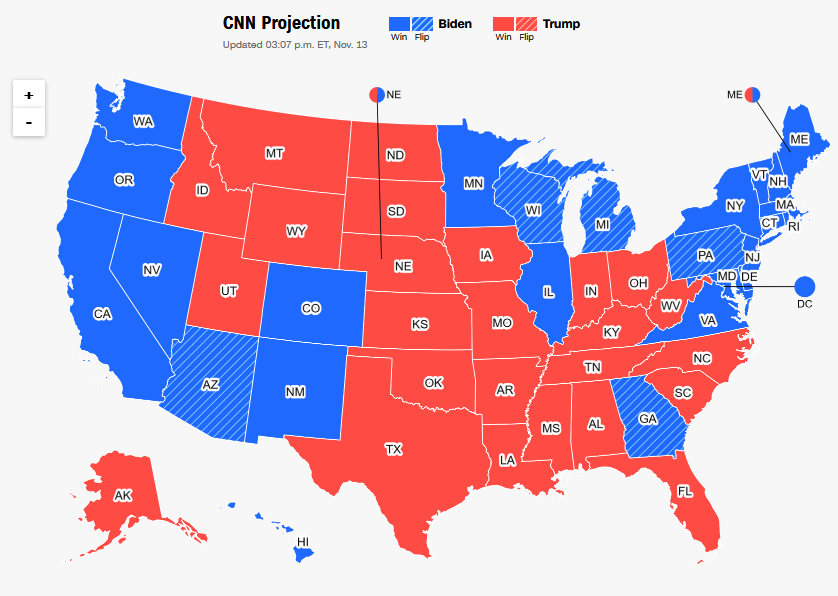 Let me start with what seems to be a standard, yet needed caveat/disclaimer for all of these conversations about the unprecedented and highly irresponsible behavior of Trump and his enablers: he isn't going to succeed, but what he is doing is still very, very bad. Put another way, discussions about why he will fail should in no way be construed as being dismissive of his actions.
The ongoing machinations of team Trump to somehow create a conflict over electors is disturbing and subversive. It certainly undercuts trust in our system and it is instructing some nontrivial numbers of citizens to ignore reality. It is also producing a lot of anxiety.
The good news is, it is not going to work, and will end up being a lot of noise, but nothing else.
Keith Whittington, a political scientist at Princeton, explains in this piece from WaPo: Trump's scheme for state legislatures to overturn the election won't work .
Federal law specifies that election contests resolved at least six days before the vote of the electors "shall be conclusive, and shall govern in the counting of the electoral votes." (That deadline is Dec. 8 this year.) Only if the state "has failed to make a choice" through the normal election process may the state legislature direct another manner for choosing the electors.

So for a state legislature to attempt to directly select a slate of presidential electors now, it would need to determine that the state had otherwise failed to make a choice. That could happen if the scheduled election had been canceled due to some natural disaster, or perhaps even if an election contest were still bogged down in recounts and litigation when the date arrived for the presidential electors to assemble and cast their ballots. But neither of those situations apply this year. Theoretically, a state legislature might attempt to cancel the results of a successful election by repealing its earlier statute delegating the selection of electors to the voters and replacing it with a new process. Republicans do control both chambers of the Michigan state legislature, but the Michigan governor is a Democrat and can veto legislation. And Republicans do not have a veto-proof majority.
For anyone who cares, the Michigan statute in question is Act 116 of 1954. Section 168.45 notes that electors are chosen by voters. The next two sections detail the certification and voting processes. I see no way for these to be avoided without breaking the law or changing it. And, as Whittington notes, even if the Republicans tried to change it (which seems to me to be incredibly unlikely that they would even try), the governor would veto the law.
Let's consider worse cases and think about the other key states.
It is true that Arizona, Georgia, Michigan, Pennsylvania, and Wisconsin all have Republican legislatures.
Michigan is off the table for reasons noted above. Georgia has already certified its results (although one more recount for funsies is coming, it would seem). Wisconsin can be removed as it has a Democratic governor, as does Pennsylvania.
Even if by some bizarre process Arizona's GOP governor went along with a plot with the legislature prior to the November 30th deadline, that would not be enough electoral votes to scuttle Biden's win.
Trump doesn't even have an implausible route to find a way to get the EC to keep him in office. This is especially true given the clown show that is his legal team and their legal arguments.
Of course, all of this underscores, yet again, the nonsense that is the Electoral College. That there is even a crazytown pathway to overturn the clear national (and specific state-level) preferences of the voters is an abomination. These machinations are only possible because the constitutional power to elect the president belongs to the electors and not the voters of the United States. Let that sink in yet again.
If team Trump could get alternate electors installed in enough states, it would only be by literally overturning the will of the voters in those states.
Moreover, the fact Biden has won at least 6 million more votes than Trump, and we can still be having these conversations is utterly absurd, and yet here we are.
---
A side note that often comes up when some seek to defend the EC: what if we had to have a recount? Wouldn't that be a mess? Well, first, recounts only happen with truly close elections. Standards vary, but let's say it needs to be less than .5%–that is a highly unlikely gap at the national level. Depending on how the rule was written, even 2000 would not have qualified for a national recount under that standard. Gore won the popular vote by .5%
Second, if states can do the initial count, they can do a recount. Georgia has already done one recount and will, as noted, likely do another before the deadline. And you can still use the states as the units of counting and recounting under a truly national popular vote. Indeed, given that elections are administered at the state level, I can't imagine that we wouldn't continue doing so if we ever had the wisdom to do away with the Electoral College