Most Dominant Athletes of the Last 20 Years
ESPN the Magazine has broken out the slide rule to rank the top athletes during its first two decades.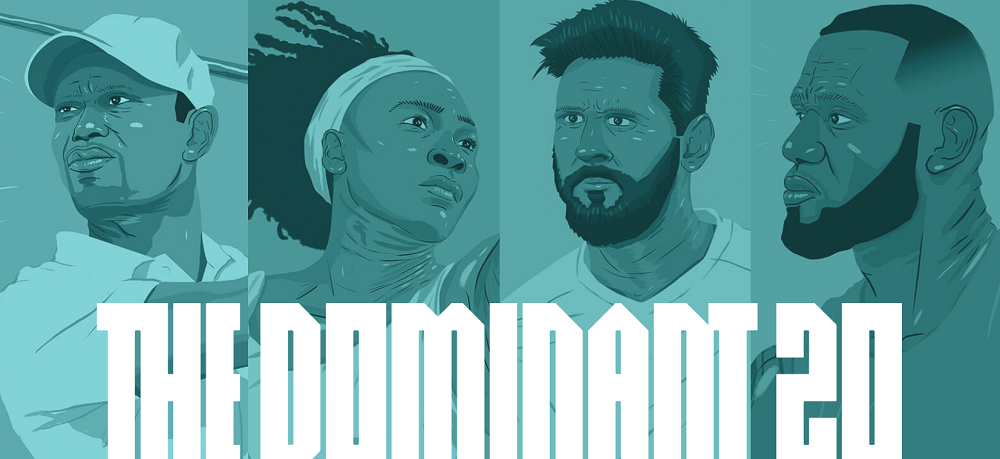 ESPN the Magazine has turned 20 and they're marking the occasion by naming the 20 most dominant athletes during that span. Rather than simply doing it the old-fashioned way of either assigning one writer to rank and justify or polling their writers, they tried to do this sabermetrically. Here's their methodology:
Methodology

We used our unpatented five-step process to determine the most dominant athletes of the past 20 years. First we looked at the top league in every sport that has global annual revenues of $100 million or more and for which there are reliable annual overall rankings or ratings of individual athletes for all or most of the past 20 years. Then we rated those sports' athletes in each of the past 20 regular seasons by the best single performance metric available, adjusted these ratings to normalize athletes' scores in each sport across time, narrowed our focus to the top four athletes each year in every sport, then adjusted the data again to put these players, across sports, on a common baseline. Then we added up the results to achieve this list, in which one "dominance share" equals one standard deviation of performance by an athlete beyond the top four players in his or her sport for one season.

Metrics

MLB: Wins above replacement (WAR), according to FanGraphs; NBA: Value above replacement player (VORP), according to Basketball-Reference.com; NFL: Defense-adjusted yards above replacement (DYAR), according to Football Outsiders; NHL: Goals vs. threshold (GVT), according to Hockey Prospectus; WNBA: Win shares, according to Basketball-Reference.com; ATP, Formula One, WTA: Tour or championship points; LPGA, NASCAR, PGA: Prize earnings; FIFA, International Cricket Council, World Rugby: Player of the year voting; Boxing, MMA: ESPN, The Ring and FightMatrix pound-for-pound rankings; Olympic track and field: Track & Field News rankings
That has the advantage of using established rating systems but the disadvantage of lacking much transparency. Most of us have little understanding of the metrics, certainly beyond the one or two sports we follow most closely. Beyond that, it doesn't obviously account for differences in league depth; dominating some sports may simply be easier. (Offhand, I'd guess the NBA is the most difficult to dominate, in that pretty much anyone anywhere in the world had the ability early on the figure out whether they have a talent for basketball whereas few have the opportunity to drive a racecar.) Still, standard deviation smoothes out some of the disparity.
The top performer might surprise you: Tiger Woods (Dominance Rating 17.0).
How can a golfer who's won only eight tournaments in the past nine years be the most dominant athlete of the past 20? Because boy howdy, the 11 years before that. Consider the decade prior to Tiger Woods' dominant run, when golf's players of the year averaged 3.1 wins. From 1999 through 2009, Woods averaged 5.8 wins per season and won the award nine times. He was routinely magnitudes greater than the game's next best: He won 13 of 35 majors from late 1999 to mid-2008, while no other golfer won more than three; three times he won five or more consecutive tournaments — the last man who won five in a row was Ben Hogan in 1953; of the 45 times he held the outright lead heading into the final round, Woods won 43 of those — a 95.6 percent closing clip. Even the minutia is amazing: From 2002 through 2005, Woods faced 1,716 putts of 3 feet or less; he made all but four. Nobody's perfect.
Behind him is Lebron James (DR 15.6 ).
In the bowels of Quicken Loans Arena after the Spurs swept the Cavaliers in the 2007 Finals, Tim Duncan hugged a 22-year-old LeBron James, finishing his fourth season, and told him, in effect: You've got next. Of course, even a decade ago, LeBron already had his — he averaged 27.2 points in his second year, still the most ever in an age-20 season. And even after seven (seven!) consecutive trips to the Finals — while averaging 94 games in those campaigns — LeBron hasn't shown much, if any, old-guy attrition. He's pushing 27/9/9, and if that line holds, he'll be the first 30-something to accomplish it in a season. He averaged a triple-double in a single month for the first time in his career in February of this, his 15th, season. And after averaging at least 25 points in 14 seasons — most in NBA history — on Feb. 27 he became the founding and sole member of the 30,000/8,000/8,000 club. And we still can't wait to see what's next.
Neither of those is controversial. Number 3, Peyton Manning (DR 12.7), is.
Perhaps the greatest testament to Peyton Manning's sustained excellence? He made being elite look ordinary; he was just that good. The 539 passing touchdowns, an NFL record. The 71,940 passing yards, also a league mark. The 186 wins at quarterback, the most in the NFL at the time of his retirement — a record that he held until last October, when foil and fellow ridiculously dominant QB Tom Brady seized that honor. Ponder the sheer amount of year-in, year-out greatness required to amass those numbers. Those 539 TDs? He threw for at least 25 touchdowns in 16 seasons — three more than Brady. The 71,940 yards? He racked up 4,000-yard seasons before they were de rigueur, reaching that mark 14 times overall (more than any other quarterback) and every year from 1999 to 2004, when no other QB did so more than two times. The 186 wins? Those can add up when you boast a .750 winning percentage (or better) against half the league. Dominating opponents? Nothing out of the ordinary.
That LeBron is 92% of the dominator that Tiger Woods is over the period seems about right. I'm not sure Manning is 81% Lebron. More to the point, though, as noted in the summary, most of us think Brady has long since surpassed Manning in this debate, having led his team to 5 championships and another three Super Bowl losses. That's simply nuts. But, okay, championships are a team achievement and Brady may have simply had a better supporting case. So, he's 4th, right? Nope. He barely makes the list at 20, with a DR of 6.0:
If it's true that you are what you eat, the famously health-conscious Tom Brady is nuts (and crucifers, greens and a sizable cistern of water). His career numbers are nuts too: Brady claims more postseason wins as starting quarterback (27) than do 27 franchises. His Super Bowl victories (five) outnumber the all-time playoff-win tallies for one team (the still new-ish Texans) and match another's (the not-at-all new-ish Bengals). Since 2006, Brady has six of the top 30 postseason QBR performances — his closest competitor is Peyton Manning, with three — and he has the top single-game playoff QBR, 98.0 vs. Jacksonville in 2007. And lest you think Brady burns brightest only on the big postseason stages, his long-term success is also staggering: Since 2007, only 13 QBs without their own branded cookbook have thrown at least 34 touchdown passes in a season, while Brady himself has averaged 34 TD tosses for those years; and his 341/82 TD/INT mark since '07 is the league's best. Let's face it, he's bananas (but only when mixed in a smoothie).
Aside from the silliness of the writeup, the metrics say Brady is less than half the quarterback Manning was. Now that's nuts. With results that out of whack with common sense, it's clear that defense-adjusted yards above replacement is simply not a great metric for comparing NFL quarterbacks.
I'll leave it to readers to follow the link and see the other rankings. Few surprised me, although I could debate the order. The ones that did: Annika Sorenstam (I'd simply forgotten about her; it's been awhile), Marta (I'm completely oblivious to women's soccer and had no idea who she was); Lauren Jackson (while I don't follow the WNBA, there are several players whose name would have come to mind before hers); and Allyson Felix (I don't much follow track and field but she's simply much less of a household name than predecessors from an earlier era).
UPDATE:  Glen Bolger complains that Michael Phelps doesn't make the list at all. I responded that the rankings don't "seem to factor in wins (see Manning at #3 and Brady at #20). Phelps didn't dominate in terms of time, just finishes. Which is a major flaw."
Apparently, Glen wasn't the only reader miffed at Phelps' exclusion. Peter Keating, who oversaw the project, explains:
There were 34 swimming events at the 2016 Olympics, with three more coming in 2020. And while it makes no sense to count each as a distinct sport, like soccer or baseball, there's also no way to combine times across distances, disciplines, medleys and relays-and no one rating that weights national, international and Olympic competitions for an annual score among individual swimmers. We'd love to tell you where Phelps and Katie Ledecky rank on our list of most dominant athletes, but we can't. It's not our fault, it's the data!
That's . . . not a very satisfying answer. Now, I fully agree that it's silly to argue that Phelps is the most dominant Olympian of all time simply because he has so many medals. After all, competitors in most sports can't win seven or eight medals in a single Olympiad by competing in slightly different versions of the same sport. But simply leaving out the non-track and field sports from the rankings seems odd.
He also explains why Manning is so much higher than Brady in the rankings:
For one thing, today's QB stats are steadily inflating. (There were 1.72 passing touchdowns for every interception in the NFL last season, up from 1.29 20 years ago.) For another, Brady wasn't really Brady-automatic Pro Bowler and MVP candidate-until 2007. Result: Manning considerably outpaces him when measured by yardsticks that don't depend on era, like MVPs (5-3), first-team All-Pro selections (7-3) and number of seasons throwing for 4 percent or more of the league's passing TDs (12-9, adjusted for number of teams). Then there's this: In evaluating players, we considered regular-season stats only, since there's no good way to compare playoffs across sports.
He had me up until that last sentence. In most team sports, the playoffs are ultimately what matters. If the metrics don't at least take into consideration performance in the playoffs—and, you know, winning championships—then they're just stupid metrics.