Most Unvaccinated Americans are Poor
Almost everyone in households making over $75,000 are protected from COVID.
Axios' Bob Herman reports that "More than half of unvaccinated Americans live in households that make less than $50,000 annually, according to the latest Census Bureau data." Here's the visual: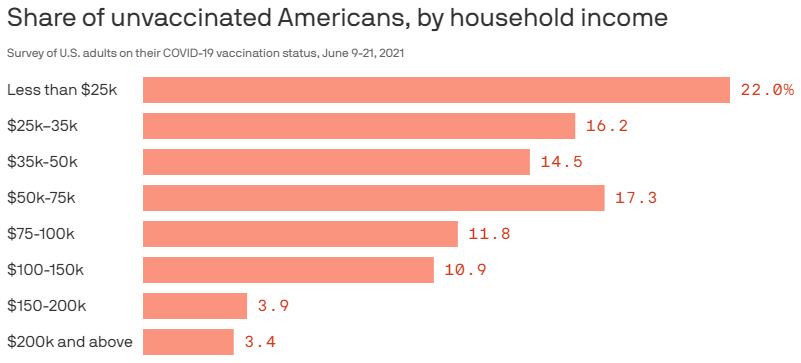 Herman's analysis:
Why it matters: Making it easier for the working poor to get the COVID-19 vaccine, without dinging their already-low incomes, could help boost the country's vaccination rates.

The big picture: Vaccination has been politicized, but juggling work schedules and child care could be bigger factors than politics."A lot of low-income workers are working hard to provide food and housing," said Julia Raifman, a health policy professor at Boston University. "That may mean it's hard for them to find a time to get vaccinated."

Workers also may worry about having to take unpaid time off if they come down with any vaccine side effects. Raifman has heard anecdotal stories of employees receiving less favorable hours if they miss work.

[…]

The bottom line: Most low-income workers still want to get vaccinated. It's just not always easy. Almost two-thirds of unvaccinated people who make less than $50,000 still say they either "definitely" or "probably" will get the vaccine, according to the Census Bureau.
The Joyner household certainly comports with this pattern. The six of us who are eligible, including my 12-year-old daughter, are fully vaccinated. The lone holdout is my 10-year-old, who is ineligible.
The linked Census data consists of a series of Excel spreadsheets and I don't have time to dig into the polling data. While I'm skeptical that fear of missed income is the chief explanatory variable here, it's certainly quite plausible that it explains a meaningful chunk of those who aren't vaccinated.
Given that we're giving out trillions willy-nilly, compensating those who have to miss work in order to get their shots would certainly seem like a wise investment. And this is yet another datum in support of the proposition that our healthcare system is a mess.
Hat tip: Taegan Goddard