Murdoch Gunning for Trump
The New York Post and Wall Street Journal are blasting the losing loser.
The covers of the last two editions of the New York Post: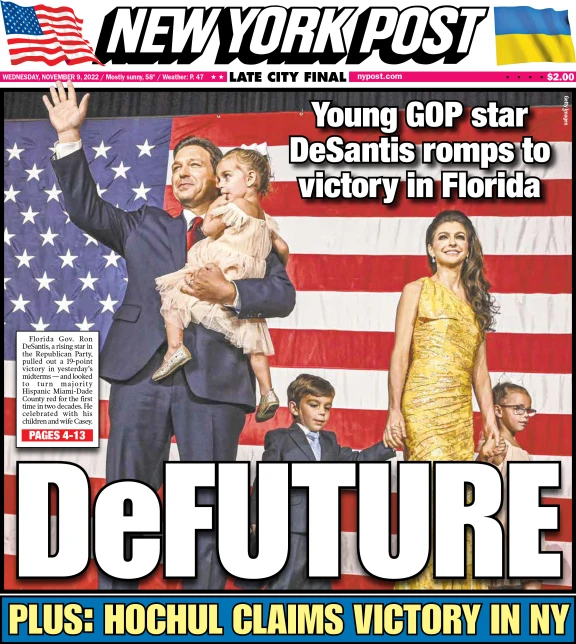 The latter also appears (twice) on the front page of NYPost.com, with TOXIC TRUMP in red, bold letters introducing John Podhoretz's column "Here's how Donald Trump sabotaged the Republican midterms." It begins,
Hey, Lyin' Ted and Sleepy Joe: Meet Toxic Trump. You know, if the former president had any self-knowledge or even the slightest ability to be self-deprecating, he might consider giving himself this alliterative nickname.

After three straight national tallies in which either he or his party or both were hammered by the national electorate, it's time for even his stans to accept the truth: Toxic Trump is the political equivalent of a can of Raid.

What Tuesday night's results suggest is that Trump is perhaps the most profound vote repellent in modern American history.

The surest way to lose in these midterms was to be a politician endorsed by Trump.

This is not hyperbole.

Except for deep-red states where a Republican corpse would have beaten a Democrat, voters choosing in actually competitive races — who everyone expected would behave like midterm voters usually do and lean toward the out party — took one look at Trump's handpicked acolytes and gagged.

Liberal fundraisers actually put money behind Trump-endorsed candidates in GOP primaries all over the place to help them prevail so that Democrats could face them in the general election. It was transparently cynical and an abuse of our political process. But it worked like gangbusters.
Piers Morgan also weighs in under the Post's masthead with "It's time the GOP dumped Trump the Grump and ran with Ron DeSantis."
In the fall of 2008, I interviewed Donald Trump in a vast Beverly Hills mansion he'd recently bought, and he admitted the crucial importance of success to his brand.

"America loves winners, period," he said. "You gotta win, that's what it's all about. You know, Muhammad Ali used to talk and talk, but he won. If you talk and talk but you lose, the act doesn't play."

I thought of that statement today as shocked Republicans squinted to catch sight of the barely perceptible ripples of a widely predicted red wave that never materialized in the midterm elections.

To say they didn't see this coming is the understatement of the millennium.

In the past week, podcast king Joe Rogan declared, "The red wave that's coming is going to be like the elevator doors opening up in 'The Shining,'" and Sen. Ted Cruz predicted "not just a red wave but a red tsunami!"

But it never happened — leaving the party faithful both baffled and furious.

"There's a guy in the White House who was searching for a dead woman in the room with him, and Democrats ran for Senate a guy who literally can't talk," raged conservative commentator Jason Howerton. "That's not even factoring in economic devastation caused by bad policy. If you can't execute a red wave today, when can you ever?"

On Fox News, former George W. Bush speechwriter Marc Thiessen branded it an "absolute disaster" for Republicans and seethed: "We have the worst inflation in four decades, the worst collapse in real wages in 40 years, the worst crime wave since the 1990s, the worst border crisis in US history, we have Joe Biden, who is the least popular president since Harry Truman, since presidential polling happened, and there wasn't a red wave. That is a searing indictment on the Republican Party. That is a searing indictment of the message that we have been sending to the voters. They looked at all of that and looked at the Republican alternative and said, 'No thanks.'"

Actually, I think they looked at Donald Trump and said, "No thanks."

There's no getting away from the cold, hard political reality that it was a surprisingly better night for the Democrats and President Biden than anyone, including them, expected.

And the reason for this had little to do with anything they did, other than correctly bet that the issue of abortion rights would be a vote-energizer for them — and everything to do with Trump's toxic stranglehold on the GOP.

He can try, as he is, to ludicrously spin it as some kind of pyrrhic victory, but last night's biggest loser was the permanently whining, fuming former president, and he has only himself to blame.
For those inclined to more highbrow fare, the Wall Street Journal Editorial Board weighs in with "Trump Is the Republican Party's Biggest Loser" (subhed: He has now flopped in 2018, 2020, 2021 and 2022.)
What will Democrats do when Donald Trump isn't around to lose elections? We have to wonder because on Tuesday Democrats succeeded again in making the former President a central campaign issue, and Mr. Trump helped them do it.

Trumpy Republican candidates failed at the ballot box in states that were clearly winnable. This can't be what Mr. Trump was envisioning ahead of his "very big announcement" next week. Yet maybe the defeats are what the party needs to hear before 2024.

Looking at the Senate map, the message could not be clearer. In New Hampshire, the Trump-endorsed Republican Don Bolduc lost to Sen. Maggie Hassan, 53% to 45%, as of the latest data. At the same time voters re-elected Republican Gov. Chris Sununu by 16 points.

"Don Bolduc was a very nice guy, but he lost tonight when he disavowed, after his big primary win, his longstanding stance on Election Fraud," Mr. Trump said. "Had he stayed strong and true, he would have won, easily." We doubt New Hampshire voters simply wanted Mr. Bolduc to stay kooky.

In Arizona the Trump-endorsed Republican Blake Masters trails Sen. Mark Kelly, 51% to 47%. This is a state successful Gov. Doug Ducey won by 14 points in 2018. Mr. Ducey could have won the Senate seat, but Mr. Trump pledged to go to war with him because Mr. Ducey refused to entertain 2020 fraud theories.

In Pennsylvania, the Trump-endorsed Republican Mehmet Oz lost to John Fetterman, 51% to 47%. This is a tough state for the GOP. But Mr. Fetterman was a weak candidate: He's a lefty with a record of wanting Medicare for All and a ban on fracking, and he's recovering from a stroke. David McCormick would have been a better Republican nominee, but he wouldn't say the 2020 election was stolen, so Mr. Trump endorsed Mr. Oz.

In Georgia, the Trump-endorsed Republican Herschel Walker trails Sen. Raphael Warnock, 49.4% to 48.5%. This is going to a December runoff, which Mr. Walker could win. But Gov. Brian Kemp won re-election by eight points. Mr. Walker's flaws as a candidate were obvious, but Mr. Trump helped clear the primary field and other candidates opted out.

In Ohio the Trump-endorsed Republican J.D. Vance won a solid victory over Rep. Tim Ryan, 53% to 47%, while Republican Gov. Mike DeWine won by 26 points. Mr. Vance was a poor fundraiser. As of Oct. 19 he'd pulled in $12 million to Mr. Ryan's $47 million. What saved him was $32 million from the Senate Leadership Fund (SLF), a Super Pac aligned with Mitch McConnell. Mr. Vance trailed in the polls until mid-October.

Doug Mastriano, Pennsylvania's Trump-endorsed gubernatorial choice, lost by 14 points. Tim Michels in Wisconsin and Tudor Dixon in Michigan fumbled winnable gubernatorial races. Also in Michigan, Mr. Trump helped John Gibbs beat GOP Rep. Peter Meijer in the primary in the Grand Rapids seat because Mr. Meijer voted to impeach him. Mr. Gibbs lost by 13 points. Rep. Jaime Herrera Beutler also voted to impeach Mr. Trump, who helped Joe Kent beat her in a primary. Mr. Kent is trailing in that Washington state district.

Mr. Trump could have stayed quiet in the final weeks of the campaign except to spend money to help his candidates. But he did little of the latter and instead staged rallies that played into Democratic hands. His rally in Latrobe last week might have hurt Mr. Oz with suburban voters who cost Mr. Trump the state in 2020.

Since his unlikely victory in 2016 against the widely disliked Hillary Clinton, Mr. Trump has a perfect record of electoral defeat. The GOP was pounded in the 2018 midterms owing to his low approval rating. Mr. Trump himself lost in 2020. He then sabotaged Georgia's 2021 runoffs by blaming party leaders for not somehow overturning his defeat. That gave Democrats control of the Senate, letting President Biden pump up inflation with a $1.9 trillion Covid bill, appoint a liberal Supreme Court Justice, and pass a $700 billion climate spending hash.

Now Mr. Trump has botched the 2022 elections, and it could hand Democrats the Senate for two more years. Mr. Trump had policy successes as President, including tax cuts and deregulation, but he has led Republicans into one political fiasco after another.

"We're going to win so much," Mr. Trump once said, "that you're going to get sick and tired of winning." Maybe by now Republicans are sick and tired of losing.
Both publications, of course, are owned by Rupert Murdoch, founder of Fox News. There have been signs for months that Murdock was done with Trump along with reports that the network is giving Trump much less attention. This would seem to seal the deal. How that impacts Trump's plans for 2024 remains to be seen.
That so many are rallying behind DeSantis, who is in many ways a smarter if less charismatic Trump is, alas, disappointing. But one step at a time, I guess.